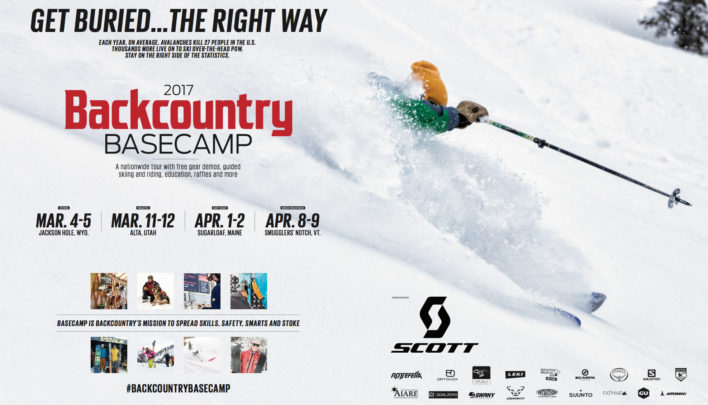 March 4-5, 2017 – Jackson Hole Resort, WYO.
Backcountry Magazine, in association with Scott Sports, is proud to announce that it will return to Jackson Hole Mountain Resort the weekend of March 4-5 as part of its annual BASECAMP Tour.
At the Jackson Hole BASECAMP stop, Backcountry Magazine staff will showcase the newest equipment, including skis, skins, splitboards, beacons, shovels, probes and airbag packs, all in a yurt-based setting. Also, Scott will be on hand all weekend showing off their technical outerwear. Educators will conduct demos and classes each day, and Jackson Hole Guides will take visitors on complimentary backcountry tours with an emphasis on safety education. On Saturday at 5 p.m., BASECAMP hosts a huge party and huger raffle at the Alpenhof Lodge with proceeds benefitting Teton County Search and Rescue.
For more information visit our event page on Facebook.
About Backcountry Magazine: For more than 20 years, Backcountry Magazine has been dedicated to not just fueling stoke but to empowering skiers and snowboarders to travel safely in the backcountry. In each issue, you'll find more than amazing stories and photographs from around the untracked world—you'll also find educational pieces and the latest on gear and technology.
Stay tuned for updates on all four 2017 stops, plus daily event schedules and activities.