Thanks for supporting Backcountry Magazine
Each issue is packed with high-definition photography and stories, trusted avalanche safety skills and reliable, unbiased gear reviews. From freeskiing to touring, exotic destinations to backyard zones, the history of skiing to the cutting edge, we cover it all. In Backcountry, the possibilities are limited only by your imagination. Join us and imagine your Untracked Experience.
Backcountry is published six times annually from September to February.
Print Subscriptions
1 year print subscription (6 issues) – $39.95
2 year print subscription (12 issues) – $64.95
Digital Subscriptions
1 year digital subscription (6 issues) – $19.99
Subscription FAQ's
How often is Backcountry Published?
Backcountry Magazine is published six times annually from September to February.
When can I expect my copy of Backcountry to arrive?
For domestic subscribers, please allow up to six weeks for delivery of your first issue. International subscribers must allow up to eight weeks. If your order is placed after February, expect your subscription to begin with the next season.
How can I access my Backcountry subscriber account?
Once you receive the first copy of Backcountry, look for your customer number on the mailing label above your name and address. Using this number, you may:
How do I find my customer number and the issue my subscription expires with on my shipping label?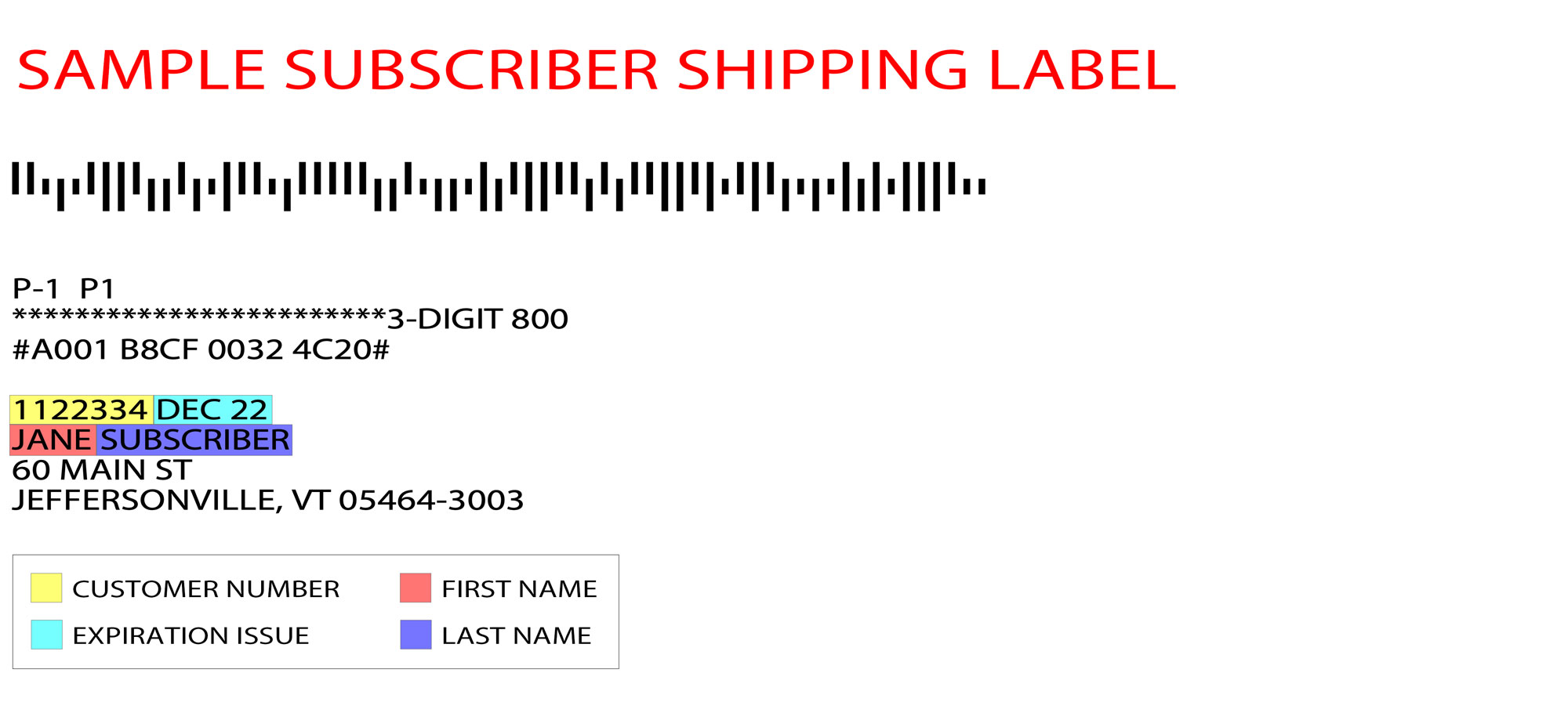 How do I give the gift of Backcountry?
Give a gift subscription to Backcountry Magazine online. Either login using your customer number or begin entering your billing information and click next. Your computer will likely auto-fill your billing information as shipping information on the next page. If this occurs, simply replace the entries with the correct shipping information for the gift recipient. Removing your personal information here will not result in loss of your billing information. Click "submit" and look for an email confirming your gift of Backcountry.
My subscription to Backcountry indicated that I would receive a free gift. When will it arrive?
Subscription gifts are shipped separately from magazines and can take up to eight weeks to arrive. Gifts are distributed while supplies last.
How can I order a back issue of Backcountry?
Backcountry issues are available for purchase in our online store store or directly through our circulation department. You can request any or all of these issues by doing any one of the following:
Send an email to subscriptions@holpublications.com stating the issues that you want to purchase and…

A credit card number
Expiration date
Security code from card
Billing & shipping address

Send a check for the total in USD to the address below with a note stating the issue that you want to purchase and the shipping address to send the magazine to: Backcountry Magazine P.O. Box 190
Jeffersonville, VT 05464
Call us at 802.644.6606 ext. 200 and please leave all payment information on the voicemail.
PLEASE NOTE: The price for the Backcountry Gear Guide is $14.95, all other issues of Backcountry are $12.95 including postage within the USA. All other countries add $10.00 for international priority shipping.
How much does a Backcountry subscription cost?
The standard price for Backcountry is $39.95 for 1 year ( 6 issues) and $64.95 for 2 years ( 12 issues).
Canadian subscribers will be charged an additional $15 per year and all other countries will be charged $25 more per year .