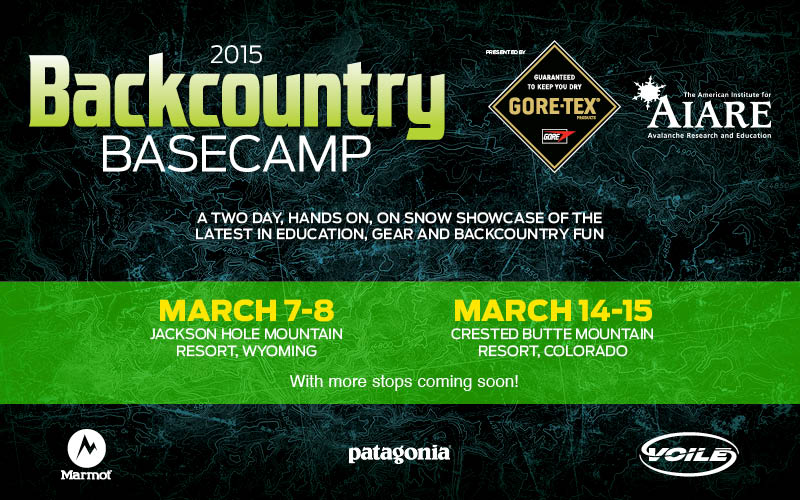 BASECAMP 3.0 – Backcountry Magazine, GORE-TEX, team up with AIARE, Patagonia, Marmot, Voilé for National Backcountry Education Tour
Jeffersonville, VT (for immediate release) – Backcountry Magazine, in association with GORE-TEX, Patagonia, Marmot and Voilé, is proud to announce its third-annual nationwide backcountry skiing and snowboarding tour. This year, BASECAMP is teaming up with AIARE to provide the latest in avalanche education at each tour stop.
"We've continued to refine our program to address the growing backcountry education needs of both serious locals and those new to the idea of backcountry skiing and snowboarding," says Backcountry Magazine Editorial Director Adam Howard. "We're really excited to be building a specific curriculum targeting the resort skier interested in honing his or her skills in addition to folks who've only dreamed about skiing untracked in the true backcountry or through an access gate."
In its third year, this winter's BASECAMP tour hits Jackson Hole, Wyoming on March 7-8 and Crested Butte, Colorado on March 14-15. More dates are in the works for Utah, Washington and the Eastern U.S.
At each BASECAMP stop, Backcountry Magazine staff showcase the newest backcountry equipment like skis, skins, splitboards and more; safety gear like beacons, shovels, probes and airbag packs; and technical outerwear, helmets, gloves, etc. all in a yurt-based setting. AIARE educators will conduct demos and classes each day, and local guide services will take visitors on complimentary backcountry tours with an emphasis on safety education. On Saturday, BASECAMP hosts a huge party and huger raffle with proceeds benefitting the local search and rescue organization or avalanche center.
About Backcountry Magazine: Celebrating its 20th year, Backcountry Magazine was founded in Arvada, Colorado in 1994. We're dedicated not just to fueling stoke but to empowering skiers and snowboarders to travel safely in the backcountry. In each issue, you won't just find amazing stories and photographs from around the untracked world, but educational pieces and the latest on gear and technology.
About the American Institute for Avalanche Research and Education (AIARE): AIARE develops and disseminates avalanche course materials to avalanche educators in the United States, South America and Europe. There are over 90 course providers and 300 instructors