In last year's Gear Guide, we reviewed Fischer's new—indeed, their first—AT boot, writing, "Like all Fischer Vacuum boots, the Transalp liner and shell are moldable to accommodate an enormous range of foot shapes." (97-107 last width.)
The testers included myself and then-Photo Editor David Crothers, both of us a 28.5 shell. The similarity ended there. Thirty years older than David, I sport a lower-volume foot whose only abnormality is a Tailor's Bunionette—a slight bony protrusion below and outside the little toe. Totally benign and not irritating.
David's right foot is something else entirely. Crushed by a refrigerator-sized rock in a climbing accident on Maine's Mt. Katahdin, his foot sustained five dislocated toes and a crushed instep. In his first surgery, five temporary rods were inserted and bones fused. The second procedure replaced the rods and installed a plate over the instep, wrapped with wire. Below the skin, his foot is a hardware store.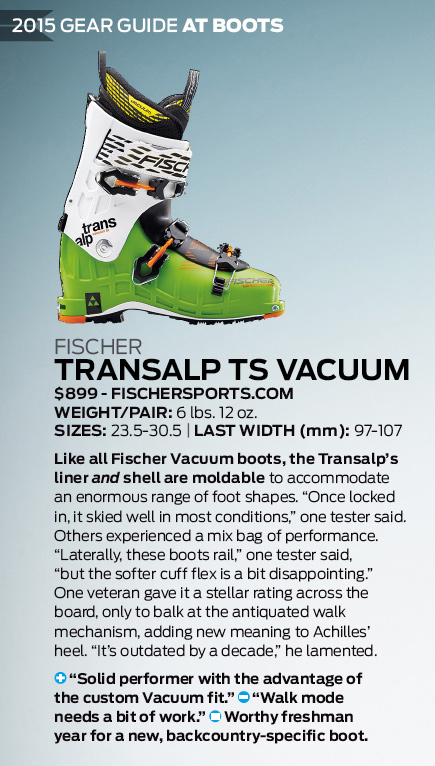 Fischer's Vacuum boots are made from a proprietary plastic called VACU-PLAST. And Fischer claims it offers several advantages over polyurethane (PU), among them reduced weight by 15 percent, improved vibration dampening and temperature stability twice as high as PU boots. (This means that boot flex won't get stiffer as temperatures drop or become sloppy when it's warm.) Developed for race boots, it was launched in the '11/12 season and extended into Fischer's Hybrid line of freeride boots and farther into the line, finally reaching the Transalps. (Every dealer who molds Transalps should have a Tour Adapter Kit, which not only protects the sole but also keeps the AT-lasted boot properly aligned.)
The process is not all that involved and takes less than a half hour. You insert your feet into pre-heated boots and liners, which are then covered with a refrigerated overboot called a Cooling Pad. But before doing that—and this is where McKenna's experience came into play—an appropriately sized Fischer neoprene toecap was fitted over the forefoot along with bits of open-cell foam to relieve points of pressure.
Over the Cooling Pad goes a Compression Collar—think double moon boots. Though Fischer calls it Vacuum Fit—and while it feels like the boot is being sucked to your foot—the Compression Collar shoots compressed air evenly around the boot, pushing not sucking the boot to the foot. Since the Cooling Pad cools the boot as it's being molded, it halves the fitting time.
A day of letting the buckled boots cool, and it's off to the hill. I can't rock stiff boots, which put me so far in the back seat that I'm looking at cup holders. It's easier for me to get the skis out from under my body and energize the sidecut. Laterally, these offered plenty of support and plenty of forward flexion.
And I liked the easy skin and walk mode, the latter partly due to the boots' rocker and, for downhill hoofing, substantial lugs at the heel for braking—far better than many AT boots with a hoof or cloven heel. In cold weather, I didn't notice any changes in performance, supporting Fischer's claim that the boots are less temperature sensitive than PU. My boots came with the lighter (and slightly pricier) Palau liners—they haven't packed out, but given a choice, I'd probably go with the slightly cushier Ultralon liners. (Note that liners and shells can be re-molded at least five times.)
For David, they were just what he needed: "Like heaven; fits my foot with no pain, even when buckling them tight." When compared to other AT boots, he calls it "a night and day difference—I can wear them around my house. And I can ski them hard. For anyone with a foot issue, I'd highly recommend them."
Unlike David, I don't have a significant foot issue. But I'm in these for however long the long haul is.
FISCHER TRANSALP TS VACUUM
$900 – fischer-sports.com
WEIGHT/PAIR: 7 lbs. 2 oz.
SIZES: 23.5-30.5 | LAST WIDTH (mm): 97-107 (adaptable)