This month's cover features splitboarder Mark Hartley descending a puckering face outside of Revelstoke, B.C. And Hartley, who proudly rips on a hardboot setup, is intimate with the debate between traditional, soft snowboard boots versus plastic-shelled alpine-touring ski boots.
As Hartley puts it, that debate can be quite controversial. "Softbooters seem to see hardbooters as steezeless robo-stiffys with no style and no soul; techno weenies who may wear Spandex and might as well be skiers," Hartley says. "Hardbooters see softies as sheep who use overpriced, cheap toy goods, which are barely suitable for mountain use." The reality is that both are tools to access the places that we love to ride.
The decision to use hard or softboots comes down to personal preference. But there are three key things to ask yourself before you make the switch.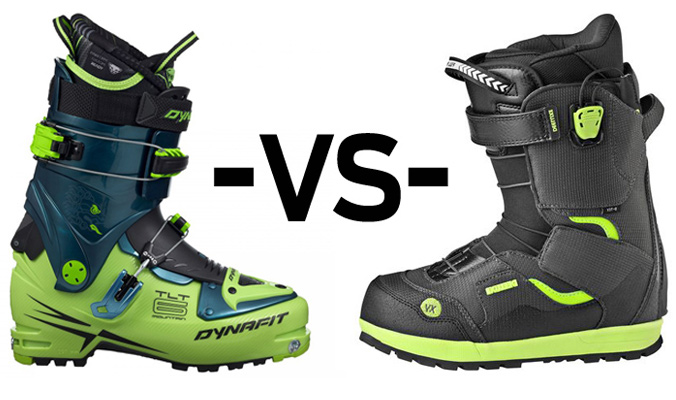 DO YOU WANT TO BE A GUIDE?
"If you are serious about being a guide, you have to give hardboots a try," says Eric Layton, lead guide and owner of Splitboard Guides International and one of the first splitboarders to be certified by AMGA. "What some don't realize is that guiding is much less about shredding and more about efficiency, safety and a utilizing a tool that performs in all types of conditions. That was my big wake up call back in 2006 on my first guide course and the reason that I started to switch."
Both Layton and Hartley say hardboots provide the features that a guide/splitboarder needs to be successful in the backcountry. Those features include a narrow profile and better pivot point to provide more efficient skinning, crampon compatibility, easier split skiing, faster transitions, the ability to kick step with ease and waterproof shells to keep your feet dry during big missions.
WHAT KIND OF TERRAIN AND CONDITIONS DO YOU RIDE? AND WHAT STYLE RIDER ARE YOU?
Layton broke down the debate best this way: "[You have] two categories—Splitboarding (softboots) and Splitboard Mountaineering (hardboots)." If you are doing long tours and technical climbs and riding in variable conditions, then hardboots are more ideal. For Hartley, it is a matter of going "farther, faster and higher in a hard setup."
If powder is what you primarily seek, then softboots are the way to go. Mitch Töelderer, a Jones athlete who's ridden numerous big lines worldwide under human power, sticks with softboots. "It all depends on the objective," Töelderer says. "Personally, I am on the search for good snow conditions, ideally powder, and the ride down is the essence of my effort. I can't imagine going back to hardboots even if they would make the ascent easier."
Töelderer also mentioned that with all the advancements in softboot splitboard technology over the last few years, there is little reason to go full-on hardboot. This year boots like the Thirty-Two MTB and Deeluxe Spark XVe incorporate hardboot-like features, including a walk mode and waterproof gaiters, closing the gap between hard and softboots.
ARE YOU A GEAR JUNKIE WHO LIKES TO SPEND LOTS OF MONEY ON GEAR AND ENJOYS MODIFYING IT?
One main challenge of hardboots, particularly for people who are first trying it out, is the break-in period. "When you go out the first couple of times, it hurts," Layton explains. "You get hot spots in places that you just didn't get in softboots."
In addition to experiencing a longer break-in period, many hardbooters will modify their boots to increase the amount of flex they can provide to make them perform more like traditional snowboard boots on the descent. This can take time to figure out what works and requires cutting and drilling into your boot, which voids the warranty.
Beyond modifying, the costs can quickly add up—Layton's setup pairs Phantom bindings ($950) with Dynafit TLT6 boots ($750). Add on the Intuition Liners that many hardbooters recommend and you are pushing nearly $2,000. But for riders like Layton and Hartley, it is a small price to pay for the ease of backcountry travel that hardboots provide.
When discussing hard or softboots, many times it comes down to head (efficiency) or heart (snowboarding tradition), the ascent or the descent and whether you're focused on safety and efficiency or getting the shot. The hardboot debate boils down to personal preference, but when a world-class guide like Eric Layton has the following to say, hardboots are probably worth a try: "Hardboots changed my splitboarding, changed my backcountry travel experience and literally changed my world."