I've had this pair of Mammut Vail Pants for two seasons now, and they've seen some good use. I took them out to Powder Mountain two seasons in a row before wearing them up Tuckerman Ravine on Mt. Washington last year—at least as far up as my daughter, Hazel, went. Despite having to hold up in a variety of different on and off-snow conditions, these things do the job.
Even though they're hardshell pants, the Vails are soft and stretchy. Yet I feel like I could sit in a puddle and not get wet. This is thanks to Mammut's super-durable, proprietary DryTech Premium fabric. I've washed these pants a couple times, but I've never had to re-waterproof them. They're also super warm, which is nice, because I'm not necessarily skinning in them all day, everyday. But if I am, I feel like I have complete range of motion. They fit me well without any extra material and aren't skin-tight, so even when it's cold, I can layer as much underneath them as I need to.
These pants have little vents, which I use often, but they aren't necessarily big enough for long tours. That being said, they're totally comfortable to climb and skin in, thanks to ample articulation in the knee. This articulation also comes in handy for all those times when I free the heel—something I'm more accustomed to 'cause of my Nor-dork roots.
I also don't have to wear a belt with these shells, which is nice, thanks to an internal Velcro adjuster—they do the same type thing for kid's clothes. Plus, the waistband is super soft on the inside, so even if you were just wearing your skivvies, you'd be comfortable. The only bummer is that the gaiters hang down below my boots. But my kids aren't yet old enough to be embarrassed when I roll them up.
+ Cut with versatility in mind, the Vail pant is baggy enough to layer, but tight enough for aerobic activity and warm enough for the cold-blooded.
-Gaiters are a little too long and tend to get hung up on bindings.
= A perfect pair of shells for the all-the-time Mom.
Alternatives
Men's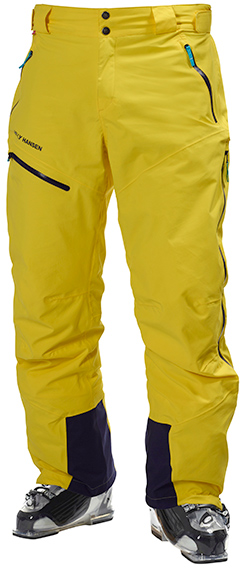 Helly Hansen Verglas Randonnee Pant
$240 | hellyhansen.com
Helly Hansen's Verglas pants have a lightweight and paper-thin feel, but they are fully waterproof, and breathable, too, thanks to proprietary HellyTech Performance laminate. Plus, a big-ass side zip runs the length of the pant leg all the way up the pockets for dumping heat when climbing. Speaking of asses, the seat of the Verglas is reinforced for added durability or keeping water out. And at 240 bones, this pair of Helly's is a great option for the dirtbag on a budget.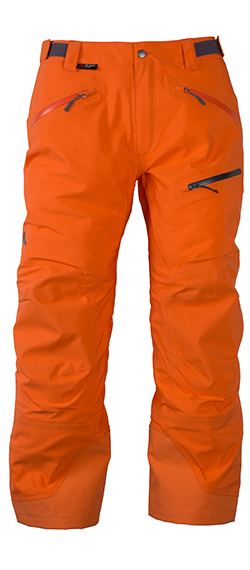 Flylow Compound Pant
$475 | flylowgear.com
Flylow is known for incredibly durable, albeit heavy, pants and jackets. And even though the Compound is still kind of heavy, Flylow touts them as their lightest ever, which is welcome news for the bc crowd. Featuring a soft, yet waterproof Polartec Neoshell for soggy days, and stout Cordura cuff reinforcements to fight constant wear, the Compound pants are a generously cut for unrestricted comfort. The knees are reinforced, too—a plus for telemark skiers or whenever you find yourself on your knees.
Women's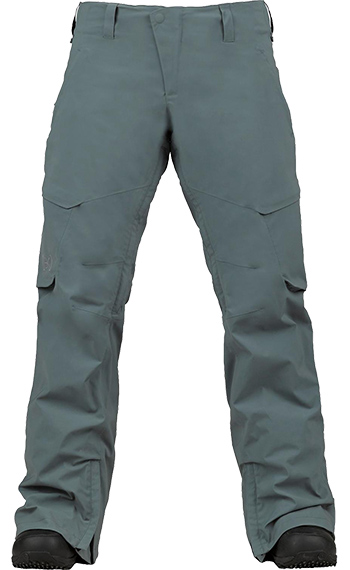 Burton AK 2L Summit Pant
$360 | burton.com
No next-gen fabrics here. Just good ol' fashion Gore-Tex laminate and taped seams. Burton's entire AK line is geared toward the skinning splitboarder, and the Summit Pant is no exception. Burton calls the Summit's cut a "performance fit" which, as opposed to their usual baggy cut, translates to "fits most people." Inner thigh vents are just big enough to handle most hiking, while the articulated knee allows for laying down a slash. Plus, you can't go wrong with Burton's Lifetime Warranty.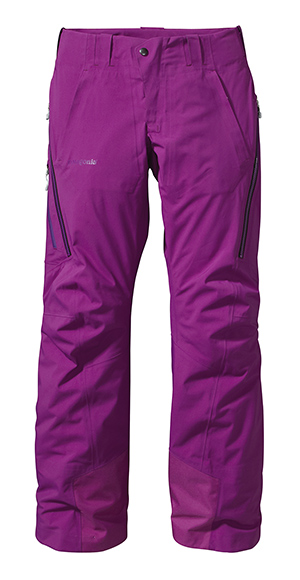 Patagonia Untracked Pants
$499 | patagonia.com
With the Untracked Pants, Patagonia offers an understated and simple pair of shells that eschew the "shrink it and pink it" mantra. Made out of three-layer Gore-Tex, the Untracked Pants are functional, and true to size, thanks to an adequately roomy cut. Two zippered thigh pockets sit below two fleece lined traditional ones for stashing goodies and keeping your digits warm on the patio. Plus, stretchy internal Velcro adjusters keep them snug on your hips. But short vents can be a bummer when you're really cookin'.
This story first appeared in the December 2013 issue of Backcountry Magazine.