Following a soggy, four-day trek in Ecuador's Andes Mountains this June, I found myself in the thick of a debate: stuff sacks or plastic trash bags to organize a backpack and keep its contents dry? At the time, I wasn't in a place to offer input. Post trek, my pack had yielded lumps of soggy clothes. Now, after a summer of testing, I've found Sea to Summit stuff sacks, dry bags and compression bags great for keeping gear safe, but also revolutionary for pack organization. Increasingly, I don't travel without them. —Greta Close
Sea to Summit Ultra-Sil Dry Bag
$23-40 | Sizes: 3L, 5L, 8L, 13L, 20L, 35L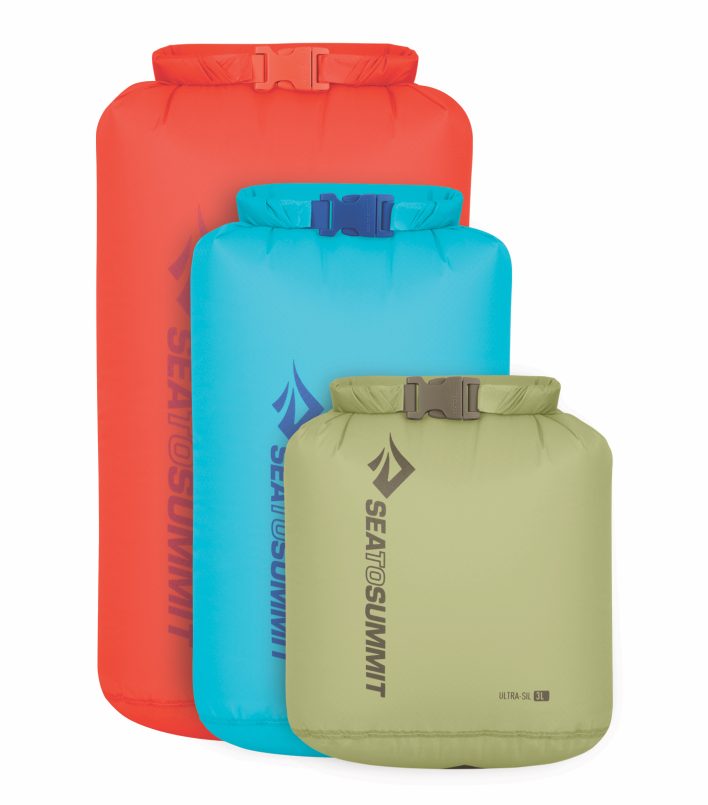 My go-to for simple, stowable, safe organization, these dry bags, much like Marry Poppin's bag, are seemingly bottomless. On a long weekend camping in the White Mountains, I used the Ultra-Sil Dry Bags to separate camp clothes from trail wear. In the five-liter, I fit socks, underwear, pants, a tank top, longsleeve, lightweight hoody and hat. My waterproof anorak, biking and running clothes went in the eight-liter. With the excess air forced out, the sides of these bags' openings simply close and seal. Then rolled down and buckled shut, they stuff minimally into a duffel or backpack, eliminating wasted space from any clothing sprawl. The transparent Ultra-Sil 30-denier Cordura nylon (ultralight and abrasion resistant fabric) makes it easy to check the contents of each bag before opening them—diminishing the amount of unpacking/repacking in search of a pair of socks. Although not meant to be submerged, should the weather permeate your pack, a PFC-free DWR wash and taped seams repel water, keeping gear safe and dry.
Sea to Summit eVac Compression Dry Bag UL
$40-60 | Sizes: 3L, 5L, 8L, 13L, 20L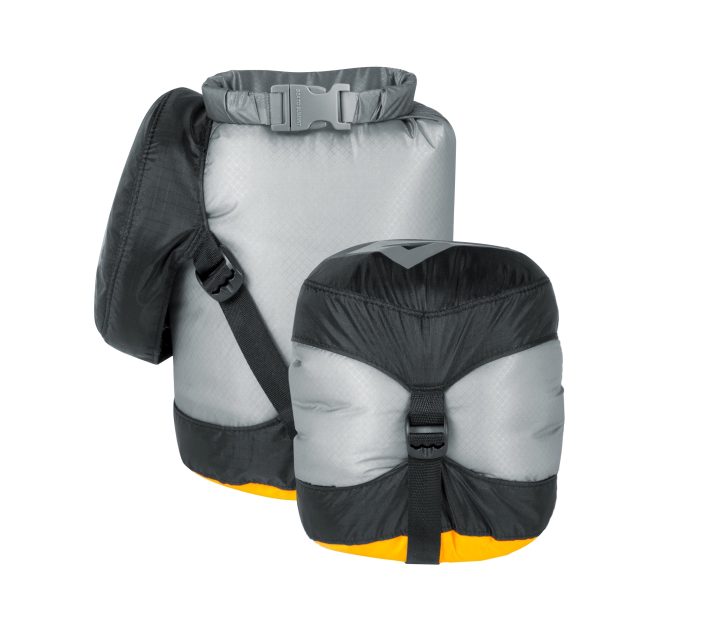 Pulling out the down pants, thick socks and fluffy puffies for a winter hut trip? The eVac Compression Dry Bag will protect your insulation and pack it down. Like the Ultra-Sil Dry Bag, the eVac is abrasion resistant, lightweight and water repellent thanks to a body made from Ultra-Sil 30-denier Cordura nylon with PFC-free DWR coating. It also features a sealable, rolldown top. But it's the base which sets the eVac apart. Made from waterproof yet air-permeable eVent fabric and connected, via compression straps, to a nylon cap, this dry bag has an added capacity to compress its contents. As someone who runs cold and loves her layers, this stuff sack enables me to bring insulation into the backcountry that I've opted to leave at home in the past. Though not always necessary when space optimization isn't a top priority, when pack volume is limited, the eVac stuff sacks save significant space. Plus, they can keep cozy down items dry—though they are not intended to be directly exposed to the weather.
Sea to Summit Ultra-Sil Stuff Sacks
$19-27 | Sizes: 1.5L, 3L, 5L, 8L, 13L, 20L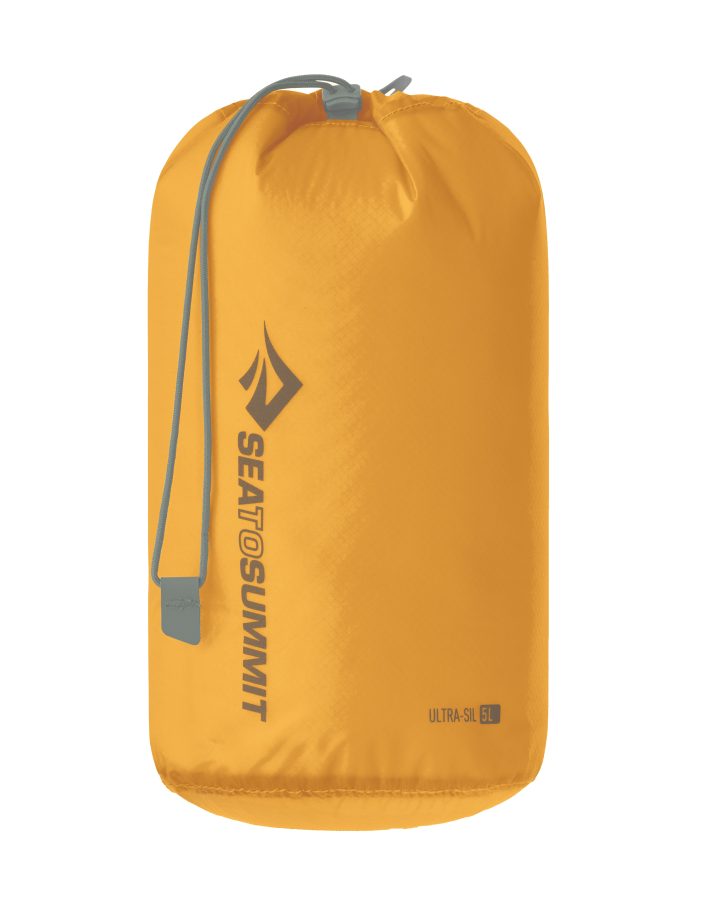 With a simple cinch-top, the Ultra-Sil Stuff Sack is just that—a great spot to store your stuff, maybe even within another stuff sack. Though the Ultra-Sil Stuff Sack doesn't seal out air and water, or compress, they're great for those who are organization-forward. I easily grouped like-hard goods such portable chargers, headlamps and backup batteries, and the random items that need a secure, easy-to-find home like sunscreen, extra snacks or lens cleaner in the 1.5-liter version. Grabbing for a bag of things (rather than digging through a pack compartment for that one bottle of Advil) is easy. Plus, it's far simpler to search through than the brain of your backpack, with much less risk of accidentally knocking your chapstick out mid-search. But this sack can hold much more, too. Clothes, outerwear, you name it. Like their more robust dry bag siblings, the Ultra-Sil Stuff Sacks are made of the same Ultra-Sil 30-denier Cordura nylon that is conveniently slippery—easy to slide in and out of packs—and transparent enough to quickly identify the bags' contents.
---
For more warm weather reviews, check out our online Gearbox. To see our reviews when they're first published, or to read more stories from the untracked experience subscribe to Backcountry Magazine.