NOTICE: In response to concerns about COVID-19 and community spread, our 2020 Norway trip, scheduled for April 25 – May 2, 2020, has been canceled. Booked trips will be refunded. For more information email info@mountainseaexploration.com. We look forward to traveling with you next year. Until then, stay healthy friends!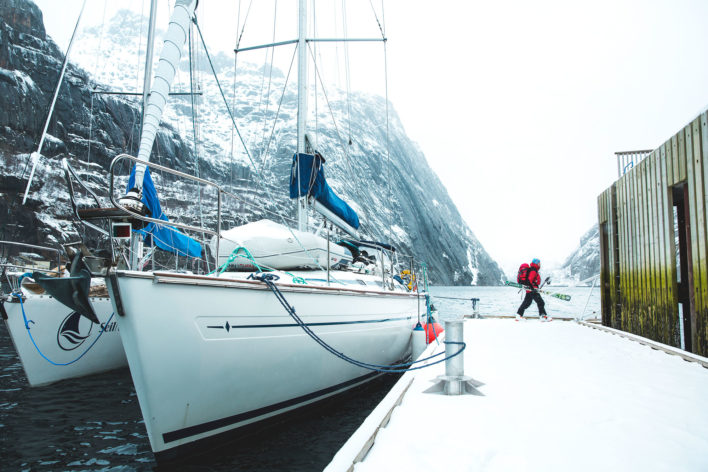 Last year we teamed up with our friends at MountainSea Exploration to do exactly that: Explore the mountains of northern Norway by boat. Join us the last week in April as we embark on another six-day journey, exploring the fjords of Norway's most northern county of Finnmark and the Lyngen Alps.
Read about last year's ski and sail through Norway's Finnmark Alps here.
We begin each day with a large breakfast before setting out to find whatever the mountains have in store: epic powder lines, corn, wind buff and, yes, mank, crud and crust. But we promise you'll return to our 50-foot sailboat with a smile on your face. Led by expert local guides, we will find the terrain perfect for nearly any ability level: the green-light terrain for those new to ski touring or steeper, rowdier lines for experts. The beauty of this trip is we climb the aspects we ski, making the trip ideal for a wide variety of skiers or splitboarders. We'll spend the week chasing powder, hiking empty peaks and skiing from summit to sea, our floating hut waiting at the bottom to take us to the next adventure while we eat, rest and ogle the best views in the world (seriously!).
Dates: April 24, 2021 – May 1, 2021
Location: Finnmark Alps, Norway
Price: $3,200 USD per person
Deposit: $1,600 USD per person
Reserve your spot now for 2021!
Itinerary
This year's trip starts on the afternoon of Saturday, April 24, in Tromsø and finishes on Saturday, May 1, in Alta. We'll ski for five or six full days in the areas of Lyngsalpene, Kågen, Malangenfjorden, Øksfjordhalvøya and, for our final leg, Altafjorden; not only a super-exciting area for pristine skiing, but also for sailing. The ascents we'll complete during our trip will be planned according to the skill level of the group, weather, and conditions in general.
After our daily climb and ski, we'll set sail for the next port and prepare for the following day. This is an active trip with a focus on experiencing this wild, natural area, whether from behind the helm of the yacht or at the top of a 1,500-meter peak before skiing back down to the boat. The luxury of having a ski guide onboard also means we will maximize our time in the mountains and descend new, untracked lines every day.
What's Included
40' to 50' sailing vessels with large galleys, double cabins and hot showers.
Professional yacht crew with extensive experience in the region leading sailing to ski voyages.
Trained and certified ski guides with extensive experience in the region and in leading groups in the backcountry. Safety is paramount and each guide has avalanche safety certifications.
All meals onboard.
MountainSea representative with extensive guiding experience in the backcountry, wilderness medical certifications and experience, and 16 years of sailing in multiple locations around the world, including the arctic. Our representative is there to guide the group through the entire experience in Norway.
Expenses for diesel, gas and harbor fees.
The use of water equipment like ribs, kayaks and stand up paddle boards.
Optional Services
Professional local chef who will create delicious and hearty meals.
Professional photographer and videographer
Transportation once in country
Avalanche safety courses
Sailing Certifications through American Sailing Association
Not Included
Flights to and from Norway
Gratuity of 15 to 20 percent is suggested if you're satisfied with the quality of the service. Airfare and optional travel insurance
For more information contact Ted Barrett, MountainSea Exploration Director
Phone: (804) 543-1897
Email: info@mountainseaexploration.com