You've heard of Lyngen and Lofoten. You've seen pictures of sailboats bobbing in the Arctic beneath staggering lines that rush to the sea like the Grinch dropping in on Whoville. But go even farther north and there's a forgotten range that even many Norwegians don't visit. And for the natives of this place, that's just fine. No guidebooks, no waypoints. Just local knowledge, a skipper and unlimited access to the prettiest range you've never heard of.
If the little frozen lake on the north side of Øvre Tveffelvtind were higher, we'd call it an alpine lake. Surrounded by rock and snowy peaks, it plays the part. And we are in some Alps, but, at 71 degrees north (that's five degrees higher than Iceland) the mountains here never grew as much as the real thing four hours south by jet. As it lies, the lake is more arctic than alpine, more romantic than rugged.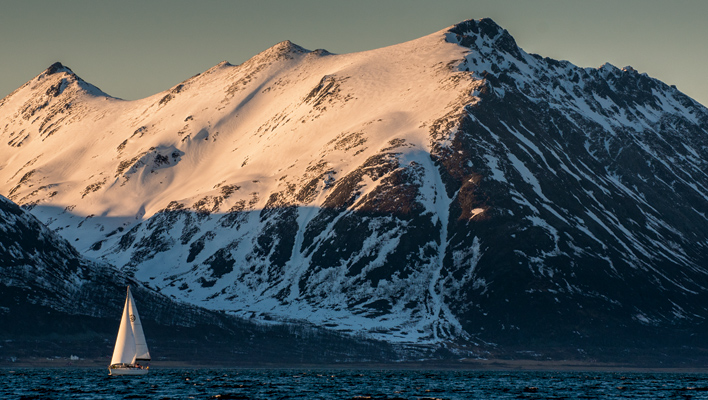 The highest peaks in Norway's Finnmark Alps are 1,300 meters and, at times, as steep and jagged as their more well-known sister ranges, the Lyngen Alps, near Tromsø, and the Lofoten Archipelago, farther to the south. And, as it is for the lake, which has no name, the Finnmark Alps are tough to describe; easily accessible, but desolate and remote. Neither alpine nor forested, these hills are something else, and they sit in between the ocean and the sky, which, in April and May is light, well, always. They rise up from a mirrored plane, like a fortress from the desert.
We're 400 meters above sea level and waiting patiently to return to the water, where our two 50ish-foot sailboats Humla and Nirvana—our floating huts—will take us to our next anchor, our next beach, our next figurative trailhead. Two of our fellow travelers, however, are, as the Brits in the group might say, "lollygagging about" on the unnamed lake.
"What the hell are they doing out there?" I wonder aloud from a rocky outcrop, surrounded by a handful of Americans, a Chinese guy who goes by Sean, four Norwegians and another U.K. bloke on leave from the army.
"One of them is kneeling," Patrick says, which elicits some inappropriate laughter from the lounging crowd. The wait allows the group time to inspect the line we've just skied, a wide open, 35-degree north face that sports 300 vertical meters and a foot of fresh, all beneath that crystal, midnight-sun sky. It's probably four in the afternoon, but it feels like morning.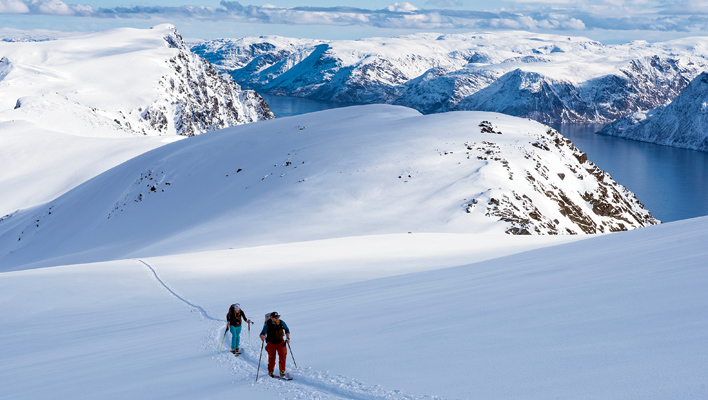 Our six-day sail and ski adventure started two days earlier in Alta, Norway, and we've learned that, given the endless light, we have no agenda but to ski. Our skippers can rest on the boats during the day as we tour. Back aboard, we cook and sleep as they pilot us to our next anchor. I thought it would be a novel way to ski this part of the world. Turns out, it's simply the most practical way to get around the north of Norway, where the sea is the interstate system.
When Mary and James finally skate across the lake and scramble up to our perch, she's quick to show off a shiny new diamond ring. James, usually reserved, beams until he's informed there's no champagne on the Nirvana. Plenty of beer and root vegetables though, and a bottle of aquavit.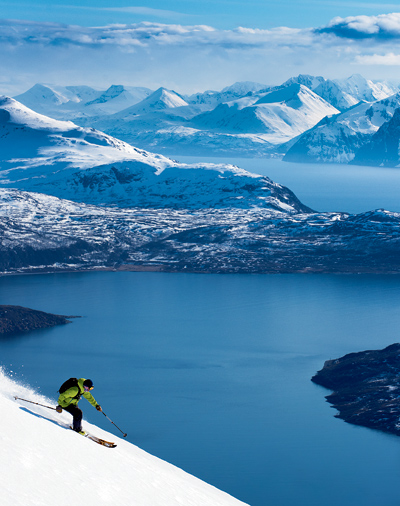 From the summit of Øvre Tveffelvtind you can see the farm at the end of Langfjorden, or Long Fjord, which is home to our guides. Father and son Tore and Vegard Karlstrøm know a few things about skiing. As ski touring, both from sailboats and roadsides, has grown even in this part of the world over the past 10 years, they've watched lines they once regarded as their own become tracked out as the sunrise-to-sunset continuum grows longer each spring day.
But, on this day, we see no tracks. No people. Only a herd of reindeer on the south-facing slope where we beached the dingy. And in our six days we'll shared the mountain with another group twice. We'll experience every possible skiing condition, but the weather is uncommonly constant: sunny and warm for four-and-a-half of our six days, and windy enough to experience six-meter seas on the open Arctic Ocean.
"There's a lot of people getting routes and following the routes," Vegard, 31, says via Skype following my return stateside. "It's kind of exploding. It's like my dad says, the main part of the tourism here is from March through May. And before that we can ski powder between October and March. For our sake, we're trying to open the ice to get people to come here in January to ski powder."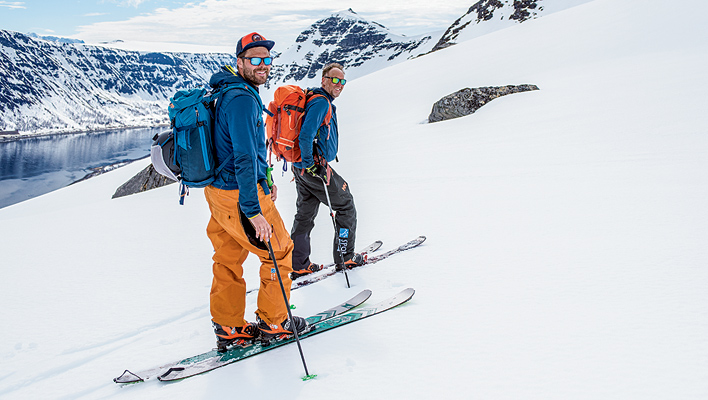 When Vegard's father, 58-year-old Tore, isn't guiding, he's milking Norwegian Red cows, 35 of them in all, along with his brother Arne, who's a renowned dog musher. They share duties and cover for one another when it's time to let loose the huskies or take a group of ski tourers into the mountains. One plays, the other works. Switch. Vegard doesn't work on the farm. A former top national junior cross-country racer, he now coaches Iceland's Olympic and World Cup team. When he's not coaching, he's guiding with his dad.
On day three of our six-day, 140-nautical-mile cruise, we find ourselves on a south-facing corn ramp that drops directly to a stony beach from an unnamed summit on the island of Kågen. The summit is an unskinnable, unskiable walk-up that offers a commanding 360-degree view of glacial terrain to the north and wide open ocean to the south below a world-class descent, comparable to something we'd find in mountains four times bigger. There are a few signs of civilization below: a salmon farm's linked, circular nets; a highway on the north side; on the beach the odd post-WWII cabin, built after the Nazis razed all the original farms and outposts in this part of the world before the Russians moved in.
"I've skied a lot of hills," Patrick, who's from the Tetons, says during lunch, mid descent. "This view is the best I've ever skied."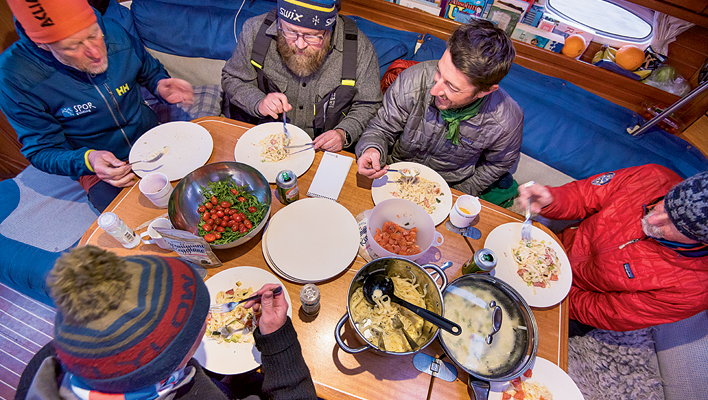 Our guides are proud to share these mountains. They're not sailors, but skiers. And like a lot of Norwegians they have a special relationship with nature. The father and son duo started guiding together a few years ago, and though I can't follow the Norwegian they speak to one another in the mountains, they seem to get along. Son respects father; father knows it. Their sing-songy back and forth is soothing to their guests.
"I grew up with him being in the mountains," Vegard says of his dad. "He taught me almost everything I know. Then I started to build my own experience."
"I find it very easy," Tore said of guiding with his son after the trip. "I'm often the leader because I have more experience. We often discuss what to do and how to do it. We often have the same meaning about things." In other words, they share the same values, including that telemark skiing is the only way to navigate these mountains.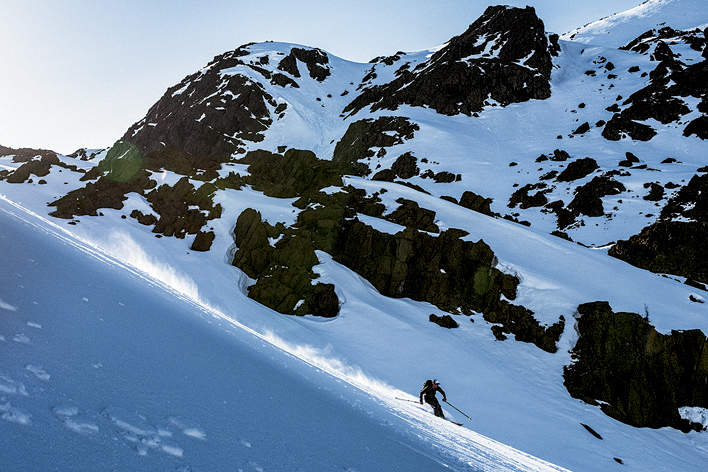 Sailing and skiing here has become a thing. Our charter service, Sail Norway (Seil Norge), has been at this for 10 years. When they started there were only a handful of outfits. Now, as we move along from island to island, peninsula to peninsula, sailboats varying from pedestrian to ostentatious, with skis lashed to every deck, seem to inhabit every harbor. And while the guides and Emil Engebrigtsen, one of the founders of Seil Norge, give me a waypoint, Strava and GPS gag order, none are really that worried about the place being overrun.
"Now [backcountry skiing] is an everyman sport," Vegard notes. "Ten years ago it was a lot more a specialist's sport. [But] there're so many mountains; they won't be populated anytime soon."
"It's really not that well known [even] for the common Norwegian," he continues. "Their conception of our area is we have reindeer and that it's flat. They're surprised to see that we have Alps-shaped mountains. We have the big mountains on the west side and the huge highlands in the east."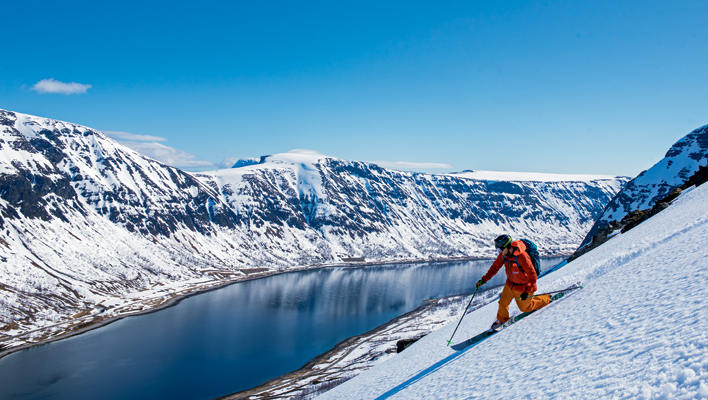 "There are no guidebooks and we want it to stay like that," Tore adds. "We think it's nice to have a place where it's not too drawn up. We think it's nice to have people coming to our area, but we don't have to draw the routes for everybody." Or give them waypoints.
But they're happy to show us around. Whether it's on short winter days by headlamp under the area's renowned Northern Lights, by natural light when the days get long or by sailboat or skintrack, the routes prove endless. And the skiers, engagement rings and all, find a land cracked open by the sea.
Sail. Ski. Norway.
Interested in sailing and skiing the Finnmark Alps? Join Backcountry Magazine, Mountain Sea Exploration and Sail Norway for a six-day cruise this spring, from April 25 to May 2, 2020.
The trip will be very much like the one you read about here—marriage proposal not included. For more information, visit Backcountrymagazine.com/Norway2020.