The lifts are about to close as I skin up the groomed slope of Buttermilk Mountain outside Aspen, Colorado, on a February afternoon. The last skiers and snowboarders whiz by on their way back to their cars after riding chairs all day. A father and his boys make one final lap through the mini terrain park as I pass by on my slow upward path. I feel heavy, laden with piecemeal equipment that is far from the latest, lightest, greatest stuff on the market. That's OK. As a beginner ski mountaineer, lightness isn't the most important thing anyway. The first step is to learn efficiency with the basic tools.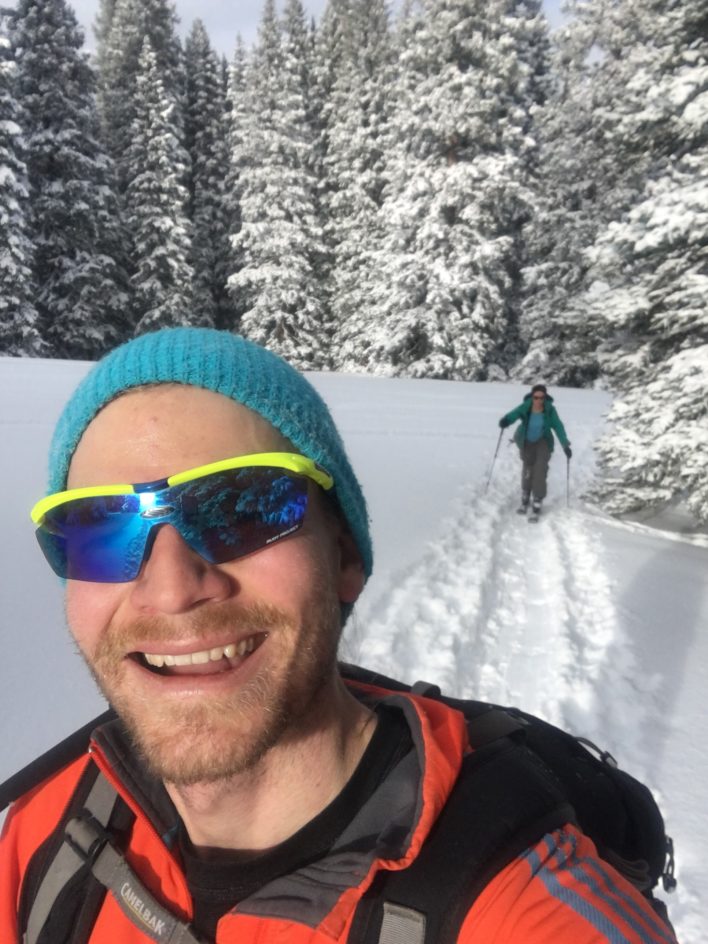 Growing up as a typical Colo-"Rad"-o boy, I've dedicated most of my 38 years to climbing, whitewater kayaking and downhill skiing and snowboarding. Which is to say that I've gotten used to having a respectable level of proficiency in mountain environments. I've climbed Yosemite's El Capitan by multiple routes; soloed 400-foot desert towers with only my ropes, gadgets and wits; paddled the Grand Canyon as well as the Tatshenshini River in Alaska; and in a former life I was a competitive snowboarder and skateboarder. Since I decided to get back on skis and learn how to alpine tour, however, I've had to embrace a refreshing dose of humility. I say "refreshing" because it feels like a return to my roots.
I got my first pair of skis at 3 years old—the UPS truck pulled up and dropped off a package that my mom promptly opened as I stood at her side. Two white Fischer cross country skis with fishscales and blue strap-on bindings were just the right size for me. My parents took me around the block in the snow and I learned how to shuffle along and how to get back on my feet when I fell down. Eventually they started taking me downhill skiing. On some lucky days, I got to skip school and join my dad for a powder day.
Then snowboards appeared in the lift lines. I was drawn to them. Since I was 6 years old, I'd been attracted to the idea of skateboarding and surfing—riding sideways on a single plank—and now here was snowboarding. I begged my dad to let me try it. He wasn't interested. But after begging for a couple of seasons I got to rent a board and take a lesson when I was 11. By the end of the day I was linking turns (and also crashing, a lot) down a blue run with 5 inches of powder. I loved it. I rode so hard and was so whiplashed by the time the chairlifts stopped, that I vomited shortly after I sat down on a bench near the lodge, still grinning. To my dad's chagrin, the following season I became a full-time 'boarder. He wasn't inclined to wait for me to strap into my binding at the top of each run.
As a teenage snowboarder with X Games dreams, I loved airtime—spinning, flipping, sliding rails. I spent four days a week honing in my switch backsides and nose presses while riding for the University of Colorado Snowboard Team. It was also during this time that I was introduced to backcountry riding. Sticking backside 360s off a cliff on Berthoud Pass was as satisfying as stomping a misty flip over a 75-foot tabletop in the terrain park.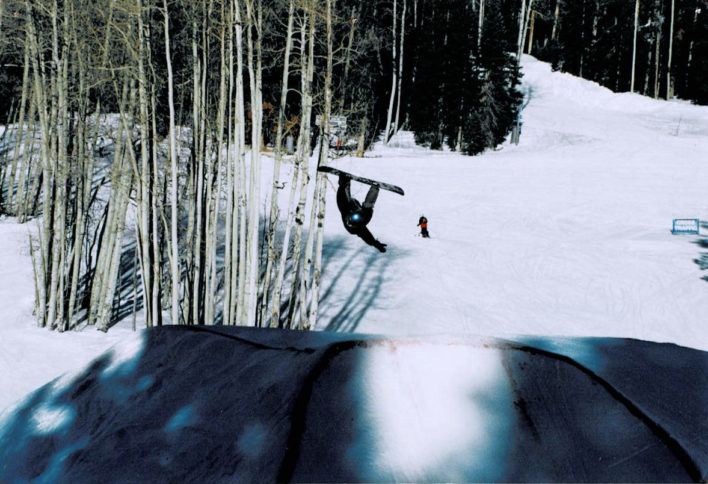 After college, however, I could no longer afford a full-season pass, my group of friends was scattered across the country and I was occupied with a full-time job, so I rode less and less. Aerials become dangerous when you don't get regular practice. I could shred any inbounds terrain in a switch (backwards) stance nearly all day long, but I couldn't trust my reflexes enough to ride like I used to on the jumps, pipe and rails. Snowboarding started to feel a little boring when it became obvious that my progression had stagnated for good unless I gave up other pursuits, like climbing.
In many ways, climbing is more than a pastime; it's a lifestyle. It requires physical fitness (read: cross-training and nutrition), gymnastic acuity, a mind for mechanical engineering, a resilient head game that borders on stubborn self-belief, a streak of masochism. And time—lots and lots of time, because there are so many details to master. The addiction sets in when those details begin to fit together, revealing hints of possibilities that are greater than the sum of the parts. (It's not uncommon for car-dwelling climbers to bail on family holidays year after year for the sake of chasing visions that linger just beyond the sunset.)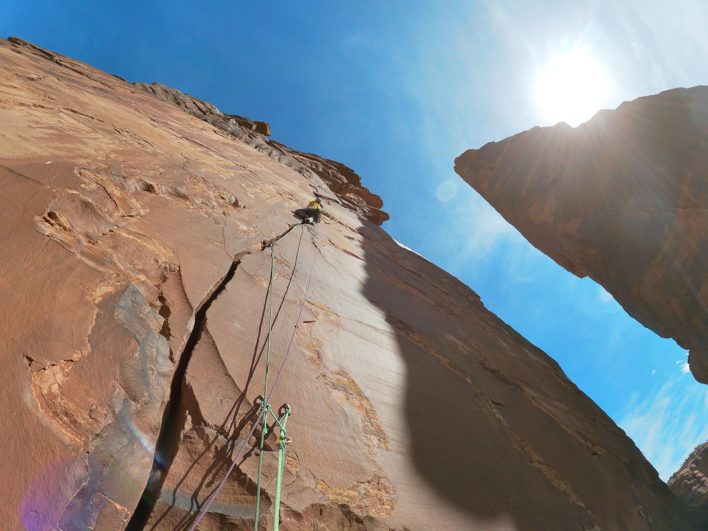 In this way, it was climbing that brought me back to skiing: One aspect of mountaineering that I love is that all the skills and knowledge come together. I've always wanted to be able to ski into a peak, complete a technical climb and then ski out, perhaps even ski off the top of the peak. So it came to be that when I got a hookup for an alpine touring setup in January 2016, I put away my snowboard and returned to skis after a hiatus of more than 20 years.
It has been very humbling to feel like a rank beginner again in so many ways. Taking forever to step into my pin-tech bindings. Fumbling with skins flapping in the breeze. Forgetting to tighten my buckles and crashing two turns down the hill. Forgetting that I also needed to switch my boots out of walk mode and crashing again three turns later. Slipping backwards on a steep incline after forgetting to put my risers up, then forgetting to put my risers down on the flats. Once when I was just starting out, I forgot to put my risers down while skinning on a flat road for so long that I got blisters on my toes, assuming it was a problem with the fit of my boots that I merely had to suffer through. I also had to learn not to lift my skis off the snow with each stride, wasting energy. I've gotten used to 60-year-old men and women in featherlight gear shooting past me for 30-minute après-work laps. I'm still learning, still stumbling and fumbling. That is why I don't take these inbounds laps on Buttermilk for granted. Every outing, no matter how short, is a learning opportunity.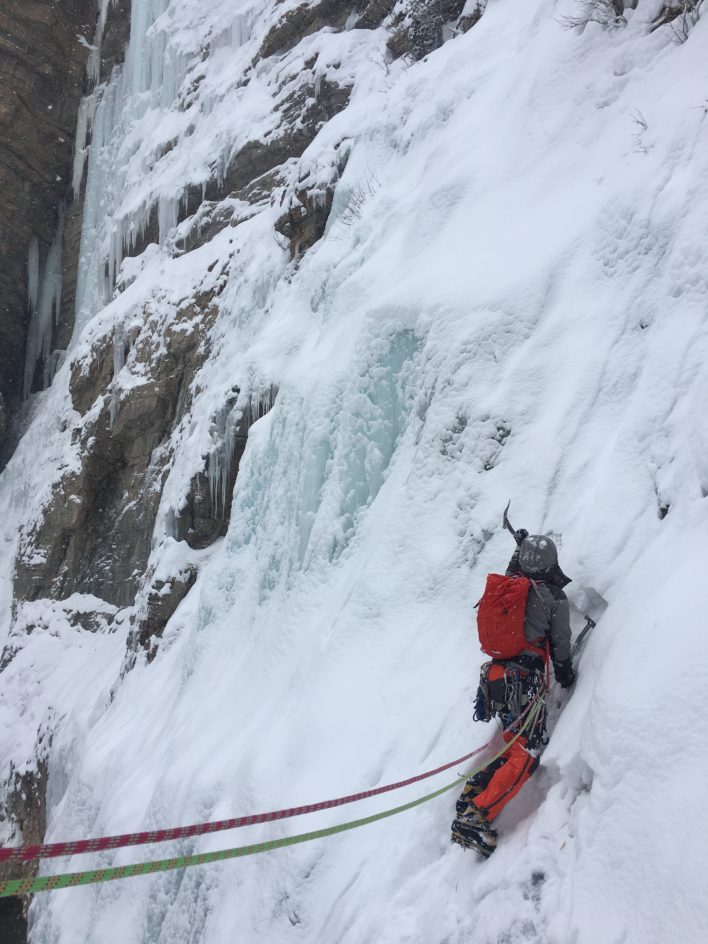 Besides, as a magazine editor I work from home and work is always on my mind. For now, this easy skin track on the edge of the groomed hill is plain good medicine. I concentrate on making each stride as efficient as possible, synchronizing my breaths, savoring the harmony of coordinated movement that appears so simple—kick, glide, clack; kick, glide clack.
On this particular evening a wet snowstorm is moving in. Fat flakes stick to my eyelashes but it's too warm to wear goggles and the gray light is too flat to wear sunglasses (I need some clear ones, apparently). The warmth also means that even my softshell jacket is too warm, but the falling snow is too wet and too thick to not wear some type of shell, so I'm soaked inside and out. That's OK. I'm not worried about freezing or surviving a night out, so being wet isn't such a big deal. Other skiers have turned around and it's nice to be alone for a change. I savor the pitter-patter of the blowing flakes, the smell of the pines. I press on, heart thumping, imagining how much fresh snow will be covering these hills in the morning.
Near the top, the wind is coming in hard from the west. I have no desire to rip skins on top of the resort at the exposed picnic bench as usual. The "summit" can wait today; I opt for a sheltered, flat spot in the trees. I peel each skin with a practiced motion, coordinated with the direction of the wind, so that the skins never touch the snow. I fold them up neatly, end-to-end, edge-to-edge, and stow them in my pack.
In the end, it doesn't matter how fast I skied, or what I skied, or what I did for work (those many tasks that seemed so full of consequence day in and day out). Out here I tap into a certain kind of rhythm—kick, glide, clack—and a sense of ease that comes with acceptance, a coexistence with my surroundings in spite of sore muscles and freezing sweat in the midst of a snowstorm. It's good to feel my heart pounding away under my ribs, between heaving lungs. So many ingredients are responsible for the recipe of joy I feel sliding upon this frozen water, planting my pole, unweighting my feet for the briefest moment, repeating ad infinitum, even as I drift off to sleep in my bed at night. I no longer need to fly high into the air, spinning and flipping. These simple turns are enough to remind me that I'm alive, that I am part of this dance, this coexistence with nature.
Kick. Glide. Clack. Repeat.
I smile, imagining all that those giggling children in the terrain park have yet to discover, the lives they will go on to lead, and how one day, if they're lucky, they may find their way back to master the basics, where it all begins.
Kick. Glide. Clack. Repeat.
---
Derek Franz is the digital editor for BCM's sister magazine Alpinist.