Jackson, Wyo. After a two-day search, volunteers with Wyoming's Teton County Search and Rescue (TCSAR) have found the body of a snowboarder who went missing yesterday in an avalanche on Teton Pass. According to the Jackson Hole News & Guide, the deceased has been identified as 28-year-old Trace Jordan Carrillo of Dubois, Wyo.
On April 1, Carrillo and a partner triggered a slide on the south face of Taylor Mountain (10,352 ft.), just west of Teton Pass, at approximately 2:30 p.m. The slide resulted in the complete burial of Carrillo. The victim's partner, after performing a beacon search that did not yield a signal, returned to Coal Creek trailhead, where she called TCSAR.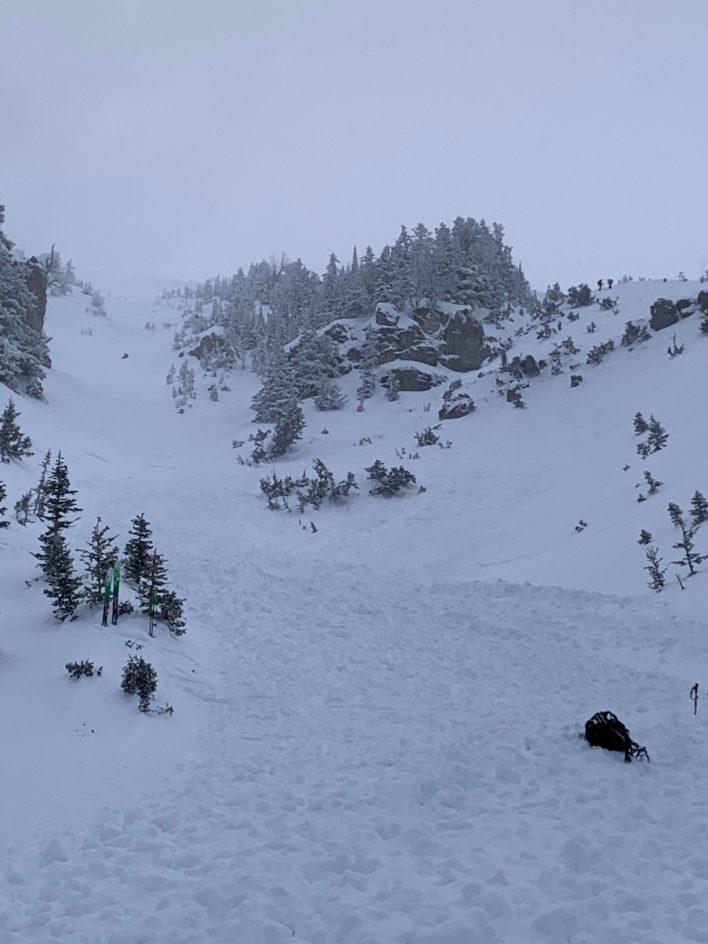 Teams from TCSAR and the Wyoming Department of Transportation (WYDOT) continued the search through nightfall, relying on beacon searches, a probe line of seven people and drones. Inclement weather prevented helicopter use. On the morning of April 2, approximately 40 volunteers from TCSAR, WYDOT and Jackson Hole Mountain Resort patrol resumed searching, as TCSAR closed Coal Creek trailhead and urged skiers to stay off Taylor Mountain and Teton Pass as they continued their efforts.
The morning's clearer weather allowed for TCSAR to bomb the slope via helicopter, so that volunteers could perform beacon searches and probe lines under safer conditions. At approximately 11:00 a.m., a rescue dog had a positive hit, and rescuers were able to recover the missing snowboarder's body from beneath several feet of snow. The victim was then airlifted from the mountain to Coal Creek trailhead.
The Bridger Teton Avalanche Center reported avalanche conditions as moderate at elevations higher than 7,500 feet in its April 1 bulletin, noting that a recent storm had deposited 15-18 inches of snow across upper elevations with strong winds averaging 29 mph. The Center's evening advisory for April 1 additionally noted two other human-triggered avalanches that day, one involving skiers on the southeast aspect of Pyramid Peak and another involving a snow machine on the west-northwest slope of Ski Lake.
"TCSAR extends its sincere condolences to the victim's family and friends," the organization wrote in a press release following the body retrieval. "We are also grateful for the assistance from the different agencies involved in the effort, as well as the many offers for help from members of the community."
"During these challenging times," the release continued, "TCSAR continues to urge backcountry users to be extra cautious in their decision-making."