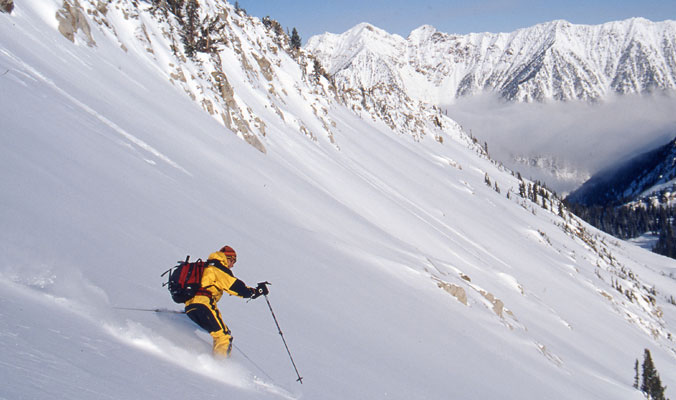 For ski mountaineer Andrew McLean, ingenuity comes easily. Born in Salt Lake City, Utah, in 1961, he spent his youth moving a few times before settling in Seattle, Wash., where he ski raced before leaving to attend the Rhode Island School of Design. At RISD, McLean, known for bouldering the campus walls at night, was once almost arrested after police mistook his chalk bag's contents for cocaine, Ski Magazine reported in 2017. Those school years, however, launched a career for McLean, when he created the Talon, a three-pronged, big-wall climbing tool in 1985. Black Diamond had recently split from Chouinard Equipment and took on McLean as an employee in his birth city. An evolution of equipment and skiing in the Wasatch had begun.
McLean got to work, designing and reconfiguring hardgoods, including climbing cams and the wire-gate caribiner. In 1996, inspired by his own steep-skiing endeavors, he and Black Diamond debuted the Whippet, an ice axe/ski pole hybrid that's become a ski mountaineering standard.
As McLean honed in his designs, he carried out product testing and early-morning missions in the surrounding Wasatch Mountains, often with fellow Black Diamond employees Alex Lowe and Mark Holbrook. The trio's dawn patrols seemingly started a nationwide trend of early-morning missions and allowed McLean to collect intel for what's now known as the ski-mountaineer's bible to the Wasatch, his 1998 publication, The Chuting Gallery.
The guidebook tallies 90 total descents, ranging from shots right off the highway to more obscure lines requiring technical, multi-pitch ice climbs, all paired with a rating system and difficulty standards. The book has spurred numerous ski mountaineers to finish all of the lines, and in 2011, Utahan Noah Howell ticked off his final descent in the book, writing on his blog at the time, "I've always been a slow reader, but I never imagined it would take me 13 years to finish a flimsy paperback."
Following suit, Caroline Gleich became the first woman to ski all of the routes in The Chuting Gallery in 2017. "Andrew McLean's writing and book captured my imagination," she says. "It gave me a roadmap to becoming a ski mountaineer. His quirky book became a shaping force in my career, and I'm grateful for his leadership and vision in writing The Chuting Gallery."