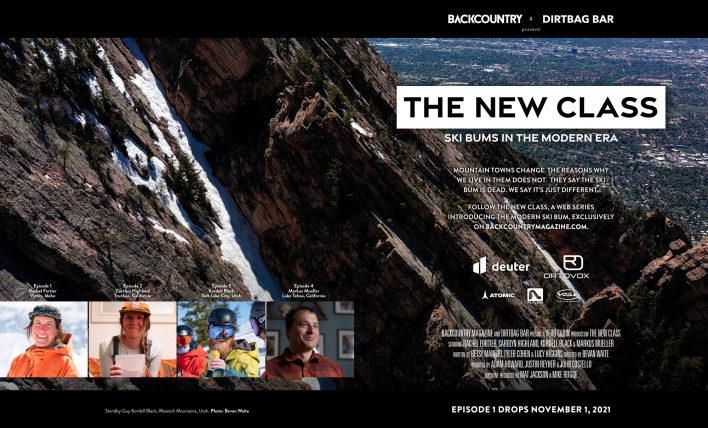 Short Film Series Explores the Lives of the Modern Backcountry Bum
Jeffersonville, VT—The glorified days of the "ski bum" who sacrificed everything to ski every day have been in decline for decades. Increasingly, the modern backcountry bum lives on as a professional who owns their time in pursuit of the sweet balance of work, life and touring.
Backcountry Magazine and Dirtbag Bar, in association with Deuter, Ortovox, Atomic, Flylow and Voilé, are pleased to announce The New Class: Ski Bums in the Modern Era, a series of short films featuring skiers and snowboarders from around the country who elevate bumming to a new level.
"What would a ski town look like without teachers or small business owners?" asks Backcountry managing editor Betsy Manero. "These are the people who are figuring out how to make it work in mountain towns while still spending tons of days in the backcountry."
Season 1 of The New Class profiles these new ski bums. Starting November 1, we'll drop a new video every two weeks.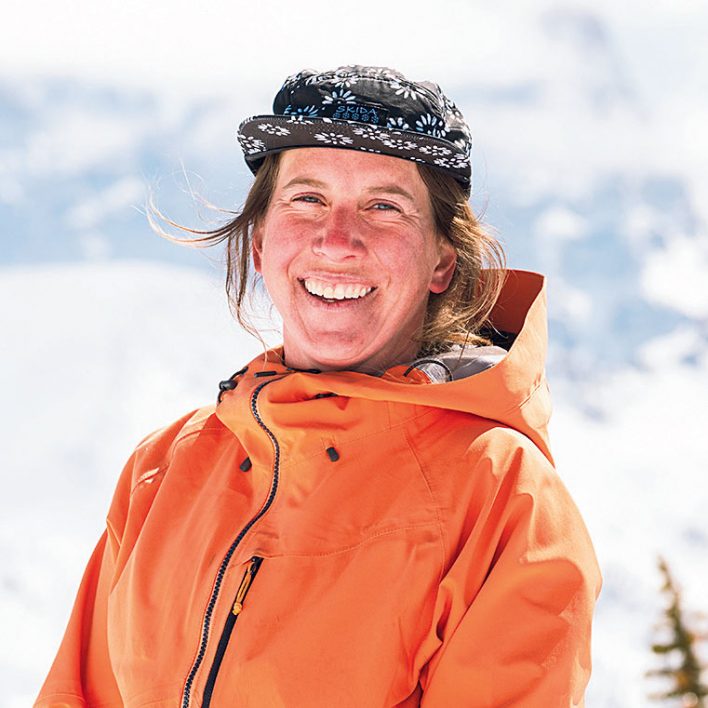 Episode 1: WATCH NOW »
Rachel Fortier
Victor, Idaho
After a few years on the FWTQ, Rachel decided to give up the professional skier dream and bought a fixer-upper inn in Teton Valley, Idaho (like, an inn that was made with railroad ties and had carpeting for wallpaper). Six years later, the inn has been fully renovated into a beautiful log cabin–style bed and breakfast at the base of the Big Holes, with one of the best Teton views out there. Rachel works as the full-time inn-keeper with help from her parents, a few skids living in the basement and her two dogs, Betty and Lucy. When not slinging delicious and picturesque breakfasts (many of which include ingredients from her raspberry patch and her parent's hydroponic garden), she's coaching youth sports in town or exploring the Big Hole range behind her house.
Episode 2: November 15
Carolyn Highland
Lake Tahoe, California
A lifelong skier who grew up carving ice in Maine, Carolyn now lives, works and plays in the Lake Tahoe area. She's a sucker for sufferfests, thus she can be found getting up early for pre-work dawn patrols, schwacking her way up volcanoes or spending long days in the skintrack. Carolyn is an elementary school teacher and spent last year adjusting to seeing her students' faces over Zoom instead of in the classroom. When she's not teaching or skiing, she can be found promoting her new book, Out Here, or coming up with new writing ideas, most of which are derived from her time in the mountains.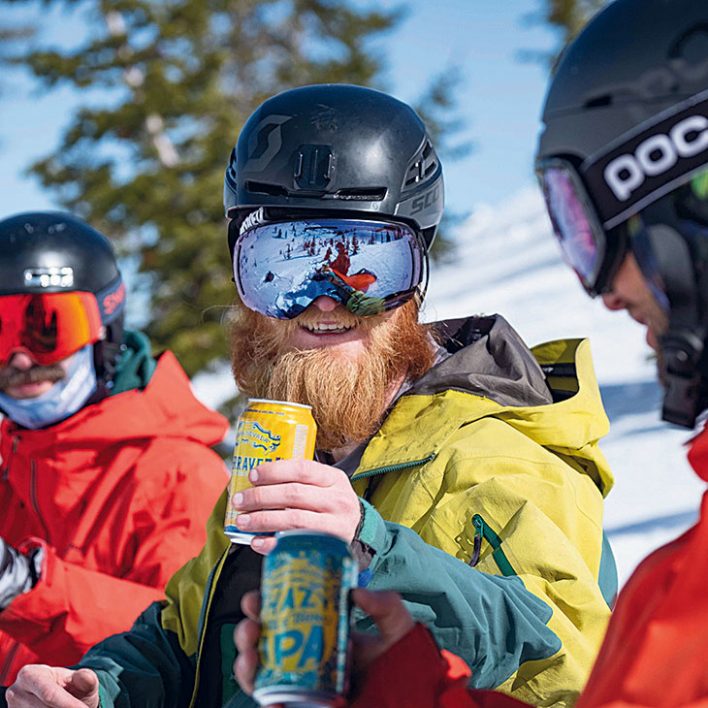 Episode 3: December 1
Kordell Black
Salt Lake City, Utah
Raised by a Mormon bishop in Salt Lake City, Kordell looks like a young splitboarding version of Bob Athey, the Wizard of the Wasatch. For many years, his job working customer service in the airline industry has allowed him to gain standby tickets to fly around the world and ride epic lines. And the manner in which he takes on backcountry lines is professional level. With a larger-than-life personality, and a decade of stories to match, Kordell fills the screen and stokes your hopes and dreams of becoming a global ski bum.
Episode 4: December 15
Markus Mueller
Lake Tahoe, California
Markus Mueller has always lived in ski towns. Now, like many in his Lake Tahoe community, he's figured out a way to stay there. As an infrastructure manager for a California utility that specializes in solar and wind, Markus both appreciates the work he does in creating climate solutions and his time away from it ski touring. "My work is so different than what I do for recreation," he says. "It's kind of like those two opposing things allow me to live a full life." His mantra, like so many who make sacrifices to live and play in the mountains, is simple: "Figure out what makes you happy and do more of it!"