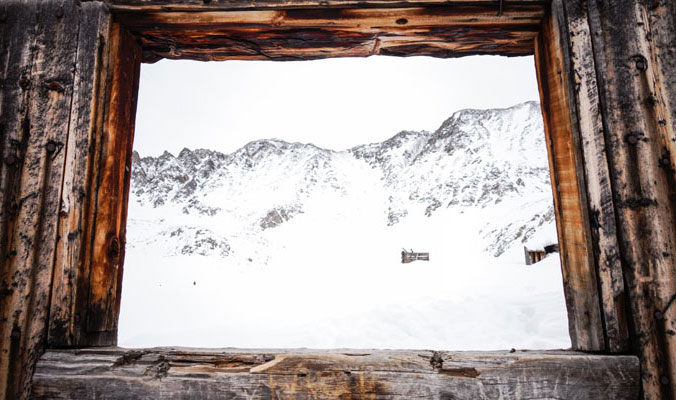 It's two in the morning, and our breath has frozen in sheets on the inside of the 4Runner's windows. I'm unsure if I'm awake from the biting cold or from my excitement for tomorrow's objective. We're the only car in Summit County, Colorado's Mayflower Gulch, where four inches of snow fell earlier tonight. As I lie in silence, I think of legends like Steve House and Tommy Caldwell. "Shit," I think to myself. "If those guys can bivy in a snow cave and wait for sunrise, I can lie here in our 4Runner and be patient."

In the morning, we finalize our plan exactly like we learned in our avalanche class last December. Avy conditions read low danger at all elevations. The weather: blue skies and a high of 35˚F with minimal wind. It's a flawless day for my wife and me to head out for one of our first tours on our own.

The weather is already warming as we begin picking our way through the trees to gain a ridge 1,000 feet above. We soon leave an established skintrack to begin breaking our own, reading the mountain and cutting through fresh snow, a new experience that connects deep down. For me, the day is already a win.

After navigating around a few steep rollovers, we gradually crest the ridge just above tree line. The winds have thinned the snow cover up here, from where we gaze up the drainage to Mt. Fletcher, soaking in views that we have all to ourselves.

Once we've ripped skins, we discuss our next rendezvous point with nervousness—this is, after all, the first time we have skied out of each other's sight in the backcountry. We check radios, she shoves off and I wait, breathing deeply and slowly to retain some of my earlier calm. The 30 seconds it takes her to radio back feel like 10 minutes.

We take turns leapfrogging down the slope, cautiously letting loose in the four inches of fresh that's quickly warming into mashed potatoes. After capturing several pictures, we regroup at the bottom and decide to continue up the drainage to investigate Gold Hill, a north-facing slope on the valley's other side.

The abandoned Boston Mine Camp atop the drainage feels close enough to lean our skis against the building remnants' weathered walls. In truth, it's another mile away and a few hundred feet above. We skin up the gradual valley grade and through the town of shuttered structures. As we steadily move through the skeletal village, we see a large group with several infants and dogs in tow. I feel an instant connection and admiration for them; it reminds me that we can all define our own normal. There are no limits except those we set for ourselves.

We linger for 30 minutes, watching several groups drop a cornice that tops the northeast-facing slope above. "Those turns look pretty good," I say to my wife. The lower section is mellow, but the top appears steeper than 30 degrees. After some discussion, we both agree: northeast slopes are off limits. It seems so easy and safe to drop our plan and get another quick lap on the 600-foot face, and I quickly realize how real the human factor can be in making decisions.

I look back as we depart and exhale deeply, letting go of the temptation. It feels good to honor our plan.

The drainage back to the trailhead meanders through dense trees, and they pass in slow motion as the cool wind rushes over my sun-warmed face. I slow my thinking to imprint the day's images into my mind. Joy settles in my soul from the thought of what we accomplished. No couloirs, no face shots, no cliffs—but we touched the mountains. I want more.