Phrases like "inbounds backcountry" and "sidecountry" are frequently tossed around by resort-goers, referencing terrain they view somewhere in between proper backcountry and controlled resort territory. But according to patrollers and avy educators, both terms should be eliminated and these zones approached with a backcountry mentality.
"We don't have 'inbounds backcountry,'" says Doug Richmond, Patrol Director at Bridger Bowl, Mont., speaking of the resort's Schlasman's Lift. When opened in 2008, Schlasman's increased access to Bridger's ridgeline, including 300 unmarked, skiable acres with cliffed-out runs and steep chutes. "We have backcountry without avalanche mitigation work and without ski-patrol rescue," Richmond says. "And we have inbounds avalanche terrain, where we spend considerable time and money trying to mitigate the avalanche hazard." Bridger's ridgeline, including that accessible by Schlasman's Lift, is the latter.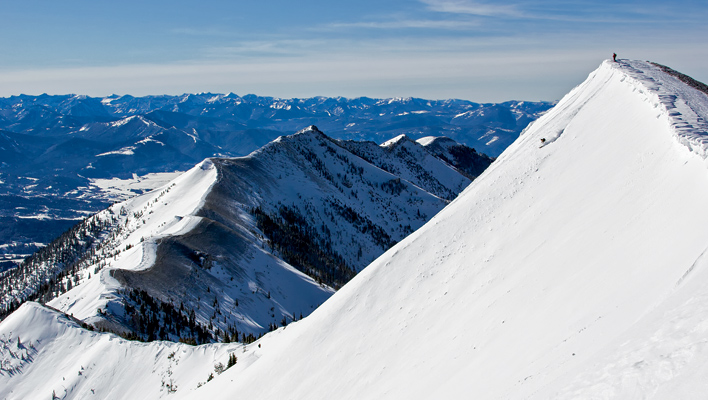 In each type of terrain, managing risk is paramount, even where runs are controlled for avalanches, Richmond notes. "We warn that we can't control nature, and that some avalanche hazards still exist in this inbounds terrain," he says. At Bridger, patrollers manage that risk by requiring skiers and riders to carry beacons, which are checked for before loading certain lifts, like Schlasman's.
That management technique may not be as effective as it once was in deterring unprepared skiers from accessing riskier inbounds terrain, suggests Zach Berman, who teaches avalanche education for the Friends of Gallatin National Forest Avalanche Center and the American Avalanche Institute. "When they first started that plan 25 years ago, it was for skiers unprepared skiability wise," Berman says. "And 25 years ago, not a lot of people had beacons. But nowadays, everybody and their mom has a beacon, so it's not really dissuading people. So I think the whole dynamic has kind of changed."
Berman advocates that skiers take more precaution. "If you have a beacon with you and nothing else, you're pretty useless until someone else comes along," he notes. "If you're going to carry a beacon at all, you should carry a shovel and probe with you."
The beacon requirement, Berman suggests, can mislead OB novices into believing that carrying the right gear ensures safety. "For some people," he says, "that's their first introduction into backcountry skiing, just because they have to carry a beacon." But carrying some of the appropriate rescue gear isn't enough—a backcountry mentality should be applied, too.
That approach, Berman says, includes being mindful of other skiers, and how your actions may impact their safety. "Everyone acts like they're skiing at the resort [while in Schlasman's terrain]; they're skiing on top of each other, they're skiing all at once," he continues. "There's no protocol, like in backcountry skiing, that you would need to be safe."
While that may be the case, the resort is doing its part to prepare skiers and riders with more than the beacon requirement by providing information on trail maps and signs about the proper approach to such terrain, although it may technically be inbounds. "We promote safe travel: never go alone, carry rescue gear and know how to use it," Richmond says.
Berman is all for reinforcing those resort suggestions. "Bridger Bowl, on their trail map, will say ski with a partner, one at a time," he says. "If the resort is taking the time to do that, it'd be worth practicing that policy, even if you see other people not doing it."
Berman's approach should apply to any hazardous area, whether it has avalanche potential or not (see sidebar). Higher-consequence zones, whether on the East or West Coast, can include unmarked obstacles, committing terrain and remote exits—and may not be patrolled. The best way to stay safe? Approach all risky terrain as if it were the backcountry, regardless of where boundary lines fall.
—
This story was originally published in January 2016, The Fringe Issue.