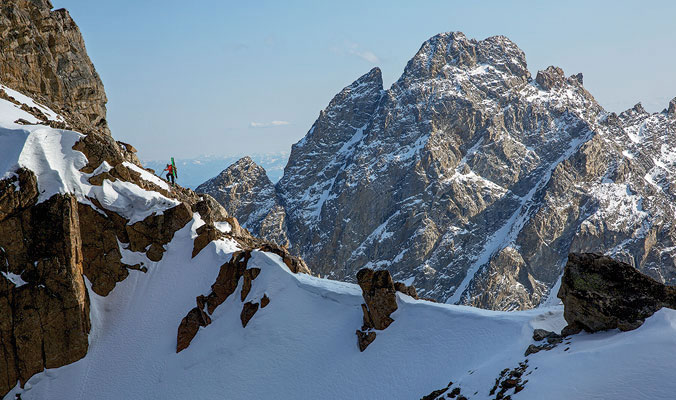 Wapta. Ortler. Spearhead. Haute Route. These are hallowed ski routes; lines on a map that, over time, have become greater than themselves. For many skiers and riders, they have become pilgrimages. And for good reason.

Above all, skis are transportation. They take us from one place to another with uncommon ease, speed and grace, and everything else that we enjoy—powder skiing, ski mountaineering, splitboarding, freeride—happily evolved from these qualities. Covering distance on skis, particularly when that distance is punctuated with deep turns, is one of the mountains' greatest pleasures.

Multiday ski traverses that cover dozens of miles, particularly those that meld downhill objectives seamlessly with long-distance adventuring, are perhaps the ultimate ski experience. Requiring fitness, strength, self-sufficiency, meticulous planning and a wide range of skills, ski traverses are also an excellent test of any skier's mountain mettle. Here are a few things to consider before planning your ultimate adventure.

Navigation and Terrain

The route dictates the experience. Whether it's the well-beaten and hut-studded path of the original Chamonix-Zermatt Haute Route or a homebrewed route across your nearby range, the line you draw on the map will affect everything else—it's the most important element of any trip. Is the route glaciated? Are there huts or are you camping? Will you be exposed on an alpine crest or do you have storm-day options? Identify avalanche terrain—do you have alternatives if hazard spikes?

Use all of the resources available: maps, satellite imagery, guidebooks, previous trip reports, etc. In the field, a GPS loaded with waypoints can help keep you on track, but there's no substitute for a paper map and compass and the ability to use them. Accurate and reasonable time and distance estimates for each day or stage of the trip can make or break your plan—estimate conservatively and give yourself a day or two of margin. Weather, gear breakage or fatigue can easily cost time. You're almost certainly going to be moving more slowly on day six than day one. And as they say, shit happens. Which gets to….

Make Contingencies

Things go wrong in the mountains. Maybe a nasty storm blows in unexpectedly. Maybe you're injured. Maybe a binding rips from a ski or a stove breaks. What do you do? Where do you go? Contingency plans are equally as important as the route plan. Identify terrain choke points, where weather, avalanche hazard or fatigue might dictate a change in plans. Having alternate routes and escape plans will allow you to safely bypass dangerous or exposed terrain or bail quickly if necessary. Identify and mark possible landing zones for helicopters (safe, flat, without obstacles) in case of an emergency evacuation. Plan for the worst-case scenario and hope for the best—it's better to have plans that are never used than to scramble for answers in a precarious situation. And share your tour plan, including planned check-in dates and times, with someone who won't be on the trip. If you go off the grid, your route plan and contingencies could lead rescuers to your most likely location.

Plan For Communication

Even though I cherish any time spent away from technology and its associated evils, outside communication is critical for multiday trips. A satellite and GPS communicator that allows texting is super handy for getting weather and avalanche updates, letting curious family know you're OK or executing an efficient emergency evacuation. Cell phones are unreliable in many areas, but can also be a resource—if nothing else, your downloaded Lady Gaga dance mix can spice up a tent-bound storm day. Make sure to load a complete list of emergency contacts for the entire group onto your device and that your outside contacts (including the people with whom you shared your itinerary) know how to reach you. Check in at planned intervals as a safety measure. And carry a spare power source—all that technology means nothing if the battery is dead.

Dial In Equipment

The amount of gear required depends on the route, terrain, weather and group size. Going from luxury hut to luxury hut on Austria's Ötztaler? Daypacks and glacier kits (and maybe a button-up shirt) are de rigueur. Trying the Bugaboos-to-Rogers Pass route? You'll need all the gear—and probably a helicopter to cache it along the way. Weight matters, so choose lightweight and multipurpose gear and pay for quality. The most important pieces of gear for winter camping (besides your normal kit and layering) are a tent and sleep system, stove (melting snow is often the only source of water, so bring plenty of fuel) and a well-stocked repair kit. Heavy packs and long distances will test your gear as much as your body—be prepared to fix anything. On some routes, ski pulks make life easier; on routes that traverse steep terrain, everything must be on your back—know before you go. Finally, competent and positive ski partners are essential and ultimately the best part of any adventure.

Fuel Up

You may be able to order a latte and croissant virtually anywhere along Italy's Ortler Circuit, but keeping fueled up on wilderness traverses can be a challenge. Fuel is necessary to perform, but calorie-dense foods tend to be heavy. On remote trips, consider alternating freeze-dried meals with "real" food to simplify packing and reduce weight. Couscous is a staple because it's light, doesn't require much fuel to prepare and goes with anything. Same goes for instant oatmeal, pasta and pesto. Pre-cooked bacon and smoked salmon are light and can be tossed into any dish for an instant boost.

Peanut butter and tortillas are heavy, but worth it. Tea and instant coffee are important for morale and encourage hydration when it's cold, and butter goes in absolutely everything—more calories! And never leave home without plenty of chocolate. It's a luxury that can make a rough day better and a great day absolutely stellar.