If there was ever a metaphor for Nick Russell's professional splitboarding career, it's the act of splitboarding itself. The years of accumulating gear and knowledge. The months of training. The weeks of scoping, days of strategizing, hours of climbing. Listening to the gut when it whispers "turn around," ignoring the blisters when they scream "quit." All for a few sacred minutes on the summit, a few seconds of euphoric descent.
Not to say that Russell's career will be short-lived—far from it. The Lake Tahoe-based 33-year-old is well-positioned for an enduring backcountry career. Russell is in his physical prime, surrounded by all-star mentors and riding partners who appreciate his ability to smile through suffering. He signed a contract with Red Bull in the summer of 2020, which, for the first time in his career, enabled year-round dedication to his craft. It's also arguably made Russell the world's first professional splitboard athlete—not a pro snowboarder who adopted the split, but one who earned significant sponsorships solely from human-powered exploits.
Semantics aside, Russell is intimate with the concept of delayed gratification both on and off the hill, having climbed the proverbial mountain of his pro career like he does literal ones—step by hard-earned step.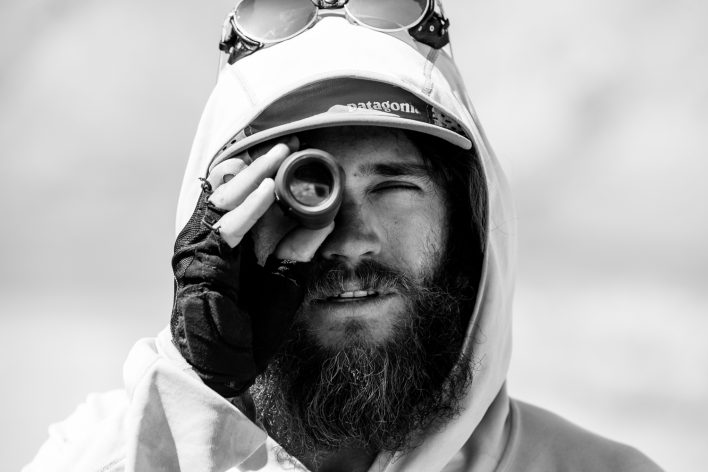 Russell was born into a skiing family in Connecticut, where his father patrolled at Woodbury, a tiny, now-defunct resort.
"It was basically one really slow chairlift and a rope tow," remembers Russell. His older brother was a skateboarder-turned-snowboarder, and Russell followed suit, learning on rental gear.
His first deck, a cherished Liquid 111, might as well have been a compass needle, pointing toward competitive snowboarding. Russell made the pilgrimage to Vermont weekly, where he attended the U.S. Open at Stratton, first as a spectator, then as a participant in the Junior Jam.
Eventually, Russell attended Stratton Mountain School, befriending classmates destined for stardom: Danny Davis, Luke and Jack Mitrani, Kevin Pearce and Louie Vito. In competition, he was constantly overshadowed.
"I was always in the mix, but I was never winning," he concedes. "My friends got Burton deals and started winning events and getting invited to X Games and everything. It was definitely tough to compare yourself at a young age like that to your peers." But friends recall that Russell was never jealous. "He was always stoked for us," says Davis. "When we had success in competition, I honestly think Nick, in some ways, just wanted no part in that."
Russell had always devoured snowboard flicks like Totally Board 8 and Technical Difficulties, enthralled by Kevin Jones, Jim Rippey and company as they tore up the sundrenched wild West. As competition lost its luster, the unstructured side of snowboarding beckoned. The compass needle quivered, and Russell began making his own films. When he graduated high school—without his peers' major sponsorships and accolades—he had two film projects under his belt: Get Nasty and This Is Too Easy.
"It wasn't until moving out to Utah right after high school where everything slowly started to fall into place," he says. Park and pipe took the backseat as Russell poked out the gates at Brighton and hiked Grizzly Gulch. But his view of the terrain was "microscopic," he says. "You're not looking at the peaks above. You're looking at the wind lips and landings. It takes some time before you start to realize that bigger picture."
Around 2010, Russell filmed Commotion, which he called his "first homie video." He also shot his first proper part for a real film crew in Keegan Valaika's Givin film One. Russell tagged along with Wyatt Stasinos and Doran Laybourne in the Colorado backcountry, doubling on snowmobiles and building booters.
Still, Russell felt like he was just ticking off tricks—a back-seven here, a cab-five there—while simultaneously becoming enticed by the peaks and lines beyond. "I was 22, 23 years old, with minimal time spent in the mountains at that point. And you just do what your heroes are doing," he says. Conformity—an aspect of competitions Russell hoped to sidestep when he traveled west—followed him into a realm where he sought autonomy.
While filming around Mt. Baker in 2011, Stasinos was buried in an avalanche. Russell didn't know what to do, but others did, and Stasinos survived. A week later, Russell took his first avalanche course. From 2012 to 2015, Stasinos, Russell and Stasinos's brother Corey "took off," says Russell, disregarding competition and his few sponsorship obligations to chase powder and film a summer-job-funded, 16-millimeter masterpiece called Free.
They sought to explore new places and, for Russell, tackle lines that encouraged full-throttle freeriding. Without money for good snowmobiles, they started splitboarding. With film being so expensive, Russell honed his signature no-fall approach to big-mountain riding—"We didn't want to fall in any of the shots," he explains. To minimize the time spent hauling heavy camera gear in and out of the mountains, they began winter camping.
The biggest hurdle was an unexpected one. In January 2015, Russell contracted pneumonia-like symptoms, breathing became laborious, and an X-ray in Jackson, Wyoming, revealed a grapefruit-sized abscess in his liver. Russell was life-flighted to Salt Lake City, where he nearly died and spent a month in the hospital, losing 30 pounds before beating the infection thanks to antibiotics, multiple liver drains and rest.
Upon his release, climbing stairs left Russell exhausted. Doctors warned normalcy was a year away—at least. But by late April, Russell was ready to link up with Jones Snowboards ambassador Nat Murphy for a road trip through the Pacific Northwest, where the pair ticked off volcanoes every other day.
"Getting sick definitely gave me pretty intense motivation to take advantage of when your body is healthy," says Russell. "That was my first time using crampons or axes or anything like that, and Murph is definitely the dude who showed me the ways of bigger mountains."
That summer, after Russell's first Jones Snowboards trip to Chile, the Stasinos brothers joined him in the Andes to film the final segment of Free. His compass needle stopped shuddering. Hardship begets clarity, and Russell had found his niche: knifing judiciously down steep faces, seeking rippable snow and exploring big mountains with good friends while wearing funny hats. The only constraints were how far they could lug a camera; the only rules supplied by the snowpack. There were no judges to impress, no trick list to tick. Russell finally felt free.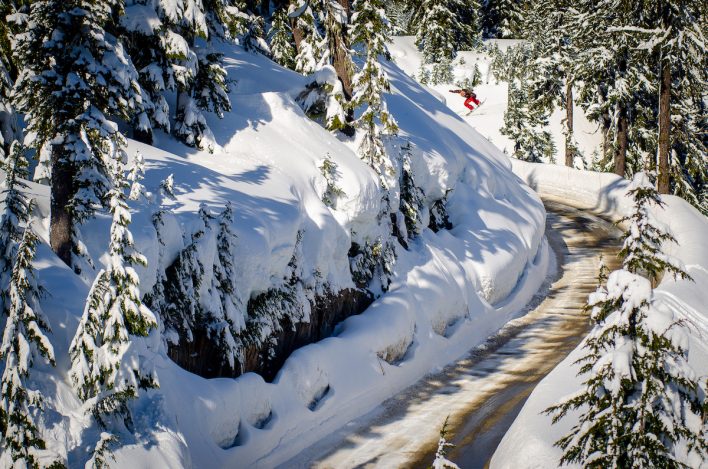 In 2014, Russell made a pivotal move to Truckee, California. He rented a room from Davis down the street from Jeremy Jones. "We started snowboarding together a bunch. And I started riding the [Jones] boards," says Russell. "My learning curve really just rose very, very steeply being in the mountains with him."
"Conditions are irrelevant [for Russell]," says Jones. "He's just always down for anything. And that's why I ended up in the mountains with him so much since that first day. And why, quickly after that, I brought him into the Jones fold."
Signing with Jones Snowboards and touring with its founder affirmed Russell's choices. He pursued his Level 2 avalanche course and Wilderness First Responder certification and attended Teton Gravity Research's International Pro Rider Workshop with Jones. Seeing what he calls "the best of the best still practicing and learning every year" instilled a notion that backcountry education is a journey, not a destination.
"You need that solid foundation of formal education, then you need to continue to build upon that for the rest of your life," explains Russell. His self-imposed informal education took him to the Tetons, where, starting in 2014, he began ticking off lines with splitboard guides Murphy and Clark Henarie. He toured his Sierra backyard with Jones and Tahoe legend Jim Zellers. Together they rode a descent of Mt. Whitney on Russell's 29th birthday.
"Zellers especially, he's a different type of mentor in the way that he wants you to learn firsthand for yourself. Some people call that sandbagging, but I call it constructive mentorship," says Russell. "He'll give you all the pieces that you need, but he wants you to put them together."
When asked who's currently pushing the sport, Zellers's response is telling: "Today, it's Nick Russell. He's got the combo of freestyle, big lines and a creative eye. I'm not sure anyone is close to his level." Apparently, the sandbagging paid off.
Armed with insight and inspiration from his mentors, Russell has blazed his own skintrack. His 10,000 hours in the backcountry began paying off when he joined Patagonia as an ambassador in 2018. Russell's confidence continued to grow as he traveled to Bolivia and Chile to film Range of Mystery and All in a Dream, respectively.
In Range of Mystery, Russell, Davis and co-director Gray Thompson search for a mythical range in the Andes. Not only does Russell continue his tradition of wearing funny hats while exploring big mountains with friends, but he comes into his own as a rider, alpinist and expedition leader, proving himself as one of the most well-rounded splitboarders of all time. In the film, Russell goes from throwing handplants on his split in a natural quarterpipe alongside ditch specialist Davis to leading the team up the startling steep, technical Puma Spines, before riding the line with stylish, controlled turns.
Few snowboarders have the skill to go clip for clip in transition with Davis, and few splitboarders can lead the charge up and down such a vertical spine wall. Those who can do both can probably be counted on one mitten.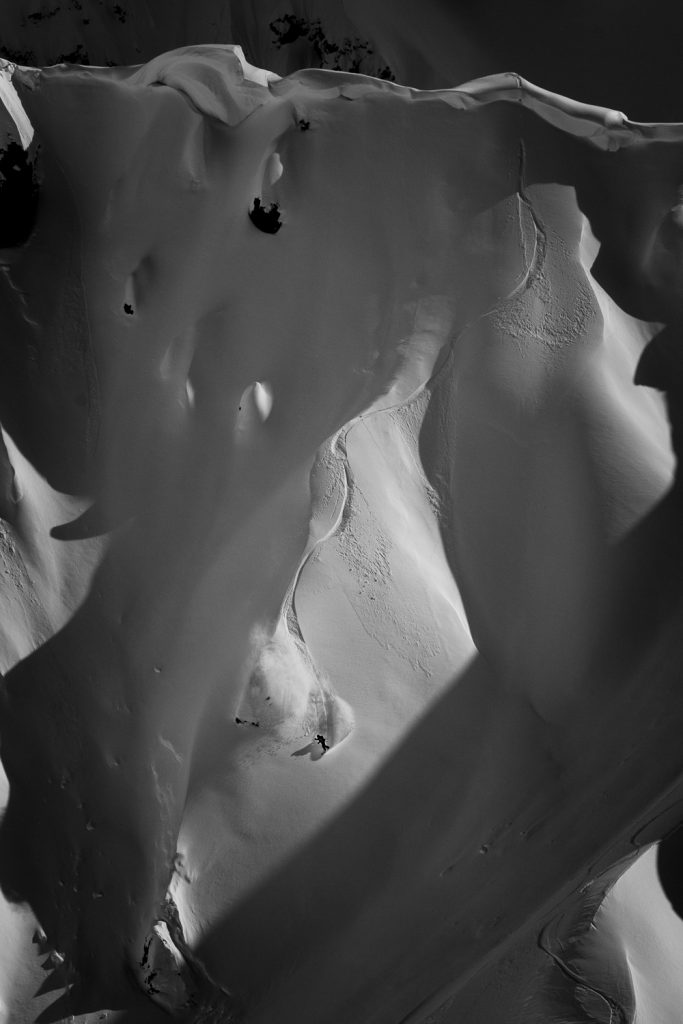 "There's definitely a point five years ago where I gave up on ever making a living off of snowboarding or calling it a real career," Russell admits. "I was totally cool with that. It was still what I was going to do."
He never detoured, however, and his once snail-like ascent began to pick up speed. In 2019, he rallied a team that included Davis, regular partner Forrest Shearer and big-wave surfer Ian Walsh for a trip to Denali. The self-proclaimed "Denals Surf Team" camped at 14,000 feet for 18 days before getting barreled on the Messner Couloir. All told, the team rode 11 lines, including four first snowboard descents and one first descent, Fruition, on neighboring Black Rock Peak. The trip padded Russell's expedition résumé, and a Roam-produced film offered exceptional exposure. Most key was the unplanned, on-glacier networking.
"I became close friends with Ian Walsh on Denali, which got me thinking about working with Red Bull," says Russell, who signed with the beverage behemoth in the summer of 2020. The impact was immediate. "Last summer was the first time in my life where I didn't have to have a second or third job," he says.
"I don't know many people who are getting their first Red Bull contract at the age of 32," says Davis. "But Nick Russell is always one of those people who will blow your mind." According to Jake Martin, Russell's Red Bull team manager, Travis Rice was a major supporter of Russell joining the team. "He's like, 'Yeah, Nick is pushing the envelope of what backcountry snowboarding is,'" says Martin.
That contract from Red Bull means as much for splitboarding as it does for the man who signed it. Thanks to the influx of cheddar, Russell is arguably the world's first professional splitboard athlete—a claim that makes Jones chuckle. "There's certainly a truth to that statement," says Jones. "I think it's an example of how much [snowboarding] has evolved, and how much it has embraced splitboarding as more than just a super niche thing for a handful of hardcore backcountry people."
Other notable splitboarders, from Dave Downing and Craig Kelly to Xavier de Le Rue and Jones himself, had notable pro careers prior to adopting the splitboard. Russell's income comes purely off his exploits on the skintrack. He's neither a guide nor a professional who picked up a split in his golden years; he's dedicated the last decade of his life to human-powered backcountry travel. "The path to becoming a [pro] backcountry snowboarder no longer revolves around having a snowmobile and a heli budget, and that's a wonderful thing," Jones says.
With his newfound freedom, Russell is focusing on sustainability initiatives and activism with Protect Our Winters and Patagonia, and he recently put out a Guide to Backcountry Basics course with surf website The Inertia. He's utilizing Red Bull's various coaches in the offseason, so, come winter, he can clock more days on the skinner, and every preseason training session and mid-winter tour is a building block for spring objectives.
That objective last season was a trip to the Wrangells' rarely ridden Mt. St. Elias with Cody Townsend, who coined the hashtag #Nightmares
WithNick to describe their time touring together. "I've done three 'Fifty Project' lines with Nick, and all three of them have been absolutely massive sufferfests—just on a different scale of suffering," says Townsend of his project to ski all the lines in the book Fifty Classic Ski Descents of North America. "I don't think it's been a coincidence, because I think subconsciously I know that Nick is going to say yes to my ridiculous idea and then be there and do it with a smile."
Townsend later added, "What really makes a good backcountry partner is that attitude in the mountains, that stoke, that happiness, that ease to go along with the flow when things turn sour and to keep a positive head, and Nick definitely has that. That's what has gotten him to where he's at: becoming one of the premier young snowboard mountaineers out there. He has that fire burning inside of him."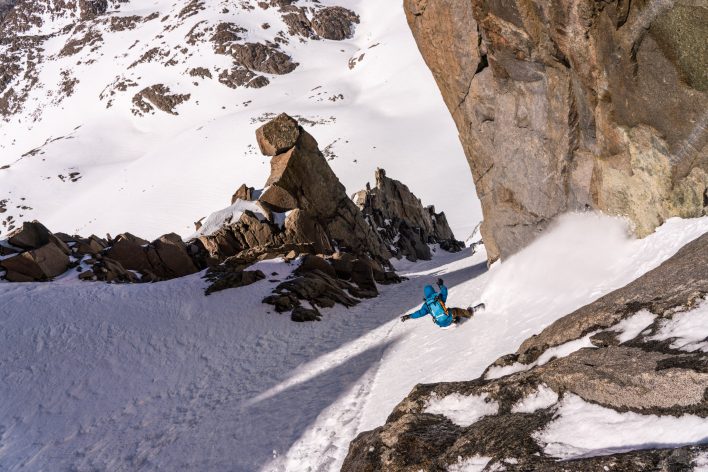 Russell's mentors, partners and former roommates all share a sentiment: It's about time. He's been paying his dues; he deserves support. But, from Russell, there's no sense of entitlement, no complaining he didn't get an earlier shot. He's simply grateful to be here.
"There wasn't a path at all for being a professional splitboarder. I feel like nowadays, you want this instant gratification, the validation that you made it, but [my career] was certainly not an overnight scenario," says Russell. "All of this is happening because I manifested it years and years ago. When you dive 110 percent into whatever it is that you're doing, there's no way that you can fail. The universe just doesn't let that happen."
The 2021/22 season had an auspicious—albeit surprising—start, as Russell is no longer riding Jones boards, instead signing on to sustainably minded, Salt Lake-based upstart WNDR Alpine. Russell calls the decision to leave Jones one of the hardest of his life, but he left with his former boss's blessing and sees tremendous opportunity to get in at the ground floor of what might become an influential snowboard company. "That's always been my dream," Russell says.
This mountain has taken years to scale. And it's tempting to claim that gratification for Russell has ostensibly been delayed, but only if it's measured in the dollars, contracts and fame at the summit. If it's instead measured by moments along the ascent—the stoke, sweat and time spent with good friends in big mountains while wearing funny hats—then Russell's been gratified for a long, long time, and we're all just getting hip to the party.
---
This article was originally published in Issue #143. To read more, pick up your copy at BackcountryMagazine.com/143 or subscribe.