In 2013, having spent 18 years building Line Skis up from its roots in his parents' garage to the successful company that it is today, Jason Levinthal launched a new brand tied directly to his own persona: J Skis. Now, his East Coast, no-compromise roots are on display in limited-release batches sold direct to customers. This year he took it a step farther. Levinthal recently launched a crowd-funded campaign on Kickstarter for his new powder ski, the Friend. The ski received full funding within half the allotted time.
Levinthal took time out from his entrepreneurial marathon to talk about, the risks and rewards of being your own boss and his mission to do whatever he can to inspire more people to ski.
Backcountry: Eighteen years is a heck of a long time to pour your heart and soul into a thing, only to walk away. How did you know it was time to move on from Line and try something new?
Jason Levinthal: It took 15 years of trials and tribulations to get Line to be sustainable. Once I was there it was very comfortable, but usually when you're comfortable you're not making progress. For me, it was time to get back to doing something truly for myself, for my own future and that I felt would be innovative again. Not only with product, but also the way I operate the business. You can't do a one-eighty in a big ship, know what I mean? Line is exactly where they need to be, it's doing better than it ever has.
BCM: So you decided to create a one-man band. You're a year into J Skis now—is it getting any easier, and are you really the only man behind the curtain?
JL: I am doing everything, but I'm trying to outsource things that someone else can do better. I don't have any employees. I keep it super lean, but the people that I do work with when I need to are the best in the business.
I equate building a business to building a car from scratch. How fast can you get this pile of spare parts in the car, turn the key and drive it away? Right now I'm hoping to do that in a couple years. Honestly, I am working 'round the clock, so it is gnarly. There's a lot of glamour to being an entrepreneur and starting your own business, but the reality behind the scenes is actually the opposite, because it's all in your hands. Every minute I put into this I can get something out of it, or every minute I don't is something I might have left on the table.
BCM: Why did you decide to announce the Friend with a Kickstarter campaign?
JL: I wanted to make this ski, and it always comes down to the big question: How many people are going to want this? You really don't know, and normally you would spend tens of thousands of dollars building something that you have no idea if anyone is even going to buy. That's what Kickstarter's about—not just launching a brand or a company but launching a specific product in an existing company.
So here I am, I have a good following and I know how to make a powder ski, but I just wasn't sure. I could put it out there and see if there're enough people that want this through Kickstarter. It's basically a way of taking pre orders. Now I use that money to build the product and ship it to them.
BCM: For how long were you planning on designing a powder ski?
JL: Honestly, from day one. Every time I launched a ski, people would comment, "When are you gonna make a fattie? When's the powder ski coming?" I never said I was, they just knew they wanted one. People would start describing what they wanted and calling it out anytime I posted anything about a ski. It was just a matter of time.
BCM: Can you talk about your design intentions for the Friend?
JL: I wanted to make something that targeted a more progressive modern skier. There are plenty of skis that are going to be stiff as hell and that only go straight down a mountain and that's all. Being an East Coast guy knowing that not every day is a powder day, I wanted to have something that you would have just as much fun with on the groomers. That's why I made it a 114 waist. You're gonna be able to rip on the groomers and have no regrets that you have your "powder" skis on, but when it's soft snow, you're gonna float like any other powder ski.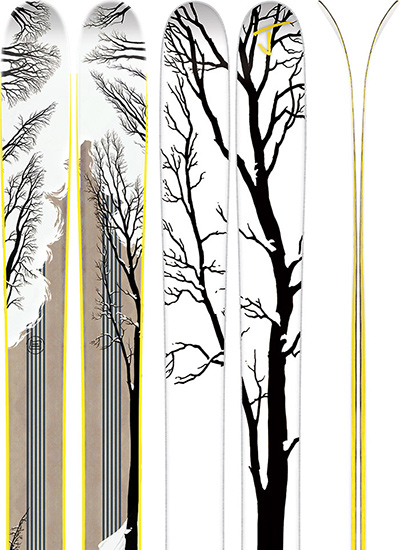 BCM: How about its backcountry applicability 
JL: I want people to be able to [skin] comfortably and easily. I don't want them to be lugging an I-beam up the hill, but the fact is, the priority is the down. It's really the lightest I can make a ski that will hold up to anything coming down. Whether you're hiking in the backcountry or you want to throw tricks in the air, it's the same performance goals even though they are totally different uses. I'm coming from a freestyle side, but with all-mountain performance.
BCM: When K2 bought line in 2006 and moved operations west, you stayed in Vermont. Why?
JL: Everyone knows the skiing and snow are better, and you have some really nice, warm places out west, but K2 was moving Line to Seattle. It was a big city. As cold as the East is and as long as the winters are and as icy as it can get on the mountain, I don't take anything for granted living in Vermont. The culture here, the attitude and the appreciation for all the things that make this place is so unique…. It's one of a kind, and it's really not worth moving for any amount of money or any opportunity in my mind.
For more on J Skis and the Friend, visit kickstarter.com.