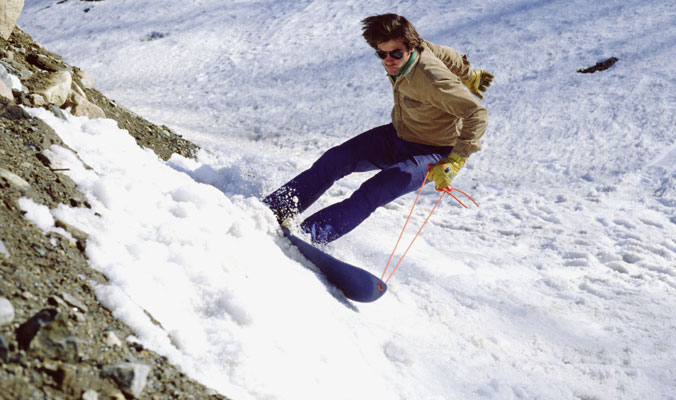 Like many snowboarders over the history of our sport, my first board was a Burton. More specifically, it was a hand-me-down '98 122 Chopper that I got from my older brother in fifth grade. It was deep orange, banged up and beautiful. A graphic of a half-eaten carrot graced the base, which I remember I found amusing and a little bit creepy. We lived hours from the snow, and trips to Tahoe were fewer than I'd like. Sometimes, I'd pull out the board from its home underneath my bunk bed, set it in the middle of my bedroom floor, and just stare at it—that was enough to get me dreaming about the unparalleled euphoria that came when the Chopper and I made the trek to the mountains. Sadly, Jake Burton Carpenter, the man responsible for the love of snowboarding that so many of us share, passed away on Wednesday night.
Carpenter was 65 and succumbed to his second bout with testicular cancer. He is survived by his wife Donna Carpenter (Burton's CEO), as well as their three sons, Timi, George and Taylor. For over four decades, Carpenter was the visionary who shaped snowboarding more than any other. Inspired by the infamous "Snurfer" toy and figuring he could make some money by selling snowboards, Carpenter started Burton out of his Vermont barn in 1977. Supply quickly outpaced demand, and even from the barnyard workshop, Burton was producing more boards than they could sell.
To grow the sport, Carpenter began knocking on Vermont ski resorts' doors and eventually convinced them to let in his ragtag crew of snowboarders. In a no-holds-barred interview with Snowboarder Magazine's Pat Bridges, Carpenter said that getting snowboarders access to Stratton in 1984 "was our big break." (Burton would go on to host the U.S. Open of Snowboarding at Stratton for 27 years.) He noted that snowboarders were "always held to a higher standard. You know, every skier could be smoking weed, getting drunk on the hill, but if a snowboarder did it they were banned for life, and maybe even snowboarding was banned there forever." While Carpenter is best known for developing snowboards, the sport wouldn't be what it is today if he didn't develop snowboarding itself.
Burton raced competitors like Sims—as well as hungry ski brands eyeing the snowboarding market—to produce the best gear possible. Technical innovations followed over the years—wooden boards were replaced by P-Tex and metal, straight edges became curved, water-ski straps turned into real bindings with the first highbacks. Simultaneously, Burton softgoods exploded. While splitboarding never represented more than a niche market for a mega-brand like Burton, products like the Editor's Choice-winning Flight Attendant X split, the Hitchhiker binding and Tourist boot have been consequential in on our backcountry world.
Burton's impact on snowboarding stretched beyond product, fueled by the people that pushed the sport. Carpenter recognized that early on and partnered up with legendary freerider Craig Kelly. The athletes Burton sponsored over the years have ranged from anti-establishment icons like Terje Haakonsen and freeride authorities like Kimmy Fasani to podium regulars: Shaun White, Kelly Clark, Anna Gasser, Mark McMorris, Danny Davis and Kevin Pearce. Then there are the OGs, like Jeff Brushie, Mikey Rencz and Nicolas Muller.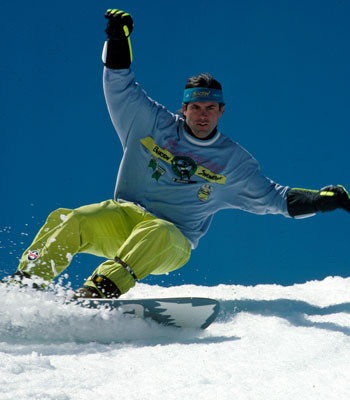 Now, many of these riders have taken to social media to pay their respects to the late maverick. On Instagram, Shaun White called Carpenter "the father of snowboarding," and went on to say "Jake helped pave the way for snowboarders across the world to pursue their dreams, and his impact on snowboarding will live on in all of us." Kevin Pearce penned, "Jake, you were an inspiration to all, and made a large impact on me. You helped to carve a path through this crazy life that has allowed me to be where I am today. Your generosity, creativity and approach towards life are a few small pieces I will carry with me forever."
Burton certainly grew into a behemoth of a brand, one that many snowboarders love to hate—complaining that it's too big, it's too corporate and without soul. In that Snowboarder interview, however, Pat Bridges asks us to imagine the sport's development without Burton, wondering, "Where would snowboarding be today?" What if Burton hadn't been the brand to seize the market? What if it had been a ski brand, or, worse, a stockholder-beholden corporation like Nike? Burton may have blown up and become a massive, profitable business, but at the end of the day, Carpenter was there, involved, guiding the direction, whether it was from his office or hospital bed. He did his best to sell out boards without selling out the sport he loved.
Most impressive, at least to me, are not Carpenter's business accomplishments, but the personal battles he fought. Not only did he fight cancer, but he dealt with heart surgery, a knee replacement and was paralyzed by a rare nerve disease. Both Carpenter and Donna marveled at the support they received from the Burton family and the snowboard community at large. Both of which, of course, Carpenter was integral in building.
Even after Jake Burton Carpenter's passing, his far-reaching contributions to our sport will continue to reverberate. They'll echo through Olympic broadcasts and trade-show floors. They'll influence tangible elements like board design, as well as abstract ideals like riding style and attitude. And, most of all, they'll be responsible for moments of joy and speed and freedom—the sacred moments that will cause little kids to pull snowboards out from under their beds, stare at them and dream.