"I like my heavy gear—it gives me more control." "I don't need light gear. I'm faster than my partners." "Saving a couple pounds doesn't really matter anyway." I've heard all these statements about lightening the backcountry load, but are they really valid? Or does trimming zipper pulls and cutting toothbrush handles really make a difference?
The maxim "a pound off your feet is like five off your back" first appeared in the 1969 work of Soule and Goldman1. Carrying weight obviously requires energy, and carrying it on your feet increases that energy by 0.8 percent per 100 grams2. So adding 10 pounds to your feet increases energy cost by 36 percent every…single…step….
Soule and Goldman measured these numbers for walking. Because we adjust our gait while skiing, I'd extrapolate that when skinning, the weight on my feet uses up about four times as much energy as weight in my pack.
Total ski, boot and binding weight could vary anywhere from eight pounds for the lightest race stuff to as much as 30 pounds for heavyweight gear. But even small weight differences can be substantial. If one setup weighs, say, 14 pounds and another weighs 20—a difference of six pounds—my 4x factor tells us that slogging the heavier set uphill is like adding 24 pounds to your pack. That's like three gallons of water.
Speaking of water, fluids and your pack itself are likely the heaviest items on your back. Learn to gauge your hydration needs based on distance, vertical, time out, temperature, etc. It pays to have enough water, but returning to the trailhead with an extra liter (which weighs a bit more than two pounds) equals wasted energy.
Within my pack, that stuff sack of things to handle "what-ifs" always seems to be growing. With its weight distributed, the clothing you wear has less impact, but extra layers stuffed in your pack are worth lightening. Just don't skimp on a probe and shovel—weight differences are negligible, and do you really want your partner carrying the lightest shovel on the market?
Most importantly, balance the pounds saved against any reduction in performance or safety. A lighter load won't just allow for another lap, but can also save energy to enjoy the downhill and be safer, thanks to increased energy reserves.
1) Soule RG, Goldman RF, 1969, Energy cost of loads carried on the head, hands, or feet. J Applied Physiology. 27:687-90.
2) Legg SJ, Mahanty A, 1986, Energy cost of backpacking in heavy boots. Ergonomics. 29:433-8.
Lighten the Load
Four Feathery Essentials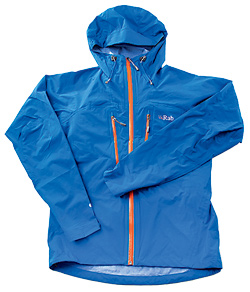 Rab Spark
$200 – rab.co.uk
Weight: 11 oz. (men's large)
A fully-featured jacket shouldn't be this light—or only $200. Two chest pockets are large enough for some climbing skins and double as vents, and the sizeable, helmet compatible hood has a wire brim and dual cinches to keep it out of your face. Need more? Pertex Shield+ fabric is plenty waterproof but has a softshell-like stretch.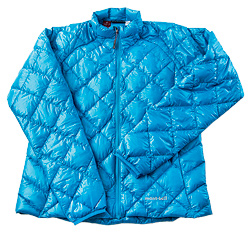 Montbell Ex Light Down Jacket
$199 – montbell.us
Weight: 5.6 oz. (men's medium)
Montbell's expertise in down-jacket construction shines in their Ex Light, a highly packable, completely minimalistic layer meant to keep you warm and not much else. It packs down smaller than a softball and weighs less than one, too, but is hoodless and has no pockets. Still, with 900-fill down, its toasty warm.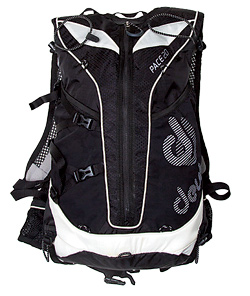 Deuter Pace 20
$89 – deuter.com
Weight: 1 lbs. 6 oz.
A typical backcountry pack weighs about three pounds, but Deuter chops that in half with their rando-inspired Pace. This 20-liter hauler sits on the smaller end of functional bc packs, but has two large, waist-belt pockets to keep snacks handy and external, stretchy water-bottle holders. Internally, a mesh sleeve keeps avy gear organized.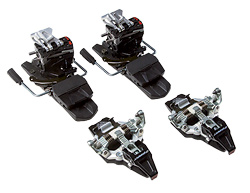 Dynafit Radical ST
$500 – dynafit.com
Weight: 2 lbs. 8 oz.
Not only is the Radical ST light, but, like all tech bindings, it doesn't lift with your boot on each stride, saving weight and, therefore, energy. Dynafit's proven Radical platform has received multiple Editors' Choice Awards. For even more weight savings, check out the Speed Radical, a brakeless version of the ST that weights just 1 lbs. 9 oz. per pair.
—
This story first appeared in the December 2013 issue of Backcountry Magazine.