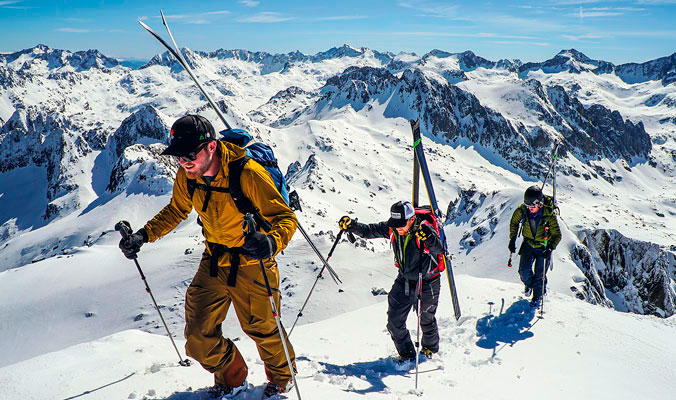 For a human-powered skier, the Spanish Pyrenees can be heaven on Earth. The mountains sport big relief and a steep, jagged silhouette. It's easy to find peace and quiet on the skintrack, well-maintained roads make day tours from quaint villages simple, and dozens of mountain huts offer cold beer, simple, hearty meals and dorm-style lodging.
In spite of the range's relatively low elevation, I've been lucky to ski great snow during my visits to the Pyrenees, which, when combined with the scenery, access and food, have become one of my favorite places on earth. It's the type of environment I would usually love to guide in, but I haven't yet. Why? Because I haven't been able to find clarity on the question of whether or not I can legally guide in this region. This inability to get a clear answer to a simple question represents many of my experiences in Spain. It's easy to feel lost here—not just in the mountains, but in the culture.
I am a ski guide certified with the American Mountain Guides Association (AMGA), but I'm not licensed through the International Federation of Mountain Guides Associations (IFMGA), which means there are some restrictions on where I can guide. Most countries are very clear about the rules and regulations. The Alpine countries, like France and Switzerland, dictate, "Non. Nein. You have to be IFMGA-licensed." Countries like Canada, Japan, Norway and Iceland, with rich histories of mountain cultures concede, "There are specific rules and regulations to follow." The countries in the more remote ranges, like Chile or Kyrgyzstan, are also very clear: "We have bigger problems than regulating people who want to go into the mountains. You're on your own. Don't die."
Spain is a bit of a gray area. Are all the people guiding in the Pyrenees IFMGA-licensed? No. Some work as "trekking guides" in the winter. Are these ski guides who have limitations, like not being able to guide on glaciers or set up rappels? Or are they taking people on simple tours in flat terrain? I could never get an answer to these seemingly straightforward questions.
The answer to the question of whether or not my AMGA certification is recognized often involves some version of one of my favorite Spanish expressions, "No pasa nada." This basically means, "No big deal." In context, it means something more like, "No one knows or really cares. As long as you don't do anything dumb and nothing bad happens, it will probably be fine." Obviously, no pasa nada rolls much more easily off the tongue.
The common interruptions to Spanish life can be difficult for an outsider to gauge. The siesta happens on workdays, for most businesses, but not all. There are more religious holidays than we are accustomed to in the U.S., a lot more. And political protests, whether regional or national, are a big deal. While these things seem to be outside the scope of backcountry skiing, they mean that it's hard to know if the trailheads are going to be packed or if the roads will be clogged; whether the grocery stores will be busy and out of stock or maybe even closed; if the park administrators will answer phone calls or email or not.
These elements of Spanish life are an important element of their unique and rich culture. That said, as a backcountry skier, these factors all affect my tour plan. It's not impossible to be in rhythm here, but foreigners like me may miss a beat or two. It's like with my experience watching Flamenco dancing: I know it's beautiful, but I don't fully understand it and certainly can't do it.
I travel because of these differences, not in spite of them. But as a guide, there are some questions that require direct answers. If we have an accident, is organized rescue available? If I run into a government official and she learns I am guiding, will I be fined or arrested for working without a permit or beyond the limitations of my certification? These are not questions I want answered with a "maybe" or "depends."
Clear, accurate snow reports are also helpful, and I remember, only a few years ago, chuckling at the avalanche forecast put out by the Val d'Aran region and considering it in this same light; but when I went to the website recently to remind myself why, I found an excellent service published early every morning with great information. What changed? Is the mountain culture becoming more predictable or am I getting better at hitting the cultural curveball? I would guess it's the former. As a guide, I welcome more, clearer information. As a traveler, I would be sad to see a warm, easygoing culture become cold and rigid.
When we're frustrated by something we don't understand, we call it dysfunctional; but when we are intrigued by something we don't understand, we call it mystery. Spain is a mystery to me, which is why I love it. And while it may not be the best place for me professionally, it is a perfect place for personal trips. My friends and I have spent days in search of powder stashes among jagged peaks before finding ourselves in casual tapas (Catalonia) or pintxos (Basque) bars in the evenings, laughing about all the little things we didn't expect. Because, really, no pasa nada.
Donny Roth lives in a tiny village in Chile, at the foot of the Andes mountains. He works as a ski guide and has ambitions of preserving the local wilderness while also creating more public access to the mountains near his home.