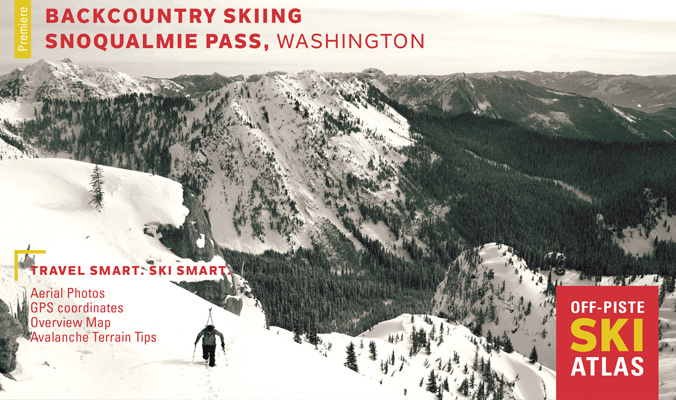 On a late February powder day, my touring partner and I spent the better part of our hour-long ride from Seattle to Snoqualmie Pass mulling over the day's plans. Our objective for the day—the Slot Couloir, reached by an ascent of Mount Snoqualmie—was driven by my own on-the-ground observations the day before, but also by favorable reports on a local backcountry skiing message board.
Mount Snoqualmie faces the parking lot at Alpental ski area and sits in plain view, so we knew we wouldn't have the place to ourselves. But the day's choice was obvious because of its convenience. Halfway up, a frisky dog caught us, soon followed by a lean uphill traveler moving at a brisk pace. Our skintrack companion turned out to be Dallas Glass, an observer for the Northwest Avalanche Center who was on his second lap of the Phantom Slide, a front-facing feature that offers a quick 2,000'+ run. He dissuaded us from Slot Couloir, reporting that avalanche conditions were even touchier than the day's "considerable" forecast suggested.
The Phantom is a pre-work favorite, illustrated that day by a party of REI employees hustling through a transition before clocking in for their afternoon shift downtown. And while this descent offered enough face shots and blower turns to satisfy any powderhound, it was the second day in a row that I had skied the exact same line, and seeing the crowds made me wonder if it was time to get more creative with line choice.
Enter Matt Schonwald, a pro guide and avalanche educator who estimates he has logged over 1,000 backcountry days in Snoqualmie Pass. He's the author of a new aerial-photo guide to the pass. Recently published by Crested Butte's Off-Piste Ski Atlas, the waterproof, tear-resistant volume is lightweight, spiral-bound, and fits easily in a pack.
While Snoqualmie may be the humblest of the Cascade passes, sitting just 3,000 feet above sea level, Schonwald believes it to be an underexplored cornucopia of descents. "It's incredible how many tours are there—easily over 100," he told me last month. "That pass is by far one of the densest ski touring areas in the country by pure volume of runs. It's not just I-90's Exit 52, Alpental Valley—that's just easy parking."
Schonwald points to the unique topography and forest ecology of Snoqualmie as the culprit for skiers' tendencies to always return to the same handful of obvious routes. "At Teton Pass or Hurricane Ridge, you can see 90 percent of what you might ski," he explains. "Snoqualmie is wrapped around and shrouded in trees. It presents a challenge."
But a clear April day last year offered Schonwald a chance to change that perception when he and a photographer hopped in an airplane to capture some of his favorite objectives from above. To settle on the final cut for the guidebook, he drew from nearly ten years of research that included his own guiding and AIARE education experience, extensive late-night reviews of
Turns All Year
and
The Alpenglow Gallery
, and even a list of runs complied by a local outing club—the Mountaineers—way back in 1932.
The result allows skiers an enlightening bird's-eye view of an area where skier traffic has grown by leaps and bounds as Seattle booms with newcomers—by some estimates the fastest growing city in the country—plenty of whom are eager to explore the backcountry wilderness just an hour from home. Proof positive: Schonwald presented a slideshow presentation of his guidebook to a packed house at the mountaineering shop, Feathered Friends, on the night of my aborted attempt at the Slot.
Every new guidebook raises the specter of hungry hordes unleashed to track up all the goods. Rainer Bergdorfer's 1999 guidebook to Washington State covered a few runs in Snoqualmie Pass, but a 2001 guidebook by Martin Volken—now out-of-print—was the first dedicated exclusively to pass and is credited with turning the masses on to the Slot.
"Before the Slot showed up in Martin's book, it was very rarely skied," Jason Skipper, a 20-year veteran of the Snoqualmie backcountry, told me. "It wasn't common knowledge that it even existed."
But Schonwald believes his labor of love could have a positive effect by making skiers aware of what lies beyond the obvious. "My hope is that it spreads people out," he said, explaining that eight parties tried to ski the Slot on the day we spoke, some of whom authored the very trip reports that signaled a possible green light to me and my touring partner a few days later. "15 years ago that got skied maybe a couple of times a week," Schonwald continues. "It's a popular run, and it deserves to be. But people should have options."
Skipper saw the Internet-enabled backcountry boom of the late '90s and early 2000s from behind the windshield of the Summit at Snoqualmie's grooming machine, which lays fresh parallel tracks for Nordic skiers on routes that also serve off-piste destinations like Mount Catherine. He didn't have to go online to know that a trip report had relayed the news of good conditions—he just saw the difference in skier traffic from one day to the next. "It was cause and effect," he explains.
Ultimately, however, he embraces Schonwald's philosophy. "There's enough elbow room for everybody. Yes I've seen the numbers go up, but [Snoqualmie] absorbs it really well," he said, before drawing a favorable comparison with another hot spot within commuting range of a major city. "We're nowhere near the scene in the Wasatch."
Still, Skipper—who now lives in Bellingham and calls the Mount Baker backcountry home—questioned Schonwald's inclusion of the "northeast trees" on Mount Catherine, his favorite less-traveled aspect on a mountain full of what he calls "little hidey holes."
So does the guidebook mean the end of his secret stash? Hardly, argues Schonwald. "There are no true secret stashes, just places that people go habitually on different days and don't see people there," he said. "One person's secret stash is another person's Tuesday."