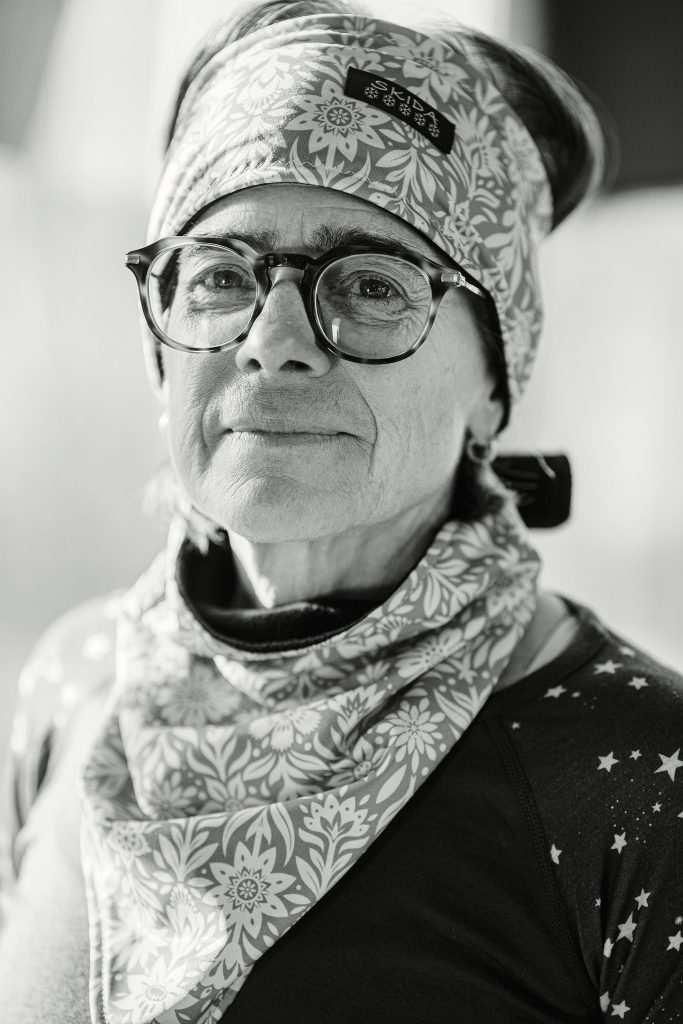 With each step, the snow creaks under our feet. Aside from the noise we make skinning, Wyoming's Grand Teton National Park feels utterly silent. It's one of those iconic bluebird days, when the snow glitters extra brightly, and the views feel plucked from a CGI green screen. Just ahead are Jane Gallie and Margo Krisjansons, setting a brisk pace. Despite being 40 years our senior, the pair are nearly out sprinting our crew of filmers and photographers. Chasing them, however, has brought feeling back to our hands and feet after the morning's chilly start. Meanwhile, Gallie and Krisjansons are deep in conversation, chatting away precisely as you expect two lifelong best friends to do. The pair has been close since their 20s, sharing a mutual love for adventure, climbing and—most importantly—skiing powder.
They move as if on autopilot, following the worn-in skintrack with a sense of familiarity gained from years spent in these mountains. Even though they've made this approach to 25 Short countless times, they can't stop remarking about what a beautiful day it is to be in the Park. Their enthusiasm to be on snow feels on par with the kids I teach at the Jackson Hole Mountain Resort ski school, except Gallie is 71 and Krisjansons 68. Finally, when we reach a clearing with a complete view of the Tetons' high peaks, it's time to set up the camera equipment and film another scene. Until this day in February 2021, Gallie and Krisjansons had never been part of making a ski film. But next year they will join the likes of Michelle Parker, Brooklyn Bell, Caite Zeliff, Veronica Paulsen and more on the silver screen.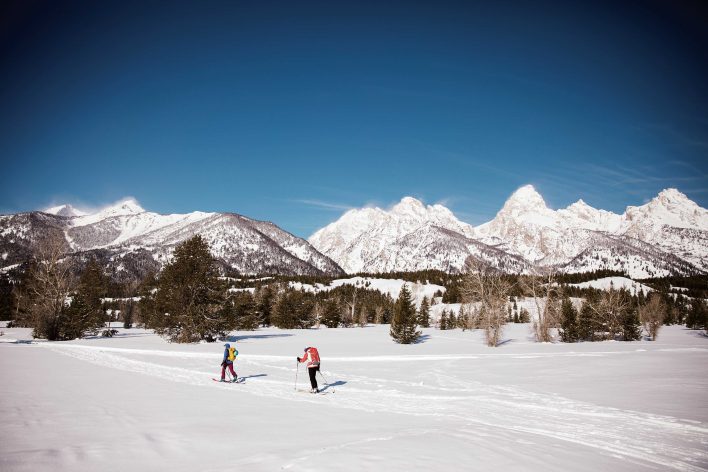 I first heard about Gallie and Krisjansons a few months prior while nestled into a plastic Adirondack chair on a local brewery's grassy lawn sharing beers with fellow filmmakers Shannon Corsi and Sophie Danison. We devised this ambitious idea to make our own ski film that explored the relationships we form when we spend time in the mountains. Over half-empty pints of IPAs, we dreamed up all kinds of athlete pairings for our film, Nexus. Our ideas ranged from exploring mentorship with Parker and Bell to sisterhood and friendship with Zeliff and Paulsen.
That's when Danison's face suddenly lit up. "I've heard there's this group of 60-something-year-old women that love to ski in Grand Teton National Park," she exclaimed. "We should try to film with them, too." A couple of badass women who've fostered a life in the backcountry? That seemed to fit the narrative perfectly. After some sleuthing, we discovered these women were not only real but two of Exum Mountain Guides' longest-running employees. They've worked in the office with every owner—even the company's namesake, Glenn Exum. According to lead Exum guide Jess Baker, "They're the glue that holds Exum together." Like many guides who've had the pleasure to work with Gallie and Krisjansons, Baker views them as family. "Exum has required check-ins in the morning and evenings, which sometimes means you're calling on the top of some summit in the middle of a traverse—and you just hope you get them on the phone," Baker tells me. It's not just because they're the ultimate cheerleaders—constantly reminding you that you're doing great—but Gallie and Krisjansons have literally been in their shoes. "They fully understand what we're doing because they've climbed many of these routes and explored this terrain." Gallie and Krisjansons might be the lesser-known athletes in our film, but given what they did on the skinny skis of their youth and continue to do around Jackson Hole, their mark on skiing is just as important.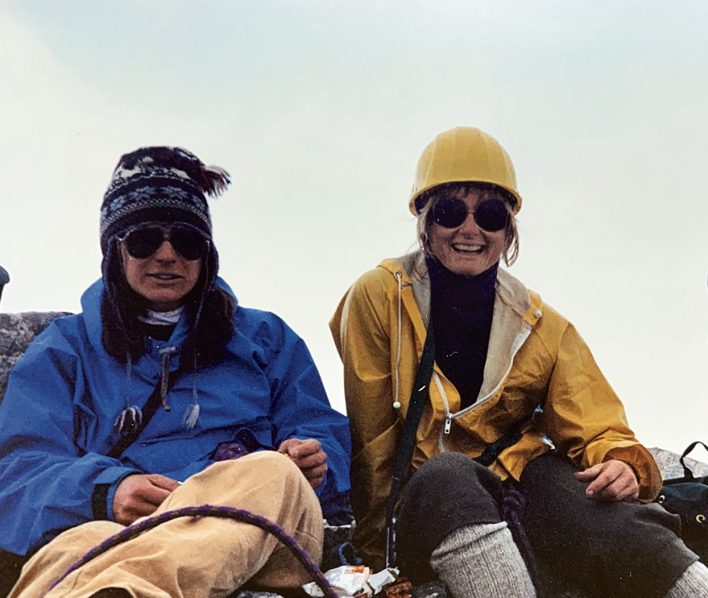 Mountains became a cornerstone of Gallie and Krisjansons' lives through entirely different means. Like many ski bums before her, Krisjansons discovered this lifestyle by accident. The Duluth-raised Minnesotan initially embarked west as part of a college spring break trip with some girlfriends. When she arrived at Jackson Hole Mountain Resort in 1973, she gazed at one of the steepest ski resorts she had ever seen. The plan was to ski with their boyfriends—that is, until the boys left them to fend for themselves. Rather than be traumatized by the fiasco, Krisjansons promised herself she'd come back and learn to ski properly. She followed through and grew into an adventurous backcountry skier.
"[Back then] we were already venturing up at Teton Pass with our little wooden Bonna skis and the boots that felt like bedroom slippers. I remember skiing many moonlight nights up there," she reflects. From there, she and her friends went further into the backcountry, setting their sights on Grand Teton National Park and objectives like the South Teton. After becoming Snow King Resort's first female lifty, Krisjansons took a job with the Jackson Hole Ski Patrol in 1976, making her the second woman on its roster.
What began as one season away from school blossomed into a full-fledged career. In the summer of 1978, Krisjansons started working for Exum in its office, taking clients' reservations. Then, when she moved to Alberta with her late husband, Juri Krisjansons, she worked for Mike Wiegele Heli-Skiing as an assistant ski guide in 1992. "I was the second female guide for Mike," she says, leaving me to wonder what she hasn't done in her expansive career. Meanwhile, she became more passionate about snow science and avalanche education. In 2001, after returning to Jackson from Canada, she started working for Bridger-Teton Avalanche Center Director Bob Comey.
For Gallie, on the other hand, skiing was the family pastime. At six years old, during the '50s, her family moved to Calgary and made Lake Louise its home mountain. She has early memories of getting up before the sun and driving two-and-a-half hours to Banff for the day. "You couldn't even fathom doing anything else but ski," Gallie says. "By the time I was in high school, it was all I did every weekend all winter." When she was 15, she started touring in the Lake Louise area with her father, fostering a lifelong passion for the backcountry. During the springtime, she and her dad often joined Swiss and Austrian ski instructors, who strongly influenced the Canadian ski touring scene, exploring everywhere from Lake Louise to Rogers Pass. By the time she was 18, it was clear she had the ski bum bug. She built her life around the sport, even picking the University of British Columbia in Vancouver because of its proximity to the mountains. After two gap years abroad—skiing in the Alps, of course—Gallie got her teaching credentials and became a special education teacher. However, the Teton Range and Jackson, Wyoming, weren't on her radar until she bumped into the person who'd change her life completely on a Himalayan trek.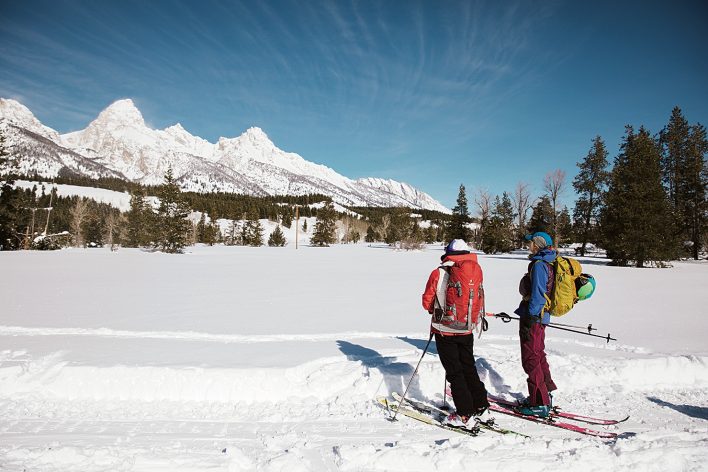 Gazing up at the Grand Teton from the 25 Short skintrack, Gallie's bubbly deposition shifts to something more thoughtful and reflective. "Margo's and my lives have been intertwined for about 36 years," she says. "It's like one of those karma things," she teases, waving her hands into the air. Call it what you want: karma, fate or just crazy timing. Whatever brought Gallie and Krisjansons together, it's made them inseparable. Gallie leaves us with one nugget of wisdom before we start moving again: "Men can come and go, but never give up on your girlfriends." Krisjansons laughs and seems to agree.
In the fall of 1981, Krisjansons was trekking through Nepal when her party took refuge in one of the stone huts on the high mountain pass of Gokyo Ri. The hamlet of simple structures is nestled at 17,575 feet, and, at the time, only hardcore trekkers and yak herders visited it. While warming up, Krisjansons learned that a Canadian woman would be joining their party. Shortly after, Gallie came trotting down the trail with a Sherpani and introduced herself to Krisjansons. The two hit it off immediately. They continued their trek together, seeing sights like the Mani Rimdu Buddhist festival before returning to Kathmandu. They exchanged addresses, and, a few months later, Gallie received a proposal in the mail that she couldn't turn down. The letter from Krisjansons simply asked, "Want to come to the Tetons this summer?"
Despite not knowing where the Tetons were, Gallie accepted her offer. She packed up her camping supplies and headed south. The space outside Krisjansons' cabin on Guides' Hill in the shadow of the Grand Teton had plenty of room for Gallie's tent, becoming her adopted summer home. Krisjansons was working six days a week with Exum, but whenever she had a free moment she'd sneak away to the mountains with Gallie. They loved to climb together; one of their most memorable adventures was climbing the Grand Teton with Catherine Cullinane—Exum's first female guide. Gallie was eventually roped into the Exum office, where she and Krisjansons traded off taking reservations and handling phone calls. There's a blue chair in the office called Chuck Pratt's chair, and it sits right across from Gallie and Krisjansons. The talent that sat in that chair would take a novel to write about. Alex Lowe, Al Read and John Roskelly are just a few. Pratt himself was a longtime guide, rock climbing pioneer and phenom, famous for his many first ascents on Yosemite's big walls.
Gallie and Krisjansons's wealth of knowledge and experience hasn't gone unnoticed by the rest of the staff. "They're the backbone of Exum—considering they've been with Exum ever since Glenn Exum was running the company," Baker says. They've become the go-to people for checking in and out and looking for work or a hug when they're having a bad day. When Baker started working there, Gallie and Krisjansons pulled her aside and gushed about how excited they were to see another female guide before offering their unconditional support.
"They meant it," says Baker. "There will be times when I have something going on, and I really need to talk with someone—and I'll just call Jane or Margo." The rest of the staff shares that sentiment, and the respect and care go both ways. Everyone at Exum looks out for them.
"It's so much fun to call and hear their voices from the summits of the middle of nowhere," explains lead Exum guide Brenton Reagan, who met them when he was a teen on a guided trip up the Grand Teton. "[Krisjansons] is your go-to, concerned, take-it-easy cheerleader, and then Jane, on the other hand, is always laughing on the phone because she's so excited to talk to you." Gallie and Krisjansons bring a much-appreciated touch of warmth to an industry often characterized by its gruffness.
Following that first visit, Gallie returned to the Tetons every summer like clockwork. Even when she was living in Nepal, she made the long trek for the warmer months. When it was time to leave Nepal in 1998, Kelly, Wyoming—where many Exum guides are based—felt like the best place to call home. Krisjansons briefly stopped working at Exum to live in Canada with her husband, leaving the helm to Gallie and the other staff, but in 2002, Krisjansons returned after her husband passed away. "I came back to where my support group was," she explains, referencing Gallie and the community she fostered from her time at Exum and on the Jackson Hole Ski Patrol. By chance, a cabin across the street from Gallie went up for rent; Krisjansons moved in and eventually bought the house. Twenty years later, they're still neighbors and can wave to each other from their front doors.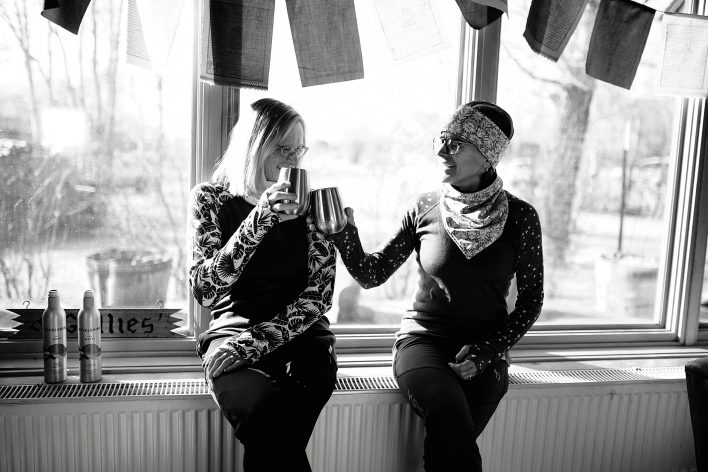 These days not much has changed. Of course, there are perks to being neighbors. Often Krisjansons will wake up to a text from Gallie wondering if she wants to ski, and they take turns driving when they carpool to the trailhead. "Jane is my ski buddy," Krisjansons says. She appreciates her enthusiasm, as well as her level-headedness. Plus, they share the same goals of staying safe and having fun. Typically, they're on the hunt for "old gal powder," as they call it. "We hear a lot of the younger skiers say, 'We don't want to ski that old guy/gal powder,' but that's where Jane and I are at," Krisjansons explains. In a nutshell, it's doing one nice skin up and then finding a long, low-angle pitch filled to the brim with the good stuff.
One of Krisjansons's fondest days with Gallie was one particularly big day last February, when she and Gallie ticked off a completely new objective. In the days leading up to the tour, Krisjansons scouted the area in Grand Teton National Park with binoculars. Inspired by the things she saw, she decided to venture a little farther from where they typically ski. After assessing the line and deliberating, they felt good about their decision making and dropped in. "I looked back at her and said, 'Jane, we can do this,'" Krisjansons reflects, beaming with pride. Together, they skied down an immaculate ridgeline with untouched snow, leaving behind the first tracks for the day. If that wasn't already rewarding enough, when Krisjansons shared a trip report with the Exum guides, one of them told her, "You two nailed that line. We saw your tracks."
"We're just thrilled to go home after that and don't have to keep yo-yo-ing up the mountain," Krisjansons says—especially if there's more snow in the forecast. In February 2021, their heads were spinning from the record-breaking snowfall. To keep up, they'd ski till three in the afternoon, sprint back home to dry their clothes, eat an early dinner and go to bed ASAP so they could wake up and do it all over again. "There are times I talk with the two of them, and they'll be telling me about what they've been doing, and my response is, 'You've skied more than me in the last week,'" Baker says.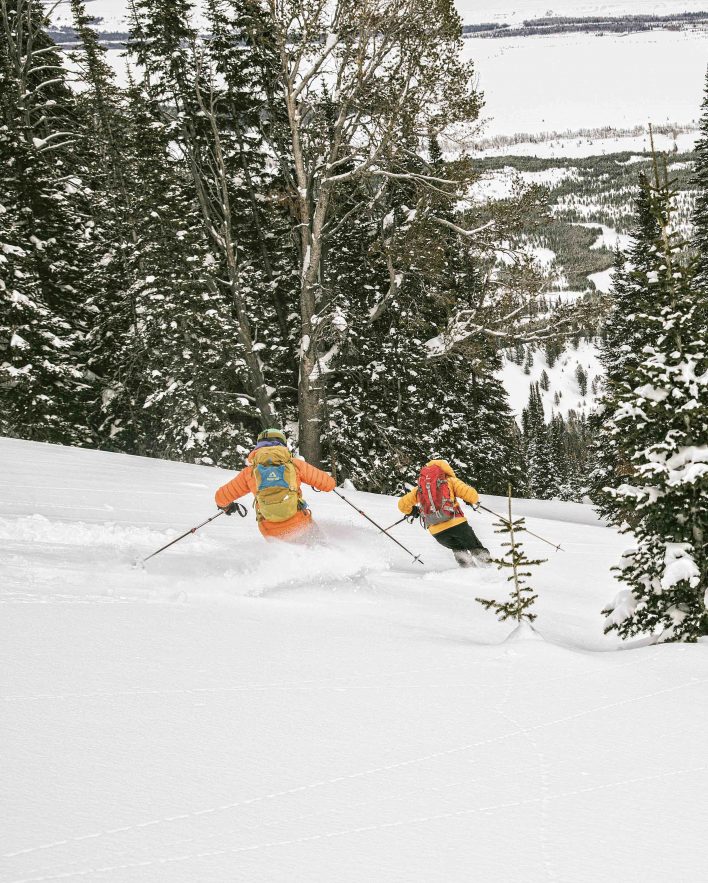 In the distance, we can see the Bradley-Taggart parking lot from the skintrack. It's been a long day of filming, with lots of stopping and setting up shots on the ascent, transition and descent. Krisjansons and Gallie were patient and kind throughout the process, happy to do whatever was needed to get the shot.
When we reach the pavement and click off our skis, I assume it's time to call it a wrap and enjoy a cold beverage. Gallie and Krisjansons, however, have found some untapped energy reserve and are excitedly fluttering around the parking lot. It looks like they know everyone who's hanging out by their tailgates. There's a guide they know from Exum and their clients. Oh, and there's an old friend they've been skiing with for years. And the many folks they don't know? They still say hello because they're just that friendly. I'm sure they'll walk away with a handful of new friends by the time they leave. "Margo and I have really good social lives in the parking lot," Gallie says with a laugh. It's one of the reasons they love skiing in Grand Teton National Park; there's always a chance they'll bump into someone they know. Watching them chat with everyone puts it all into perspective. Sure, powder skiing is terrific and all, but this is why Gallie and Krisjansons still get after it after all these years: With a community like this, they won't slow down anytime soon.
Watch Gallie and Krisjansen in Nexus, an all-women ski film about friendship in the mountains, coming this fall.
---
Katie Lozancich, better known as "Katie Lo," since her last name confounds most, is a freelance writer, photographer and artist. Her written and photo work has been featured in Freehub Magazine and on Red Bull, Teton Gravity Research and more. She splits her time between Wyoming and Massachusetts and is obsessed with all things mountain biking, backcountry skiing and cooking.
This story was originally published in Backcountry No. 145, The Backyard Issue. To read more of the untracked experience, pick up a copy at BackcountryMagazine.com/145 or subscribe.