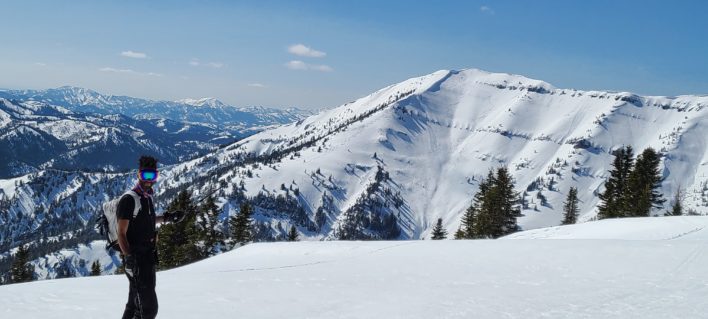 "I absolutely love speed," Benjamin Alexander says. "I love any sport that allows you to go fast, especially when your method of propulsion is simply gravity." The love affair came later in life for Alexander, who started skiing at 32 and is now training to downhill race in the 2022 Winter Olympics. And when lifts closed this spring due to Covid-19, Alexander faced a choice: to call it a season or learn to backcountry ski. He decided to head out of bounds, where his love for speed transferred over.
Alexander soon found a favorite off-piste run on the east face of Mt. Taylor (a 10,352-ft.), which sits at the base of Wyoming's Teton Pass. This April, Alexander and Andy Kittleson—a former Army Reserve Captain and ski guide on Mt. Rainier—had skinned up the mountain, gaining over three thousand feet in elevation in just two hours. Before heading down, Alexander checked in with Kittleson and then was off, completing the run in just over a minute and a half.
"This was the day I almost lost my ski partner," Alexander jokes. "Not to an avalanche but because I convinced him to do that run a second time and then Glory." Mount Glory, which sits at the top of Teton Pass, boasts a robust 1,600-foot bootpack. By the end of the 10-hour day, the pair had racked up an impressive 8,000 vertical feet.
Born just outside of London to a British mother and Jamaican father, Alexander wasn't introduced to winter sports until adulthood. After college, he worked in the music industry as an international DJ, which allowed him to travel frequently, but most of that travel was to warmer climates. The first time he stepped into skis was in Whistler, B.C. in 2016, when he decided to take a few ski lessons before going on a week-long heli trip in the Canadian Rockies. In the end, Alexander didn't ski on the heli trip, but he did meet professional skier Lynsey Dyer who soon became a friend and mentor, helping Alexander navigate the world of professional skiing.
In 2018, Alexander attended the Winter Olympics in South Korea, where he noticed that there were only three athletes representing Jamaica. It was another perception shift for Alexander, and he began to consider his own Olympic dreams.
"As a mixed-race person, when you are in a group of white friends, you are black person because you are the blackest person. When you are in a room of black friends, you are the whitest person," Alexander says. "With skiing being a predominately white sport, I am the black person. And being of Jamaican heritage, there have always been the jokes about Cool Runnings." These jokes, Alexander says, combined with his experience at the 2018 Winter Olympics, "sparked an idea."
It wasn't until January 2019 that Alexander began to seriously entertain the idea of training for the Olympics. He was staying with friends for a month in Revelstoke, B.C. and figured that if he could remain healthy, he would see what it would take to ski for Jamaica. It was a "crazy pipe dream," he says, but ultimately one he thought doable.
The pandemic has made training more difficult for Alexander. After a season of skiing at Jackson Hole, Wyoming, he remembers the Sunday in March when the lifts closed, cutting his training season short. It had snowed 23 inches in the previous 24 hours and he and his friends woke up early, only to find that they wouldn't be able to access any lifts. Determined to continue training, Alexander and his friends headed to Snow King, the ski hill in downtown Jackson, and started hiking.
"I was basically faced with a choice," Alexander says. "Either I stop skiing and move kind of early into the land-training aspect of the calendar year…or just learn a completely new sport. I had only skinned twice before that day."
Since then, Alexander has dedicated his time to pushing himself in the skintrack. Of the 181 days that he skied last season, over half have been outside of the resort. Although backcountry skiing isn't all that conducive to the technical training for ski racing, he believes that just getting out on the snow has been an immense help. "My cardio went completely through the roof," Alexander says. "And the other thing that has been great for my skiing is that there isn't anything quite as powerful for learning ski technique as to be on terrain that is varying every 20 to 50 feet."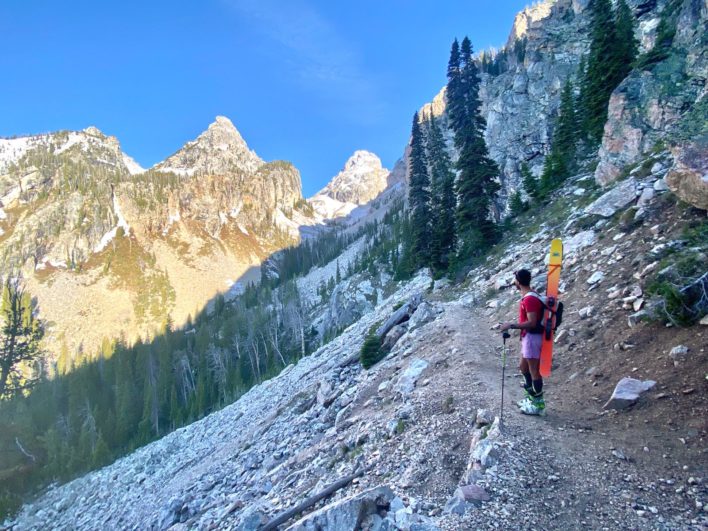 With the help of mentors like Kittleson, Alexander has skied some impressive lines in his first backcountry season, including a 15-mile round-trip August mission to find what few snow patches were left in Wyoming's Grand Teton National Park with professional skier Lynsey Dyer and U.S. Ski Team member Breezy Johnson, who competed in the 2018 Winter Olympics.
"He goes really, really, really fast. And he enjoys that," Dyer says. "I couldn't call him a natural, but what I admire is his determination and his commitment to figuring it out and doing it his own way."
Alexander says that one of his best days last year was spent at Grand Targhee Resort after they had shut lifts. "I was basically out there for the whole day and it was just so good," he says. At the end of the day, as he looked up at the mountain and saw all the lines he had taken, he was quite proud: he was one step closer to achieving his goal of competing in the 2022 Winter Olympics.