I was raised in the home of a Mormon bishop and physical therapist and went to school thinking I would follow in my father's footsteps. But after thousands of dollars and several years spent on grad school applications, it didn't happen. Instead, I found myself working at a hospital, helping physical and occupational therapists lift obese patients. It was hard to break it to my parents that I was giving up on a career and moving into their basement, but it was time to do what I had dreamed of my whole life: travel the world and ride my splitboard.
I started working customer service remotely for an airline, making $10.34 an hour, picking up shifts during odd hours and weekends. After six months, my flight benefits kicked in, and I could fly standby on almost every airline at a significantly discounted rate. Someone always misses their departure on an international flight; cross your fingers that you're not the last person on the standby list, and that empty seat could be yours. The downside? You'll be sleeping at the airport if any flight in the area is canceled.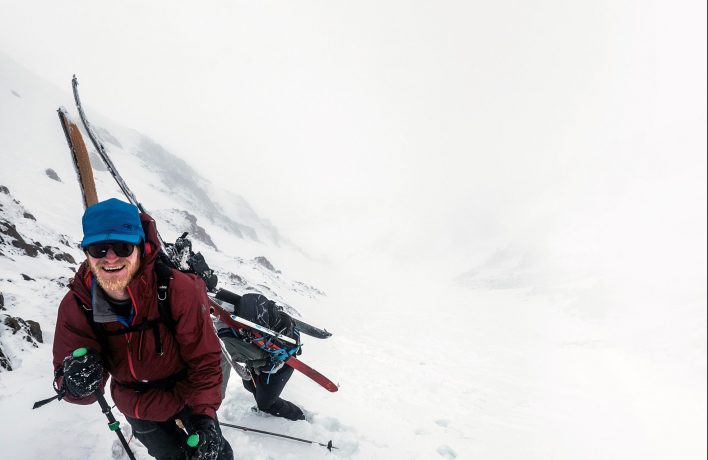 I figured Norway would be the cheapest exotic destination I could get to: You can camp anywhere that's not private property, and, while searching Google Earth, I saw a jagged peak above a fjord with two tracks. I sent it to my buddy Giles and snagged a round-trip ticket for $267.
Along the way, we camped with Tim from Sweden, who became the first of many friends we made. Another new friend, Yukje, took us skiing. He was so excited to ride a new line with us that he invited us to a barbecue with his family and friend KK, a splitboarder from New Zealand. They lived on the fjord below the mountain and gave us all the good beta for the area, including Slogen, "the jewel of the Sunnmøre Alps." We slept on the side of the road, powered our tours with ramen and hot dogs and had the time of our lives.
I started planning trips to all the places I would never have been able to afford otherwise. The Dolomites were next, via Venice for $306. After dragging my board bag and mountaineering gear down Venetian alleys, Giles and I caught the storm of a decade in the couloirs of the Dolomites.
Then I was off to Chamonix via Geneva with my friends Ryan and Scott, where we met up with the Charlet brothers, Babs and Douds, plus their father, Jean-Franck, a fourth-generation mountain guide. Now in his 60s, Jean-Franck has a memoir that I had the pleasure of going through with him: a notebook of white, cross-hatched graph paper, spilling over with a lifetime of photos of ascents and descents. It felt as if I were holding a mythical, ancient text.
Then it was on to Iceland for $124, where I camped under bridges and bathed in hot tubs and the Arctic Ocean. A fisherman's porta porty with water filled my bathroom needs, and we rode slopes to the ocean.
I chased winter down to Chile with Joaquin "Caco" Fisher, staying with his mother and friends. Caco showed me the life of a local, complete with homemade meals and great conversations. I struggled with the language but was a natural at the food.
Next, Giles and I flew to Svalbard, the land of the midnight sun. The clouds parted as I progressed at jet speed farther north than I'd ever been. From the plane's window, the glacially carved island and its frozen tundra came into view. I was so overwhelmed I began to weep at the sight of nothing but snow-covered mountains, calving glaciers, sea ice and the Arctic Ocean. I stayed in the Polish Polar Explorer Hut on the shores of Longyearbyen and met Bertek and Tomek, who have since invited me all over the world. It was there I realized I was living my dreams.
I didn't follow in my father's professional footsteps. Instead, I followed in his alpinist bootprints. It took my parents a while to come around to me never having a plan, but never planning has taken me to Svalbard, Iceland, Chamonix, the Dolomites, Siberia, the Andes, the Tatras of Poland and Slovakia, and the Republic of Georgia.
As for me, after being scared to give up my dead-end hospital job, I realized I am defined by my journey, not my occupation or education. Life seems to work out but never the way I envisioned. I thought I knew what I wanted, but it took rejection to realize I'd already found my way.
---
The Standby Guy, Kordell Black, is an airline customer service representative and longtime Backcountry Magazine splitboard tester. He doesn't care where he sleeps or what he eats, as long as he finds good snow.
This story was originally published in The Backyard Issue, No. 144. Pick up a copy at Backcountrymagazine.com/144 or subscribe.