Backcountry fuel often comes in single-serving, individually wrapped packages, but there's a way for your transition bites to be more creative and Earth-friendly: Bring them from home. Beyond Skid cookbook author Lily Krass brings us another skintrack treat.
Après Bolognese
On the coldest, snowiest days in the mountains, I always find myself craving a steaming bowl of pasta Bolognese to warm me up in the evening. But after a big tour I rarely want to spend the evening chopping and stirring; I'd rather just walk in the door, plop down and enjoy dinner without expending any extra energy.
This slow-cooked recipe is the perfect après-ski meal for tired skiers, prepped in the morning (or night before), so all you have to do is boil water for noodles when you collapse onto the couch at the end of the day. Make a double recipe and freeze a batch for an equally quick meal later on.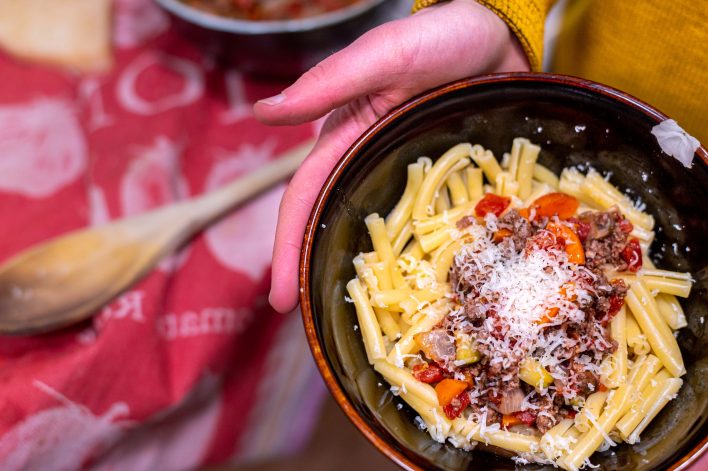 Ingredients:
1 Tbsp. olive oil
½ medium white onion, finely chopped
2 cloves garlic, minced
1 lb. of ground beef and pork (we like a mixture, but you can stick with one if you prefer)
1/4 bell pepper, chopped
1 medium carrot, finely chopped
½ cup mushrooms. finely chopped
½ medium zucchini, finely chopped
1 14 oz. can diced tomatoes
½ cube or 1 Tbsp. chicken stock
1 tsp. salt, plus more to taste
¼ tsp. dried oregano
¼ tsp. dried rosemary
Pinch cayenne pepper
½ tsp. black pepper
1 tsp. balsamic vinegar or ¼ cup of any red wine
For serving:
¼ cup parmesan cheese, grated
¼ cup fresh basil, chopped
1 lb. box pasta of your choice, cooked al dente (we like tagliatelle or spaghetti)
Directions:
Heat a large saucepan on medium with olive oil.
Add onions and garlic, then add meat and stir evenly to brown, along with 1/4 teaspoon of salt.
Transfer meat to the slow cooker.
Add the rest of the ingredients to the slow cooker and cook on low for 6-8 hours.
Go skiing!
Ladle sauce over your favorite pasta, add salt to taste and serve with parmesan and basil.
---
Lily Krass is a freelance storyteller based in Jackson, Wyoming. She is the co-author of Beyond Skid: A Cookbook For Ski Bums, a collection of dirtbag-friendly recipes inspired by mountain town life. Check it out here: BeyondSkid.com. In Issue 147, The Huts Issue Lily Krass shares tips and tricks (and a couple more recipes) for homemade skintrack snacks. Pick up a copy and learn more: BackcountryMagazine.com/147.