Last weekend I was on a ski retreat deep in Washington's Central Cascades. I found myself talking with another group of skiers who happened to be nurses from my small town of Leavenworth, Washington. I joked with them about Coronavirus Disease 2019 (COVID-19), asking what all the hype was about. On the way back to the trailhead, a friend passed around a bottle of Vermont maple syrup to celebrate the amazing shared experience we'd just had. The conditions had been excellent, and we'd scored two glorious lines off 9,000-foot peaks with long approaches and phenomenal scenery.
As the bottle made its rounds, someone joked about how this was how the coronavirus spreads. We laughed and kept the rotation going. A few opted out, but most of the 20 people in our group took a ceremonial swig.
I felt the sickness hit me four days later. I was the first confirmed case of coronavirus in my county.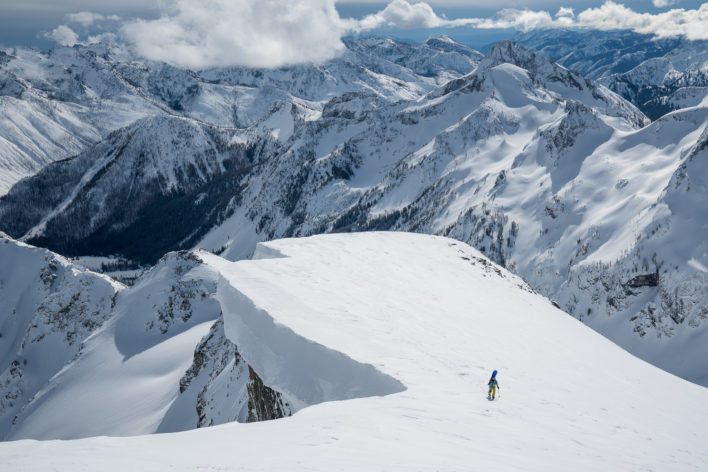 My name is Ryan Irvin, and I'm likely a lot like you. I'm 29 years old and am extremely active. I work a 10-week season hanging Christmas lights in Salt Lake City, Utah , then I use the funds to milk as long of a ski season as possible. I like to shoot photos and have been a contributor to Backcountry in the past, and I've joined in on the magazine's splitboard test for five years. I log 95 percent of my time in the backcountry, and my splitboard doesn't see its storage wax until July. Most seasons, I ski 70 to 100 days, and in the off-season I climb, run and bike. I eat healthfully and have no pre-existing conditions.
I'm writing this on day six of experiencing my symptoms.
I am still having a hard time breathing. My chest is extremely tight and feels as though someone is pressing down on my sternum. I get coughing fits that are so bad they lead to vomiting. My body is weak; my temperature has been as high as 101.8 degrees but stays pretty constant at 100; and the teeth-chattering chills creep in and out without warning. I've had moments where I notice some progress, but they are usually short lived before the symptoms surge back. My girlfriend is sick, too, but shows an entire different symptom set than me. She lost her voice for three days, and her temp has been in the 95-97 degree range. It's clear COVID-19 has a different plan for each of its victims.
I feel optimistic and am doing all that I can to help my body ward off this terrible illness. Others don't have my level of health, and this thing is no joke.
Those of us who thrive on open spaces must do better. Regardless of how you feel, you should limit your reach by altering your behavior and activities. And doing so shouldn't just be an attempt to avoid contracting coronavirus; act as though you have it and behave in a way that would limit the spread of the virus. It's possible to show no symptoms for 14 days and still spread the virus. And even if you never show symptoms, that doesn't mean you aren't a carrier. It's time to cancel trips and plans, especially if they involve going across county lines or going to small rural communities that won't have the resources to give the residents the help they need.
Please: I urge you to take this seriously.
In the 14 days before my symptoms appeared, I was on a trip through British Columbia and stopped in Nelson, Revelstoke, Golden and Kimberley. I also went on an isolated retreat in the Cascades, which included visiting a town of 150 residents who have limited access to medical resources. If I knew what I was subjecting all these small communities to, I never would have left my home.
Editors' Note, Wednesday, March 25:
In response to the volume of comments and questions surrounding this story, the timeline and testing, we've gathered the following information from the author.
Irvin's trip to Canada took place from February 23 to March 5. His girlfriend joined him for a portion of that trip (from February 23 to 29) before she left to participate in a ski patrol exchange at Vail, Colo. On March 5, he departed for the Cascades, where he joined a group of 20 individuals but traveled within smaller groups. The nurses mentioned in the story were from a different party but were also from Leavenworth, Wash.
Irvin exited the backcountry on Monday, March 9, which was the date of the "ceremonial swig" of maple syrup. Based on the similar timeframe that the author and his girlfriend (who was not in the Cascades or present for that swig) began experiencing symptoms, he does not believe that this shared libation was how he contracted the virus. He saw his girlfriend again on March 9 and began developing symptoms on Friday, March 13.
On the night of March 13, Irvin asked about testing for COVID-19 through a community Facebook page and learned that Confluence Health of Wenatchee was offering drive-through testing beginning the following day, Saturday, March 14. He contacted the phone triage service, and they requested he visit the hospital because of his symptoms. His girlfriend also qualified for testing but was unable to complete a sample "due to reconstruction of her nasal passageway."
"I've reached out to all of those who were in close contact with me in the 14 days before showing symptoms," Irvin writes. "I don't want to instill fear or paranoia, just caution and urgency."
By Tuesday, March 17, Confluence Health determined they did not have enough test kits to meet demand, shut down drive-through testing and limited testing to high-risk groups, Wenatchee World confirms.
"I'm 11 days in now, and the fever has mostly subsided," Irvin writes. "The respiratory issues are still at play and may be around for my foreseeable future—there is a lot we don't know about the virus, particularly regarding recovery. I don't know why it affected me so hard, but I'm hoping that through my efforts of transparency, I can get folks to think more about their decision-making right now and do my part in slowing down the effects of this pandemic."