It's not often that guidebooks get mistaken for coffee table treasures. Striking mountain panoramas, clean layout, inspirational spreads—it's a thing to behold. But Tom Turiano's Jackson Hole Backcountry Skier's Guide: South somehow makes the leap.
JHBSG South is the first of a two-part guide to skiing around Jackson Hole. Turiano, the venerable ski guide and greater Yellowstone explorer, has logged thousands of miles on foot, skis and raft throughout every corner of this region. With an assortment of partners amassed over three decades, he's chronicled and cataloged innumerable ski tours in the ranges surrounding Jackson Hole. And this book covers the first half.
His first book,
Teton Skiing
, was a solid first effort (despite a lack of images) and has become a dog-eared classic for ski bums in the West. His second work,
Select Peaks of Greater Yellowstone
, was a giant leap in its comprehensiveness, including 107 peaks, scores of photos and even more routes throughout 13 ranges.
Jackson Hole Backcountry Skier's Guide: South is even more exhaustive. It's also hardbound and costs nearly a C-note. "In the intro I express that I wanted the book to be not only a resource for skiers," Turiano says, "but also a window for armchair mountaineers into the amazing mountain country around Jackson Hole." With color photos, maps and intuitive legend iconography, it's easy to navigate. Turiano also wants it to motivate skiers. "I left out route ratings because they are subjective and difficult to display attractively," he says. "I wanted to ensure that the potential for self discovery and adventure wasn't diminished."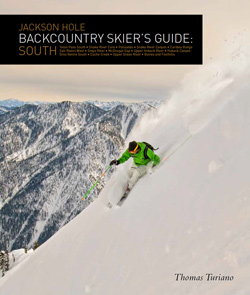 More than any other aspect of his bookmaking, maps have proven themselves the most difficult challenge to this kind of project. To make sure they contain all the necessary detail mentioned in the text, as well as dealing with huge files from USGS sites, computer files and governmental map personnel, Turiano marvels that it somehow comes together. "And then working tediously to minimize errors and focus on the detail work is exhausting," he says.
So how does one keep the momentum going when creating such a prodigious piece of reference? "Since Teton Skiing I've learned that in order to get it done," Turiano says, "you just have to peck away at it, tiny bit by tiny bit, and keep envisioning the finished product." It's an exercise in balancing patience and tedium, if nothing else. The forthcoming JHBSG: North will essentially be the much anticipated and completely revised Teton Skiing, but will feature Togwotee Pass, the Bighole Mountains, northern Gros Ventre Range and southern Yellowstone.
This herculean attention to subject matter is inherently showcased in his books, which have only gotten larger. And that info has to go somewhere, hence the more accommodating coffee table housing. But that's what Turiano is going for. Unlike climbing guidebooks that often get carried into the mountains, Turiano never envisioned this for his ski books.
"I don't like this idea," he says. "I intentionally made the book heavy, in part, so that people wouldn't do that." His intention is to inspire, give people a few pointers to get started, and then let them use their best judgment. "Not carrying a book with you in the mountains," Turiano says, "puts the responsibility on your shoulders."
To get a copy of Jackson Hole Backcountry Skier's Guide: North, visit backcountrymagazine.com/store.
—
From March 7-8, join the editors of Backcountry Magazine at Jackson Hole Mountain Resort for the GORE-TEX Backcountry Basecamp Tour, presented by Voilé, Marmot and AIARE. All weekend, Backcountry Magazine staff will showcase the newest backcountry equipment, AIARE educators will conduct demos and classes, and Jackson Hole Guides will take visitors on complimentary backcountry tours. For more on the event, including the party and raffle to benefit Teton County Search and Rescue, visit backcountrymagazine.com/basecamp.