This year, Winter Wildlands Alliance (WWA) celebrates their 20th anniversary. With Covid-19 barring large gatherings, WWA is releasing a "Best of Fest"—a collection featuring the top film from each of their 15 Backcountry Film Festivals—on September 1 in lieu of a party. The showing will be available on Eventive, an online film screening platform.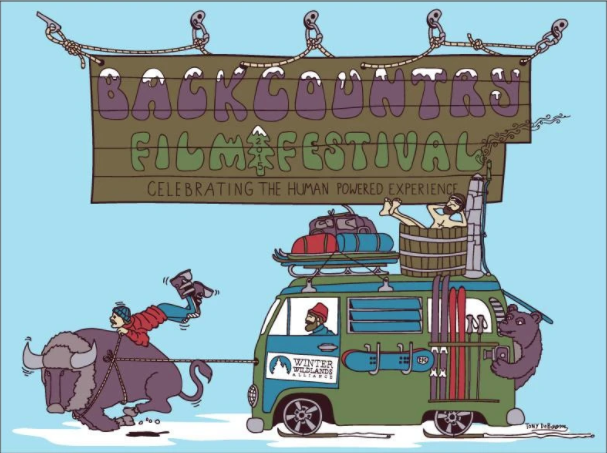 On a normal year, the Backcountry Film Festival kicks off in Boise, Idaho, home to Winter Wildlands Alliance. Formed from the realization that backcountry users need to advocate to protect the public lands on which they recreate, the WWA is now an alliance comprised of over 100 grassroots environmental organizations and backcountry partners. The nonprofit states that their mission is "dedicated to promoting and preserving winter wildlands and a quality human-powered snowsports experience on public lands through education, outreach and advocacy."
What has developed into an annual Backcountry Film Festival began in the fall of 2005. Charlie Woodruff and Mark Menlove, the development and executive directors, respectively, at the time, launched a backcountry film night in Boise that featured Sanctified—a movie that broke the "ski porn" mold by featuring education and advocacy alongside cliff drops and pow shots—by Chris Kitchen and Sam Pope. The first film night was a success, bringing locals together for an evening over ski movies and beer. More importantly, WWA was able to integrate conservation and education into the ski film scene.
The annual film night progressed into a tour in 2007 when the WWA held additional film screenings in Salt Lake City, Utah, Sun Valley, Idaho, Steamboat Springs, Colo. and Tahoe, Calif. That year, the film festival presented seven films, including another by Kitchen and Pope titled Sublimation Experiment.
The Backcountry Film Festival grew alongside WWA's grassroots work as they sought to expand on the advocacy and policy of public land use and management. By 2010, WWA had boots on the ground throughout the Pacific Northwest, meeting with local nonprofits and grassroots programs. "We were building grassroots guidance alongside the tour, and it just made sense to start utilizing some type of festival as a way for these grassroots groups to do exactly what we did in 2005," Melinda Quick, the Backcountry Film Festival manager explains. "We saw the value of bringing various communities together to hoot and holler with a bunch of beer and a lot of fun and really great films, but also to learn about what they can be doing specifically within their community and what that specific grassroots or nonprofit group was doing to preserve backcountry public lands."
According to Quick, the 2019/20 winter season got off to a good start, but the global pandemic caused cancelations and a loss of revenue to both the WWA and their hosts—the local grassroots programs across the country who had planned on presenting the film festival. The pandemic has posed additional issues with fundraising at the film festival. Quick explains: "A lot of the funds that we raise are not just ticket sales but come from concessions and raffle prizes. For example, our beer sponsor, Sierra Nevada, donates all of the beer to every single event, so this is another way we are missing out on revenue."
The previous season (2018/19), the Backcountry Film Festival raised $190,000 for local nonprofits and grassroots groups. That year, there were approximately 22,000 attendees at 108 screenings in 22 states and four countries. Over their 16 years, the film festival has raised over one million dollars for grassroots backcountry groups, including Snowschool, their own youth program. Snowschool's purpose is to get kids out during the winter to learn about snow science and participate in winter recreation.
WWA hopes that the Best of Fest will be a fun way to promote their mission without leaving home, while also providing support to their grassroots hosts. Additionally, Quick hopes that the Best of Fest will be a good way to get audiences comfortable with their new virtual festival platform in preparation for their 16th Annual Backcountry Film Festival, which will air in November, adding that, "The best way to support is to show up—in your backyard, on your couch, or wherever you most feel comfortable hooting and hollering at some awesome blasts from the backcountry past!"
The Best of Fest will premier with two versions: one labeled PG-13 due to some language and nudity and one that is entirely kid friendly. The 16th Annual Backcountry Film Festival will be available online by November 1.
Watch The Backcountry Film Festival's Best of Fest on September 1 at https://watch.eventive.org/backcountryfilmfestival.
Winter Wildlands is accepting film submissions for the 2020/2021 Backcountry Film Festival until September 15th. Submissions are free with the code "HUMANPOWER" and can be submitted on https://filmfreeway.com/BackcountryFilmFestival.