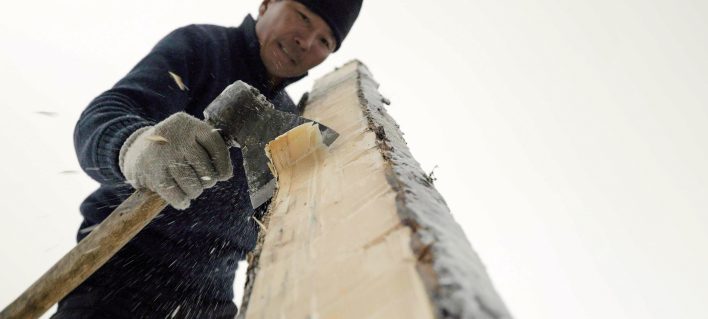 It was snowing heavily when a group of North American skiers and riders arrived in the secluded village of Khom, China, tucked in the Altai Mountains, in January 2020. "To go on a ski trip to one of the most remote places you can get to and have it snow the whole time? It seemed like a perfect scenario," says British Columbia-based filmmaker Chris Winters, who'd traveled with three others to work on a documentary series, Snow Hunters, that would detail the origins and history of skiing across the globe.
Only, the project's first stop quickly developed some imperfections. Little did the group know that a contagious virus known as coronavirus would soon shut down China before promptly moving on to the rest of the world. "There were whispers of a virus, but we didn't think it was anything we had to pay attention to," says Brian Hockenstein, the film project's co-director.
Winters and Hockenstein were joined by Brennan Lagasse, a Tahoe-based skier and guide, and Kaitlyn Farrington, the 2014 Olympic halfpipe gold medalist from Idaho, on their journey to Khom. The group arrived in the village on January 23 with the intentions of filming the pilot for the five-episode series before moving on to places like Kyrgyzstan, Siberia and Scandinavia.
Winters had become interested in China's growing ski culture after living in Beijing for several years. He heard stories of a place in western China that was rumored to have potentially been skiing's birthplace. With that in mind, he flew to the Altai Mountains a few years ago to see the cave paintings of stick figures on skis, drawings that archaeologists have said could date back some 10,000 years. After talking to the area's Indigenous people about the history of skiing there, Winters came up with the idea for a film.
"Skiing there felt ancient. It removed skiing from what I'd traditionally thought of it as, in the context of modern ski resorts, high-tech equipment and this elite mentality, and instead brought it back to a basic human necessity for individuals in snow-covered places," Winters says. "I wanted to showcase how skiing isn't just an upper-class sport of luxury. It's really still something that connects humans."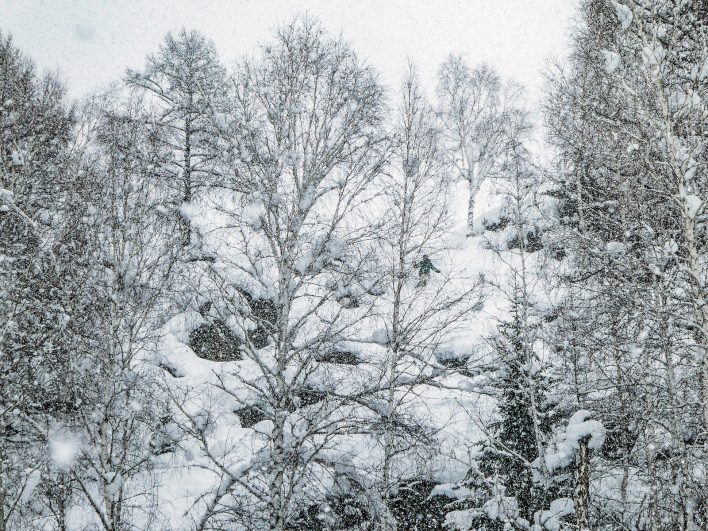 When the film crew and athletes arrived in Khom that winter, they had their temperatures taken at a security checkpoint at the village's entrance, but they figured that was normal procedure. At lunchtime the next day, the afternoon's Chinese New Year festivities were canceled, and the following day, they heard that Beijing had canceled all of its New Year celebrations. Alarm bells were ringing, but they still didn't realize that a global pandemic was rapidly picking up steam.
The group was able to get out for a couple days of touring and explore the surrounding terrain, which was getting walloped by snow. One morning, they watched as a local named Maliqin disappeared into the forest and carefully selected a log. By the end of the day, he'd turned that chunk of wood into a pair of skis, just like his ancestors had been doing for centuries. He glued hair from the hind leg of a horse to the skis' bases for traction on the uphill and glide on the down and used leather rope to fasten his boots to the boards. Maliqin later taught Lagasse and Farrington how to ski using the traditional planks.
"It was harder than expected," Farrington says. "All I did was roll down the hill as [Maliqin] and friends got face shots."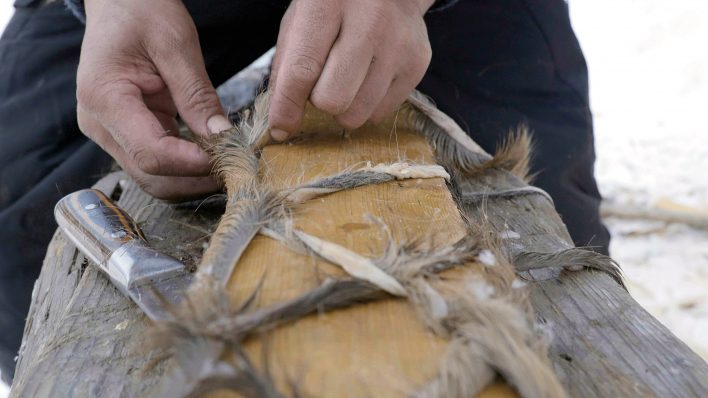 Insight into local culture expanded beyond skiing, as Khom villagers welcomed the visitors into their homes and taught them about the importance of horses in their day-to-day life. "When the horse is alive, it's a means of transport and a currency for trading, and when they kill the horse, they consume it on all levels," Winters says. "The most powerful thing to me was being able to see how the horse is part of their life in every way—land, nature, community."
Maliqin shared his stories with the others to keep their history and traditions alive. "That was the whole point of going to the Altai—if you don't tell these stories and pass them down, that history and culture go away," adds Lagasse, who also works as an educator in environmental and cultural sustainability. "You need to celebrate it and tell the story of these traditions, so they don't disappear forever."
The group had planned to spend two weeks in Khom, but after five days it became clear that the virus was escalating—and fast. The defining moment came when their Kazakh translator said, "If you don't get out of here soon, you might not be able to leave the village for weeks or even months."
There was just one problem: the single roadway that connects Khom to Altay City—normally a five-hour drive—had been nailed by avalanches during the recent storms. There was no way the group could get out. Fortunately, after a few phone calls, government officials began snow-clearing efforts on both sides of the pass. The crew was able to evacuate by January 30—the last possible day they could have boarded a flight out.
In the end, the film they planned to make about the origins of skiing may end up being about something else entirely. That fall, Winters and Hockenstein released a short documentary film, Return to Roots, that used the footage they captured in China, as well as video interviews conducted via Zoom during spring 2020, as a platform to discuss larger issues, like the art of living slowly and with less consumption.
"We went there to learn about Indigenous skiers in western China who still live very closely to the land," Winters says. "Through that experience, we were hoping to influence the broader snowsports industry to have a reflection on modern society. But as a result of the pandemic and quarantine, society for a brief moment had to revert back to a simpler way of life. There was less consumption and more connecting to what's immediately important: environment, community, family."
The way Winters sees it, this film is an opportunity to point out that, for a short period, our society was able to return to a more fundamental way of life—baking our own sourdough, building our own gardens, skiing out our back doors. And, perhaps, we could adopt those principles for the long term, much like those deep in the Altai Mountains have.
---
Megan Michelson, a writer and editor based in Tahoe City, California, is a contributing editor at Backcountry. This story was first published in Issue 135, the Onward Issue. To read more stories, go to BackcountryMagazine/135 or subscribe.