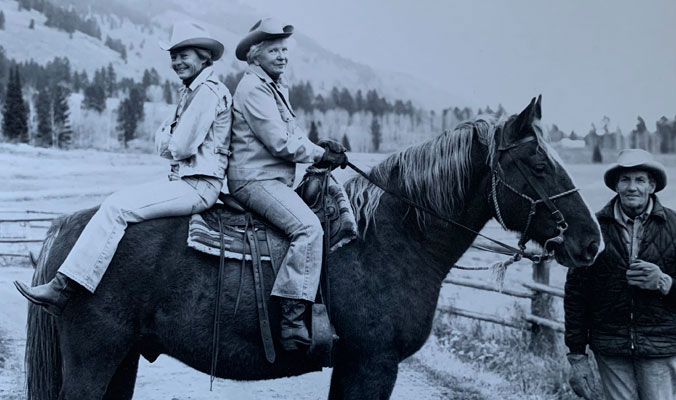 My first backcountry run in Jackson Hole took place in April 2006 when my friend Karen Bockel and I drove up from Telluride, Colo., where we were living at the time. We decided to complete a weekend mission including descents of the Grand Teton and Mt. Moran, despite hearing only warnings of how difficult the peaks were to access and climb. We were too naïve to listen or to know better. After successes on both peaks, we felt empowered and excited to have safely skied two beautiful mountains in the range.
Then, in spring 2011, I moved to Jackson and quickly recognized the extreme level of mountain expertise among the town's residents. What I didn't understand was how the women who came to these peaks long before my arrival had paved my path to the Tetons.
Jackson has attracted pioneering women since it became an incorporated municipality in 1914. The first fully female civic governing body in the U.S. was appointed in Jackson in 1920, dubbed the "petticoat rulers." This was in keeping with the town's feminist history—in 1869, Wyoming claimed status as the first state to provide women with the right to vote, serve on juries and hold public office—measures that led Wyoming to earn the nickname "The Equality State."
The town's ski history is no exception to this rule. Betty Woolsey, captain of the U.S. women's ski team in 1936, and Muggs Schultz, a waitress at the Wort Hotel, were instrumental in furthering the burgeoning backcountry community in the 1950s and '60s. Collectively referenced as "the ski bums" by town residents, their crew, comprised of both women and men, spent the better part of each late winter skiing the steep lines dotting Teton Pass.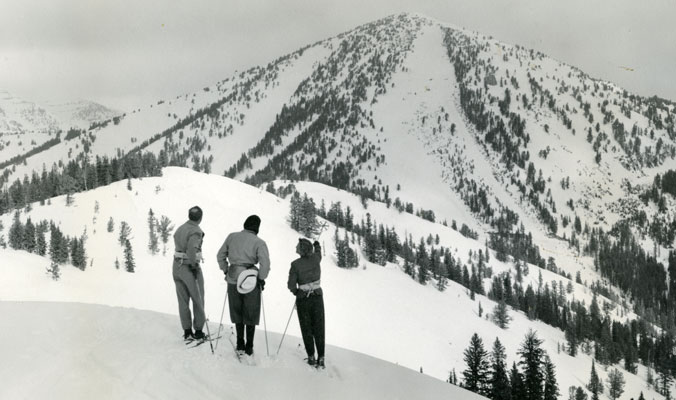 Woolsey relocated from the East Coast to Jackson and, in 1942, found a plot of land currently know as Trail Creek Ranch while on a ski descent from Teton Pass. After purchasing the property, she turned it into a dude ranch, where she lived and worked for almost 50 years until her passing in 1997. Having learned from mountaineers and skiers during time spent in Europe, Woolsey brought her mountain know-how to Jackson Hole and began a career of skiing and guiding, pioneering in the Tetons and surrounding ranges.
"Betty would always go first," remembers Schultz, 80, explaining that Woolsey took her role of guiding others into the world of deep powder and high-mountain traverses seriously. "The women skiers were better than the men in those days and they learned faster."
Befriending women quickly, Woolsey brought Schultz into her backcountry fold by the late '40s. Schultz, 20 years Woolsey's junior, served as a tail guide and learned under her friend's tutelage. Together, the women guided clients all over Teton Pass from February into March during spring's safer avalanche conditions. They were respected and consulted on major decisions, including in where to build Jackson Hole Ski Resort.
The hard western lifestyle tends to weed out those without the strength and fortitude to handle long days of manual labor and intense weather. Numerous women during the '40s and '50s worked on ranches in the summer and, in Jackson, there was no doubt about their equality. Everyone shared the load and did what she needed to do to get by.
Schultz explained to me in a conversation this past summer how there was strong leadership from women in frontier realms across the West and how many western ranches were female owned and operated. Naturally, when winter came, these adventurous ladies went skiing. Woolsey, Schultz and their numerous ski companions loved the pristine, cold powder, and as Schultz remembers, "We were here, and we just did it."
I could relate to that mentality as I approached my first season in Wyoming as a full-time, professionally supported skier in the winter of 2011-12. I wanted to explore and see everything I could—much like the women who came before me. During that season, conditions allowed me to tackle big lines in Grand Teton National Park and outside the gates at Jackson Hole Mountain Resort. I had one of the best years of my life, fulfilling my curiosity and witnessing Jackson's great beauty.
With the advent of advanced gear, technology, forecasting and information sharing, my partners and I could tackle adventures that Woolsey and her partners could not, but we employed their practical, safety-conscious tactics nonetheless. And I see the legacy left here by the early pioneer female skiers as the foundation for total equality in the mountain arena for generations of women to come.
—
Wilson, Wyo.-based Kim Havell is a ski guide who works with Exum Mountain Guides, Jackson Hole Alpine Guides and Ice Axe Expeditions. The horses, cows, llamas, donkeys, dogs, barncats, husband and three-year-old daughter on their family's ranch get her out of bed early each morning, and she heads to the hills for adventures whenever possible.