When I drove up Utah's Cottonwood Canyons this past Saturday, parking lots were a zoo—more so than usual, that is. Stickered Subarus and trucks cozied up mirror to mirror. Groups of diehards and new users alike spilled out into the Wasatch's infamously well-beaten network of skintracks. And with greenlit avalanche conditions and a balmy weather window, all but the most technical and far-flung lines quickly transformed into mogul fields.
It was enough to make my touring partner Kordell call an audible. The parking lot and skintrack corresponding with our line of choice were overrun with fellow isolation-seekers, so we kept driving—in separate cars, mind you—to a less popular zone. At the summit of our backup plan, we could see skiers dotting every ridge and tracks on every peak. As we transitioned, Kordell turned to me and said, "This has got to be the busiest day of the busiest week."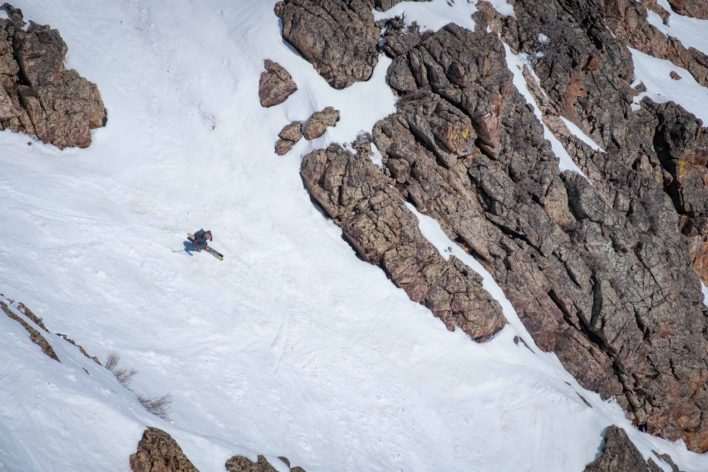 The recent resort closures across the country in response to COVID-19 have fractured the backcountry floodgates. Factor in the sport's associated risks and potential for injury, and the impact that now puts on our strained healthcare system, and, well, it's been a weird week for decision-making in the backcountry. Should we even still be touring? And if the answer remains yes, what's the safest way to do so?
For the Utah Avalanche Center, the increased pressure on the Wasatch's already heavily trafficked zones is worrisome. Chad Brackelsberg, the UAC's executive director, explains, "Our concern right now with the resorts closed is an increasing number of people in the backcountry, many who have not priorly traveled in the backcountry. Our concern is making sure they can be safe—how do we get the word out to them on what avalanche safety means when there's no way to take a class?"
"Our main focus," Brackelsberg continues, "is to get out some basic awareness messages to these new groups and at the same time try to reiterate some of the social distancing practices and how those would relate to a backcountry traveler."
Those practices are the same as those you've heard elsewhere, just modified to address a backcountry setting. In an Instagram caption that the UAC later reposted, the Wasatch Backcountry Alliance wrote, "As many ski resorts are closed in Utah due to the spread of COVID-19, the mountains are there as a place for stress relief and recreation. But we need to be responsible when we recreate outside and need to protect ourselves and others. For all backcountry users, whether it be sledders, skiers, splitboarders or snowshoers, please consult @utavy, be respectful of posted signage and uphill policies, make decisions that are safe for everyone and stay away from large groups including meetups at trailheads and tailgating. It would be horrible if there was pressure to close trailheads or limit access due to people not following the social distancing restriction—it is in place to protect our community and we all need to take precautions necessary to safeguard the health and safety of ourselves and those around us."
Such closures and access restrictions might've been considered outlandish and unlikely just a month ago, but with the COVID-19 concerns heating up more quickly than a south-facing spring snowpack on a sunny afternoon, they're a reality backcountry travelers must contend with.
Colorado's San Juan County—a backcountry hub and the home of Silverton Mountain Ski Area—has limited its backcountry access strictly to residents as of March 21, as detailed in a press release by the sheriff's office. This "locals only" precaution serves as a preventative measure to limit visitors to the area and stress put on the county's healthcare system—and will be enforced via ticketing and the towing of vehicles parked on passes with out-of-county plates. 
The backcountry is not currently off-limits for those who live there, however. "We are encouraging San Juan County residents to get out for exercise and mental health purposes, but we are prohibiting unnecessary travel," says Sheriff Bruce Conrad. "Which means that if you're coming from another county, you do not belong in our backcountry."
"If you live here, we're asking you to minimize your normal risk patterns as well. The idea is to try and prevent our emergency services from having to go out and respond to anyone," Conrad says. "We'd prefer that you be in the valley bottom and doing less threat-level things, rather than being on the top taking the big lines. We've been getting a number of avalanches set off in the last couple days, and that's not going to do our system well."
To Klemens "Klem" Branner, co-owner of Silverton's own Venture Snowboards, shutting down the backcountry to non-residents seems like a smart move. "I've seen a lot of posts on social media from people along the lines of 'with all the lifts closed, I guess it's time for me to learn how to splitboard,'" he said before the sheriff's order. "It's tempting to look at that as a silver lining on this very dark cloud, but a flood of newbies just jumping into backcountry snowboarding without any education is a little scary."
"Popular backcountry spots around Silverton are being overrun by non-locals right now, and that's not good," Branner continued. "It may not be as bad as the kids on spring break in Florida, but it's the same attitude. We're a very small community with no hospital or even a doctor, which makes us more vulnerable."
In the meantime, Branner has put his business on hold. While there is currently demand for Venture's splitboards amid nationwide resort closures, Branner said, "shutting the factory was a no brainer. Right now, I don't see how we'll be able to build boards and practice social distancing in any kind of responsible way."

Like Venture, Jones Snowboards has dialed down business operations. Normally, springtime is when the company advertises discounted boards to clear out inventory, and while boards are still discounted, advertising has taken a backseat. "It just seems like a time to hit pause and prioritize other things," says Jeremy Jones, founder of the company and the professional rider behind films Deeper, Further and Higher. "It didn't seem right to be advertising anything right now." Additionally, a series of educational, splitboard-specific videos and blogs, which Jones had been planning to launch this spring, will not be published at this time.

In Jones's personal life, he's pulling back as well. "It's been 100-percent family time and staying close to home. We've been taking it seriously."
While Jones says he has stocked up on essentials and is actively minimizing his family's risk of exposure through social distancing, he did not, however, abandon snowboarding until Tuesday, March 24, after receiving an ordinance for residents of Nevada County, Calif. to stay home. Prior to that, he noted, "We've got pow surfing behind my house. And we've been doing some mellow touring as a family, which has been a dream. My kids are so overscheduled that I've spent more time with them outdoors [during quarantine], from a splitboard perspective, than we did all year."
Jones recognizes that backcountry skiing and splitboarding—no matter how mellow—during the pandemic is a contentious subject. As such, he has eased off on social media, posting less present-day powder pics and instead using his platform to encourage salivating skiers and boarders from California's Bay Area to stay out of his fragile mountain-town ecosystem.
"I just heard in Europe you're not allowed out of your house. So any mountain travel, you can get arrested for it," says Jones, referencing the quickly changing tides in Italy and Austria and the increased measures being taken in Chamonix, France. On March 18, Chamonix's High Mountain Gendarmerie Platoon began patrolling popular recreation areas on the Mont-Blanc massif to enforce the lockdown, which explicitly forbids non-essential mountain travel. This unprecedented measure has been taken to ensure that the virus doesn't spread and injured skiers don't fill hospital beds. "We're not in that situation here right now, but if it gets there, it gets there," Jones says.
While there's a rational argument to be made for continuing to ski cautiously, many backcountry travelers are voluntarily hanging up their gear for the season, contending that any outdoor risk might put a gratuitous strain on healthcare systems. "We're about to get another great storm, and I won't be going skiing," says Tahoe City, Calif.-based Alpenglow Sports shop-owner Brendan Madigan. "I think it's reprehensible right now—if you get hurt, you're pulling people from the front lines of battling this thing and could be accused of killing people out of selfishness."

Over the past week, the community of Telluride, Colo. has experienced some of those repercussions firsthand. On Tuesday, March 24, the Telluride Mountain Club posted a plea to Facebook for skiers to "take it down a notch," citing seven skier-triggered slides in the surrounding mountains over the previous eight days. Vice president Josh Borof, who wrote the post, noted that over his past 29 seasons in Telluride, he'd never seen such a high rate of human-triggered slides. Those slides, he explained, resulted in rescues that brought together large groups of people, breaking social distancing protocol and straining medical resources. "We've reached our quota of close calls," Borof wrote. "Time out."

The Colorado Avalanche Information Center (CAIC)'s North San Juan forecast for March 25 warns, "It remains possible for you to trigger avalanches on west to north to east-facing slopes at all elevations where weak facets that formed at the end of February lurk and persist below a thick slab. This concerning weak layer is buried 2 to 4 feet below the surface and slides breaking that deep will be large enough to bury, injure, or kill you."

It's a warning worth heeding, especially considering that skiers nationally aren't all receiving such intel. On Monday, March 23, the Northwest Avalanche Center issued a press release, stating that they've "paused all forecast operations following the Stay at Home Orders from Washington and Oregon State regarding the COVID-19 virus."
As of Monday, March 23, Utah-based professional skier Caroline Gleich is taking a day-by-day approach. "For me, in Utah, right now, I still think it's OK to go backcountry skiing with my husband or one other person on some mellow terrain. But what is mellow to me might seem really extreme to someone else," Gleich says. Like Jones, she has pared back her social media posting, because, she notes, "Risk assessment and risk management are such personal things."
"I think it's really hard to judge people and their decisions. I think it's a good time to practice compassion for other people and be mindful that the situation is really different across the country and across the world," she says. "Where some people are now, we might be in a few days."
And after all, she adds, "the mountains will be there" tomorrow.