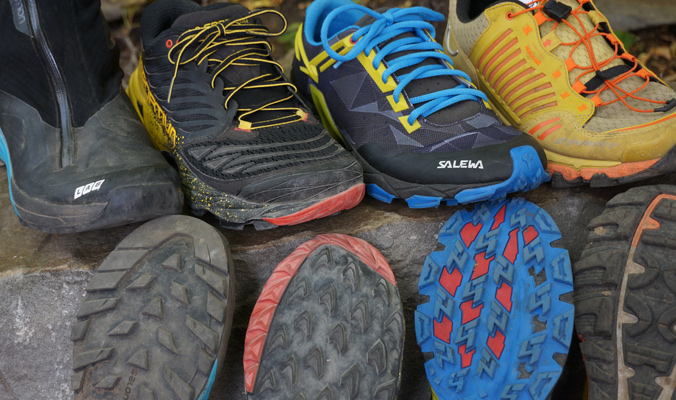 The peaks are collecting an ephemeral white coating about once a week, the leaves are turning in the valley, and my kids are hounding me to watch ski movies—it must be fall. Good thing I've been running the hills all summer to get my legs and lungs ready for winter.
"Hiking up and down in the mountains, on steep terrain, is the best dryland training for backcountry skiing," says Doug Garfield, who has a PhD in exercise physiology and is the author of the "Steady Ski" series of books. He offered me that advice about 15 years ago, and as I've blown past 50 birthdays, his words ring louder each year—or, maybe that's just my old-age tinnitus flaring up.
Uphill hiking replicates the muscle action required in skinning—simple enough. But it's the downhill segments, with their eccentric loading, or lengthening of muscles under force, that mimic downhill turns. You can't get that kind training in the saddle of a mountain bike. If you need more incentive to work those quads, consider how downhill running is often the prescription for inducing DOMS (delayed onset muscle soreness) in studies researching the phenomena; so, it must be a solid workout.
Hiking and running rough mountain terrain requires shoes that are up to the task. The shoes reviewed here were designed for mountain running and span the range: light and fast, middleweights with extra cushion and protection, and a shoe with integrated gaiters and sticky soles for sloppy/snowy conditions. I've spent the summer testing these on steep ups and downs, over loose rocky sections, longer 10- to 15-mile trail runs and variable off-trail terrain.
Winter is coming, but there's still time. If you haven't gotten out much this summer, start slowly, then ramp up distance overtime to avoid injury. Don't forget to dream about powder turns when training. Ripping a non-stop, 1,000-foot powder run at the end of a long day will make all the miles worth the effort.
[The weights are actual values from the sample size tested.]
Dynafit Feline Ultra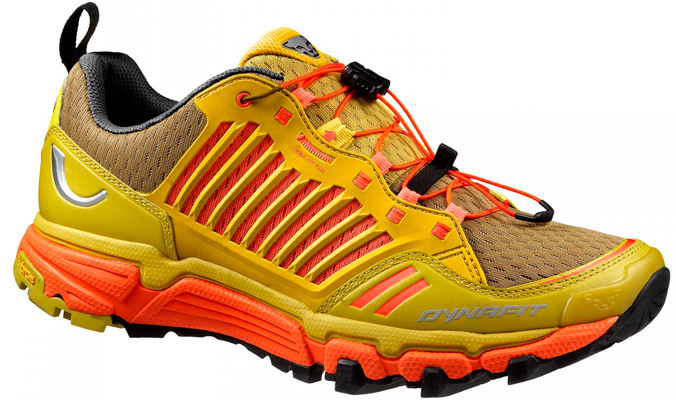 $140   12.8 oz (US 9.5)   8mm heel-to-toe drop, dynafit.com
Replacing the Pantera in the Dynafit lineup, the beefy Feline Ultra is designed for long distances. Wider for North American feet, the Ultra is roomier in the toebox and slightly wider across the front of the metatarsal than its predecessor, while retaining the midsole, and updating the Vibram Mapping Compound outsole of the Pantera.
The solid midsole provides plenty of protection, no matter how pointy the rocks. With plush cushioning and confident lateral support in the upper, the Ultras were kind to my feet on long, rough runs. The sole grabbed loose gravel and dirt and gripped well on dry rock, but wet rock reduced its stick more than I would have liked. The Ultras can handle whatever you throw at them, so I found myself lacing them when I knew I was in for a long day over variable terrain.
Best for: long days, high miles, varied terrain including off-trail. They have a wider fit and run a bit short, so consider upsizing a half size. Women's models are available.
La Sportiva Akasha
$140   11.4 oz (US 9.5)   6mm heel-to-toe drop, sportiva.com
La Sportiva designed the new Akasha as a mid-to-lighter weight shoe with good cushioning and solid grip. The La Sportiva Raptor/Ultra Raptor has been a favorite trail shoe for me for years due to its cushioning, protection, support and the incredible grip its Frixion XF outsole has on loose dirt and pebbles. The Akasha is similar, but a little lighter, more flexible and with more cushioning.
The sole pattern sporting V-shaped lugs and the rubber compound of Akasha's Frixion XT outsole inspired confidence to charge downhill on loose, gravelly surfaces. The fit felt a bit more precise than the Ultra Raptor, but not too snug, and it will definitely adjust to a good range of foot widths. One small fit difference I noted is that the heel pocket feels dissimilar to other La Sportiva shoes—it seems a bit lower and less cup-shaped. Overall, the Akasha ran light and quick, but gave good protection and cushioning for a shoe in its weight class.
Best for: dependable grip on loose surfaces, with maximum cushioning, especially for heel strikes. It is a medium width shoe that is true to size, but shoes run a bit small, so consider a half size up. A women's version is available.
Salewa Lite Train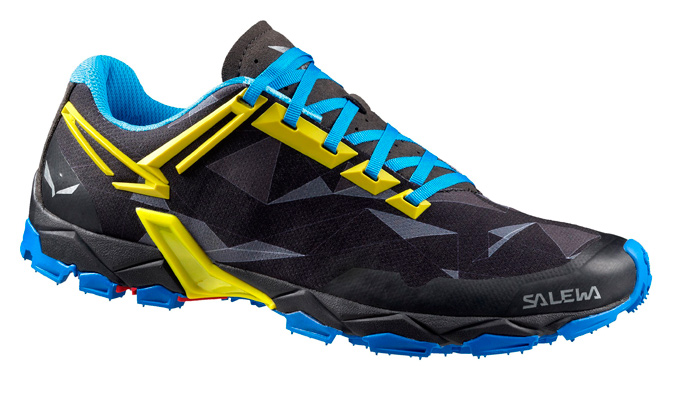 $130   9.5 oz (US 9)   6mm heel-to-toe drop, salewa.com
Salewa has collaborated with Michelin to develop a new, lighter outsole and shave down the weight of the new Lite Train. During runs, they are indeed noticeably lighter, and therefore quicker. The lightweight qualities, combined with a sensitive feel for the trail, helped me navigate technical, rocky routes easily. The fit is close and precise, but in a sculpted, foot-accommodating way, not by being too narrow or too low volume. And, the narrower footprint of the sole contributes to the Lite Train's nimbleness.
The open-lug design of the outsole held tight on both loose and solid dirt, but its grip on pure rock has less control than some of the other shoes tested. The Lite Train is remarkably light; but weight savings comes at the cost of cushioning for long runs, and reduced forefoot protection I find necessary for the roughest rocky sections. Fortunately, its beefier brother, the Salewa Ultra Train, fills that need perfectly while maintaining the addicting, foot-hugging fit.
Best for: fast and light runs and hikes, and smoother trails. It has a medium width fit that feels precise and true to size. Women's version are available.
Salomon S-Lab XA Alpine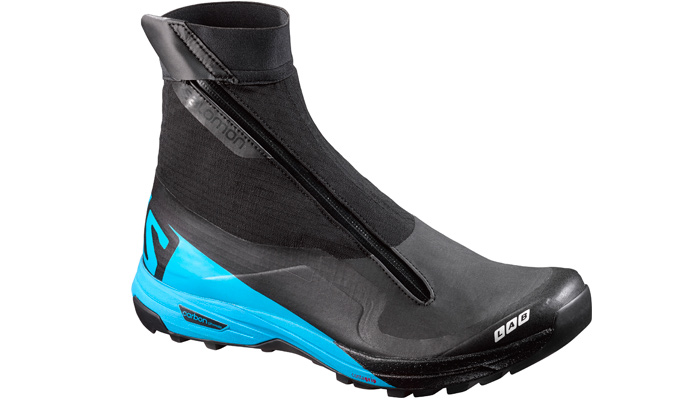 $250   12.6 oz (US 9)   6mm heel-to toe drop, salomon.com
With the XA Alpine, Salomon wants to bring trail running into the alpine. The integrated zip-up gaiter keeps dust, rocks, pine needles and snow out of the shoe. The Wet Traction Contagrip sole, with a blocked out climbing zone on the front, is designed to grip rock, whether wet or dry. A carbon plate stiffens the midsole behind the metatarsal area.
Considering its full gaiter, the XA Alpine is amazingly light. The inner shoe snugs around my foot nicely, but allowed my forefoot to spread out, giving an excellent feel for the trail. Across the ball of my foot, the XA Alpine felt wider than many Salomon trail runners, so will likely accommodate a wider range of feet. The Wet Traction Contagrip outsole performed as billed—it impressed me by how well it stuck to slimy, damp rocks near small stream and spring crossings along the trail. The protective front toe cap is super rigid, but I'd like to see it extend farther back for protection from scree and talus. My sample might have been a quarter to a half size too big, and I'm guessing dialing in the sizing more precisely will boost lateral support.
Best for: lots of rock, scrambling, sloppy shoulder seasons, less heel cushion. It has a medium width and runs true to size.