If Uncle Sam were a skier, he'd want you in his army. That's why he's mascot for USA Colab, a new alliance of U.S.-made ski and snowboard brands that's collectively promoting their American roots.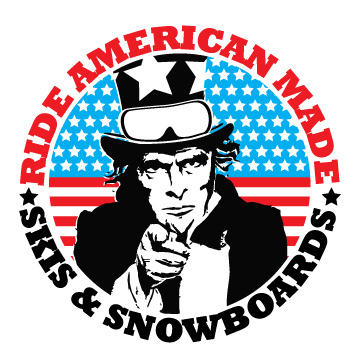 USA Colab, founded earlier this year, is a group of 14 U.S.-made ski and snowboard brands with a common goal of raising awareness in what the group calls "the made in the USA ski and snowboard manufacturing renaissance." "USA Colab was created out of need to educate customers," says Mike Waesche, founder and CEO of the group. "These companies are building great, responsible enterprises, supporting American jobs, the economy and the environment."
More than 25 ski and snowboard brands operate exclusively in the U.S., and the Colab's marketing campaign seeks to spread the stories of brands who have signed up. The project is funded in part by each manufacturer, and by the Utah Governor's Office of Economic Development, which matches any contribution made by Utah businesses.
"We're more flexible and can innovate faster than a larger brand that produces large volumes overseas," says Dave Grisson, marketing manager of Voilé, a Colab member that's been building skis, snowboards and bindings in Salt Lake City, Utah since 1991. "The advantage is in showing the reach we can have together," says Waesche who's also founder of Colorado-based Rocky Mountain Underground, another USA Colab member.
"Buying American creates jobs, not only for the guys in the factory, but throughout the entire process: for the wood mills, the plastic companies, the engineers and all the way down to retailers," Waesche says. "The advantage is in showing the reach we can have together. As a team, it's become very apparent that we can have a larger presence and voice."
Founding members of the alliance include Batalla, Bluehouse, Fat-ypus, High Society Freeride Company, Icelantic, L2R Snowbaords, Meier Skis, Montana Ski Company, RAMP Sports, Rocky Mountain Underground, Voilé, Wagner Custom, Zoo York Snowbaords and 4FRNT. For more about USA Colab, visit usacolab.com.