Alpine touring boots continue to evolve, and this year, we tested more offerings than ever—a total of 28 new products from heavies like K2 and newcomers like Roxa. Traditional backcountry brands like Dynafit continue to improve their offerings, while telemark options remain largely the same.
Here's just a teaser of this year's Editors' Choice winning AT and telemark boots. To see the full reviews, and those more than 20 other boots, check out the 2014 Gear Guide.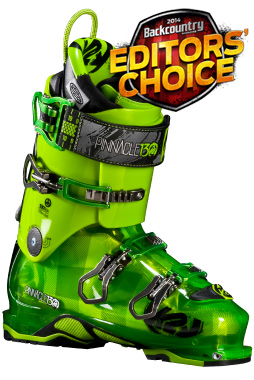 K2 PINNACLE 130
$850 – K2SKIS.COM
WEIGHT/PAIR: 10 lbs. 2 oz.
SIZES: 25.5-30.5 (HALF SIZES ONLY)
+ Tech-compatible alpine performance with a consistent flex.
– The powerstrap/fourth buckle got mixed reviews.
= K2's breakout new boot has a great flex and skis well inbounds and on resort-based missions.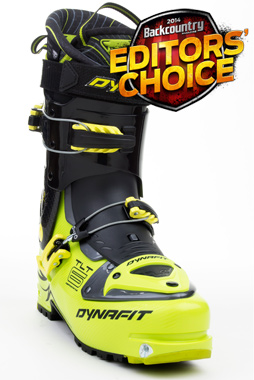 DYNAFIT TLT6 MTN
$750 – DYNAFIT.COM
WEIGHT/PAIR: 5 lbs. 6 oz.
SIZES: 22.5-30.5
+ "Spectacular close-to-the-foot feel."
– "The black tongue is much stiffer, which was necessary for a boot like this."
= A higher-volume, higher-performance upgrade over the TLT5 at the same weight and price.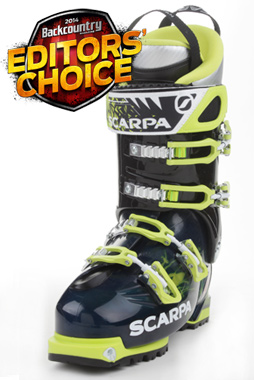 SCARPA FREEDOM SL
$769 – SCARPA.COM
WEIGHT/PAIR: 7 lbs. 12 oz.
SIZES: 23.5-31
+ Adjustable forward lean allows you dial in your sweet spot.
– "Tongue liner is frustrating getting in and out of the boot."
= The Freedom is the ranking contender for a one-boot quiver.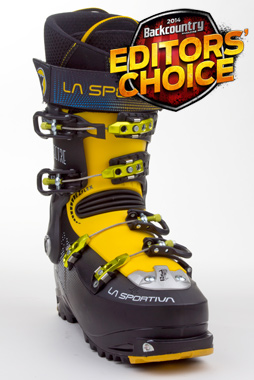 LA SPORTIVA SPECTRE
$599 – SPORTIVA.COM
WEIGHT/PAIR: 6 lbs. 6 oz.
SIZES: 25-31.5
+ Tech compatible (naturally) and unmatched range in walk mode.
– "Buckles have a learning curve."
= Super light, unrestricted walk mode and decent power.
BLACK DIAMOND SHIVA MX
$769 – BLACKDIAMONDEQUIPMENT.COM
WEIGHT/PAIR: 8 lbs. 3 oz.
SIZES: 23.5-36.5
+ "With every turn I felt confident due to a consistent lateral stiffness and flex."
– "Powerstrap could use a little improvement."
= Kickass comfort in a boot made for charging all the mountains have to offer.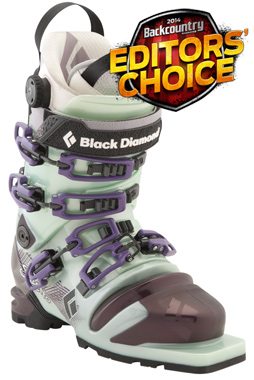 BLACK DIAMOND STILETTO
$699 – BLACKDIAMONDEQUIPMENT.COM
WEIGHT/PAIR: 8 lbs. 3 oz.
SIZES: 23.5-26.5
+ "The Stiletto boasts the lateral stiffness of an alpine boot with the comfort of a custom-fit tele boot.
– "Buckle placement needs work. They're crowded on the forefoot, hard to operate and allow some heel slippage."
= The standout choice for women looking for a powerful boot that's still skintrack worthy.