Avalanche airbag and backpack choices can be hard to navigate with a range of prices, safety features and sizes to pick from. While not definitive, these selects have caught our eye. From vests to battery-powered inflation, we looked at the ins and outs of five avalanche safety tools for winter 2015-16.
Mammut Alyeska P.A.S. Vest
$750 | mammut.ch
WEIGHT: 4 lbs. 5 oz. (2 lbs. 6 oz. without system)
CYLINDER WEIGHT (not included in bag weight): 1 lb. 6 oz.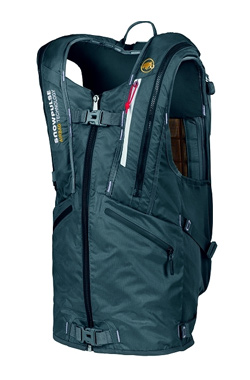 Why vests? Well, for one thing, this airbag option may increase the likelihood of bringing an airbag along on all, not just high-risk days thanks to its low-profile, lightweight characteristics. The vest comes equipped with proprietary Snowpulse airbag technology and the Protection Airbag System (P.A.S.), which, when inflated, wraps around your head, neck and chest, designed to decrease the chance of full burial and blunt-force trauma.
The vest cinches snugly around the torso with stretch paneling beneath the arms that won't encumber mobility. Shorter individuals, however, might find this layer too big due to the long backpanel. Two pockets at the waist can fit snacks and maybe some smaller first aid items.
Bottom Line: While not meant for long excursions, this vest is a lightweight safety solution for inbounds and sidecountry adventures.
BCA Float 32
$550 | backcountryaccess.com
WEIGHT: 5 lbs. 11 oz. (3 lbs. 16 oz. without system)
CYLINDER WEIGHT (not included in bag weight): 1 lb. 6 oz.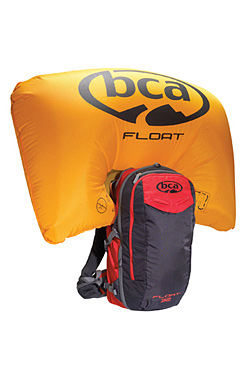 This airbag has room in spades. With a voluminous main compartment, fleece goggle carrier, shovel/probe compartment and two waist-belt pockets for a smallish snack, this bag can fit just about everything but the kitchen sink. And the waist belt is equipped with customizable height adjustment that offers a comfortable carry for a wide range of body type.
The diagonal ski carry options for this pack are easy to use and help keep the airbag balloon unfettered upon deployment. The helmet sling at the top of the pack does not interfere with skis or the balloon and keeps a helmet free of snow.
The Float 32 is geared toward daylong outings, but could easily be cinched down for an inbounds shred. The airbag element is easy to repack after deployment and sports interchangeability between other airbag-compatible BCA models.
Bottom Line: At $550, this bag is less expensive than many of its counterparts. Add to the list how spacious it is and you have a real bargain for the value-driven skier.
Jetforce Halo 28
$1,450 | blackdiamondequipment.com
WEIGHT: Small/Medium- 7 lbs. 4 oz.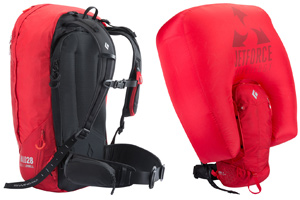 With Black Diamond's battery-powered, jet-fan inflation system, the Halo 28 has none of the hazardous material qualities of other compressed air or explosive-charge-triggered avy packs. This makes for a travel-friendly bag that can be used at home or on vacation without breaking TSA guidelines.
The ease of travel, however, has a cost. At almost $1,500, it is not for the penny pincher, but could be categorized as a long-term investment.
With a full charge, the lithium-ion battery handles up to four airbag deployments, making it the only bag presently on the market that is rated for multiple inflations. (Note: Arc'teryx recently announced a pack offering similar capabilities that will launch in fall 2016). The automatic self-diagnosis system preforms a check every time the bag is activated, making the user aware through a series of beeps of whether or not the battery pack is charged enough for a backcountry excursion. And the battery feature frees the Halo 28 from the hassle of cylinder refills, making multiple deployments on one battery charge an easy way to practice airbag inflation.
A large front shovel/probe compartment provides plenty room for added gear like skins, and the main compartment is voluminous for additional gear. Note that the liter size of the bag corresponds to useable space for gear, not overall space. A helmet carry, diagonal ski carry and ice axe loops make most winter adventures possible with this bag.
Bottom Line: An easy-to-use bag that makes up for its high price in convenience and rechargeability.
Women's Ortovox Freerider 24
$1,018 | ortovox.com
WEIGHT: 6 lbs. 1 oz. (3 lbs. 4 oz. without system)
CYLINDER AND TRIGGER WEIGHT (not included in bag weight): 1 lb. 4.5 oz.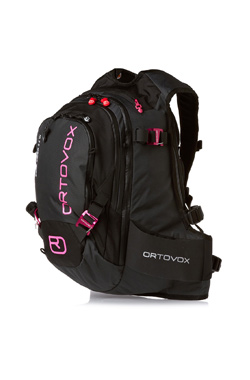 The Freerider 24 is an airbag for women who like to go big and play it safe. With the interchangeable ABS Airbag M.A.S.S. (Modular Airbag Safety System) unit, this system can be transferred into any compatible Ortovox bag with a little grunt work. But with the Freerider 24, there are some features that are hard to pass up.
For the true freerider, the pack comes equipped with the a removable viscoelastic foam pad that sits behind the ABS system and is designed to protect against impacts—this pad can also be worn by itself underneath clothes if desired. Additionally, another point of protection is the wide, padded waist belt, designed as a kidney protector. This feature creates a uniquely comfortable fit for the pack around the waist, although tightening can be tricky.
A fleece-lined goggle pocket protects eyewear and the diagonal ski carry and helmet holder keep dangling objects away from a deploying airbag balloon. And to improve easy access, the shovel/probe compartment is identified by a red zipper tab.
Bottom Line: This bag offers versatility for skiers and riders who want added impact protection some days with the option to remove heavier features for more casual adventures.
Black Diamond Avalung Element
$100 | blackdiamondequipment.com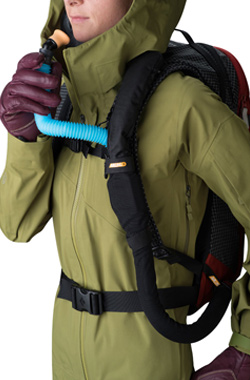 For those who want added avalanche insurance at the $100 mark, the Avalung Element fits the bill. A new take on an old design, the Element works much like the original Avalung, but new integration features add comfort and improved usability.
The mouthpiece lets fresh air flow to a buried avalanche victim's mouth from a bi-valve intake located half way down the tube. CO2 exhaust, meanwhile, is discharged toward the back of the victim through a separate valve that is now designed with longer tubing. In this way, victims don't inhale their own CO2 to increase survivable burial times.
The Element is designed to be integrated into the shoulder strap of Balck Diamond Dawn Patrol packs, ranging from 15 to 32 liters in size—all certified with a strength rating to ensure the Avalung component won't rip off during a slide. And the new orientation of this product eliminates comfort issues experienced with the older sling model's cross-body carry.
Bottom Line: Interchangeable with Black Diamond Dawn Patrol packs, the Element is a safety device that doesn't break the bank.