Boots, skins, shovels, probes, helmets, shells, puffies—ski gear is bulky. For an extended trip, packing it all takes a sizable bag. For this review, we chose options that range from 80 to 100 liters in volume—big enough to stow a pile of gear and within airline size limits to avoid oversize charges. To stay within the standard 50 pound checked bag weight limit, we focused on lighter duffels without wheels. Wheeled versions are typically 5 pounds heavier. Here, the editors review some of their favorites. So, pick your poison, pack up and head out. —The Editors
Editors' Choice: Black Diamond Stone Hauler 90 L
$200, blackdiamondequipment.com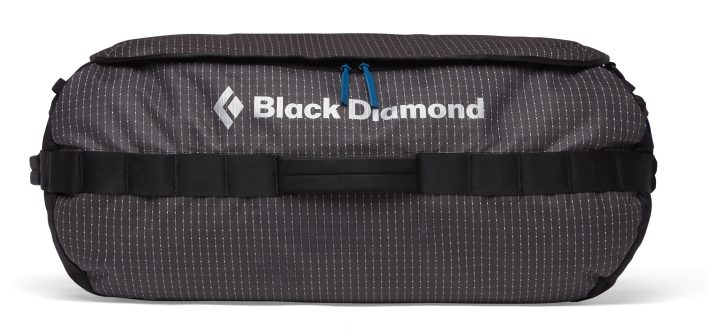 Made with 100% recycled 1500 Denier (high density, extremely durable) fabric robustly reinforced by a layer of foam padding, the Stone Hauler is well thought-out and tough enough, that it could, in fact, haul stones. Its versatility stood out, too. Need to strap it to a snowmobile? Tubular, webbing rating for climbing wraps the entire perimeter at mid-height, with four incorporated handles. Time to carry your bag? Padded, contoured shoulder straps—kept secure by a sternum strap—manage a heavy load comfortably. It's not a backpack, but it will get your gear from baggage claim to your next stop about as comfortably as possible. When you're not on the move, the large top flap opens to allow easy packing and item shuffling. Plus, thanks to the bag's bright blue interior, it's easier to find smaller items when rifling through its contents. A pair of interior compression straps pull one side of the bag towards the other to prevent strain on the #10 YKK main compartment zipper when weighed down or filled to the brim. Although 90L of gear and goods inevitably ensue into chaos, the Stone Hauler has two smaller exterior side pockets, an interior dirty-laundry bag and flat zip pockets under the lid to help with organization. Once the hatches are battened, it's easy to detach the shoulder straps, while the lower buckles are protected under the tubular webbing. Pared down, you're ready to take your stones into the unknown. —Lance Riek
Also available in 30L, 45L, 60L and 120L.
Patagonia Black Hole Duffel 100 L
$219, patagonia.com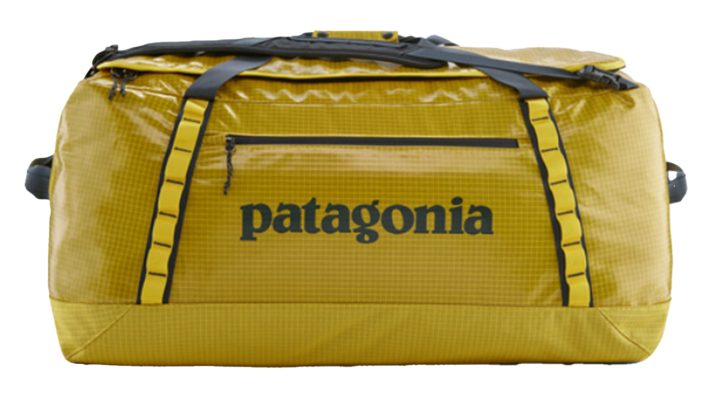 If you're looking for a bag that can fall off the transport trailer on the runway, get run over by a plane and live to see another trip, Patagonia's Black Hole Duffel series fits the bill. I've spent years travelling out of the 70-liter option ($199), which is great for weeklong, summer trips, but gets tight when I start packing ski boots and avy gear. The 100 liter is literally a black hole, seemingly swallowing your gear into a vacuum of space. I have yet to over pack it. To aid in the organizational struggle, Patagonia did add a new interior pocket, which also doubles as a stuff sack for the pack. Additional updates are eco-friendly: a swap to Fair Trade Certified sewing and recycled, waterproof TPU fabric. While I haven't drag the duffel on a sled yet, these new materials kept the inside of the duffel dry after I sprayed it down with a hose. For airport carrying, the backpack straps are nicely padded. The durability, waterproofness and comfort of this duffel make it ideal for those in search of a long-lasting bag that can transition from air travel to expedition travel flawlessly. —Betsy Manero
Also available in 40L, 55L and 70 L.
The North Face Base Camp Duffel 95 L
$159, thenorthface.com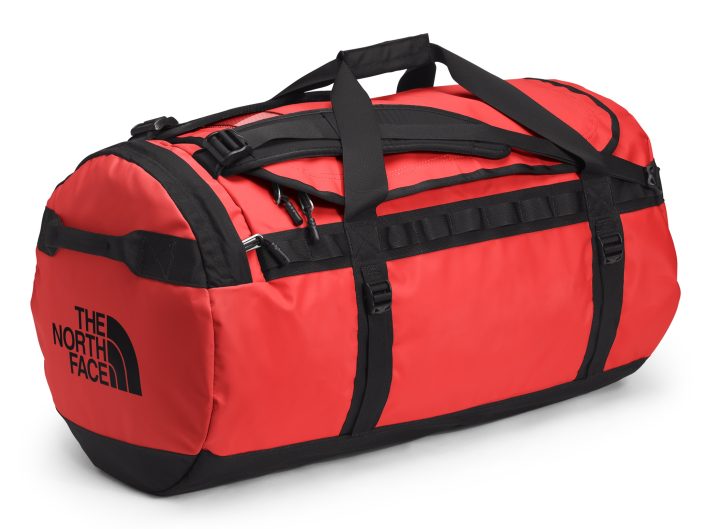 The question always arises: which bag do I bring; how big does it need to be? With The North Face Base Camp Duffel 95 L, there's no debate: no wheels, plenty of space and it converts to a backpack. Everything fits—with so much space that I prefer packing like-goods in stuff sacks for faster on-the-move finds. Plus, I can organize easily. One end offers a separate outside pocket (easily fitting two pairs of size 8 W's shoes with room), while the opposite interior end hosts a mesh sleeve optimal for stashing down booties and a pair of shell pants. Inside, the top flap is lined with a large, zipper-accessible pocket that can keep a manner of assorted, important items secure and quick to access. Made entirely of 1000D polyester with phthalate-free PVC (fire-retardant, abrasion resistant) coating, this bag is durable. On the bottom, a layer of 840D recycled ballistic nylon with a non-PFC water-repellent finish provides additional protection against rugged terrain. When needed, lock your load in with the four compression straps and tie it down using any of the 10 lash points on either side. Once it's time to huff it on foot, throw on the comfy padded shoulder straps and you're off to base camp. —Greta Close
Also available in 70 and 130 L versions.
Rab Expedition Kitbag 80 L
$160, rab.equipment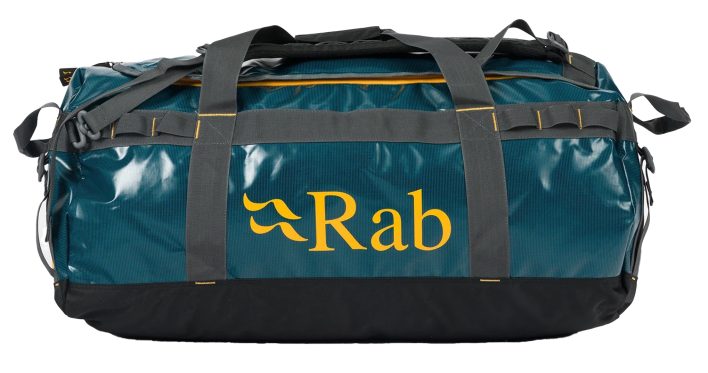 Expedition ready, the Kitbag 80 keeps your gear safe in style. This duffel is encircled with a sturdy webbing that offers multiple lash points and four handles. Made from 600D fabric with a water-resistant coating, the exterior is both sleek and durable. Should it get dragged across sharp rocks and ice, the bottom is panel is doubly thick for extra protection. Despite the comparatively smaller volume, the Kitbag 80 swallowed a pile of gear as easily as the 90 L duffels. Inside, mesh pockets on either end, and two under the top flap, offer safe storage for smaller items. Once loaded, lock in your gear with the heavy-duty #10 YKK zipper, and if you don't max the packing capacity, compression straps (two on each end) allow you to cinch down less-than-full loads. On your back, the thickly-padded shoulder straps make transport easy—they were the most comfortable of any duffel tested—plus they detach for checked air travel, though unfeeding the top buckles requires some dexterity. For extra security, cross the main handles over each other and secure them with an extra piece of webbing around the bottom of the bag to keep your gear safe from your home to the trailhead. —Lance Riek
Also available in 50 L and 120 L.
Eagle Creek Cargo Hauler 90 L
$189, eaglecreek.com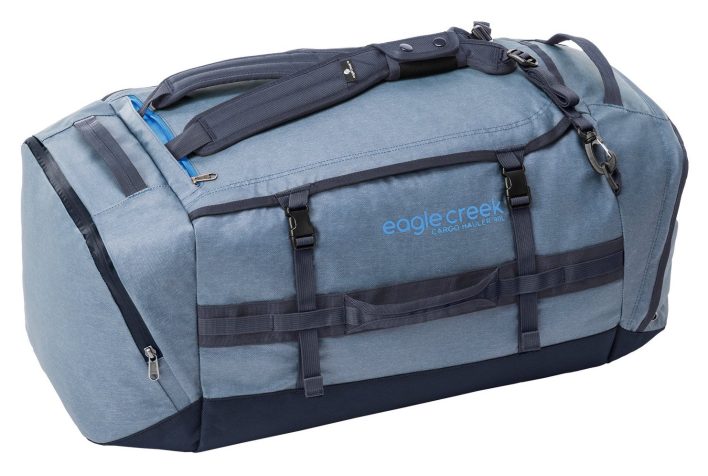 Aptly named, the Cargo Hauler will haul everything. Beefy 800D coated nylon forms the main body, while an additional layer of heavy 1680D abrasion-resistant polyester protects the bottom, which is also padded with foam. Four handles and multiple lash-points on the side make it easy to tie this duffel down to whatever form of transport you require. When you're not wearing the bag, the comfortable, contoured, padded shoulder straps detach quickly at the bottom and stow in a dedicated zip pocket. Four compression straps and side-lock buckles secure the top flap to the body, essentially eliminating all stress on the heavy, durable main zip. For packing purposes, the separate, large pockets on either end add options for organization, but reduce the length of the main compartment. If 90 L won't cut it, Eagle Creek also offers the simple, excellent value No-Matter-What 110 L duffel ($99). —Lance Riek
---
To see our reviews when they're first published, or to read more stories from the untracked experience subscribe to Backcountry Magazine.