After two decades of trying to sort backcountry skis, boots and bindings, we've finally settled on three categories: free, sport and speed touring. On the heavy end of the spectrum sits the 50/50 resort/backcountry free touring gear. These are the skis lined with sheets of metal, four-buckle boots and DIN-certified bindings. Opposite free touring is the uphill-focused, skimo-inspired speed touring category. The skis are less than 90 millimeters underfoot, both the boots and skis hover right around 2,000 grams and the bindings don't have brakes. In the middle sits sport touring, the jacks of all trades that mix weight-saving tech with downhill performance. Think boots with equally progressive flexes and ranges of motion, tech bindings with generous elastic travel and carbon laminates paired with vertical sidewalls. Some products bridge two categories, like four-buckle boots with a 65-degree range of motion or 3,000-gram skis that are best for dad turns. —Betsy Manero
Categories
Free Tour: Downhill Performance, Durable, Heavy
Atomic Hawx Ultra XTD Boa 130 GW
atomic.com | $1,150 | 3,662g | FLEX: 130 | LAST: 98mm | SIZES: 24-29.5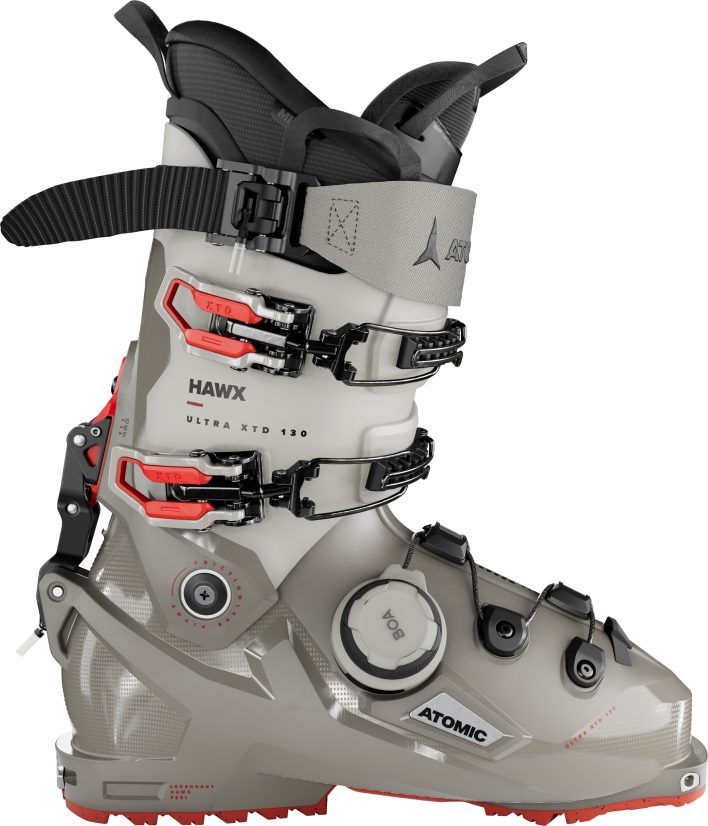 Sometimes all you need to do to freshen up your look is to accessorize. In this case, Atomic spiced up the Hawx Ultra with the season's hottest trend: a Boa. "An unassuming firecracker of a boot!" one tester said.
Despite having five testers with diverse foot shapes in this 98-millimeter last, there was minimal griping about fit. "Boa forefoot was easy to adjust and provides a really consistent fit," said one tester with especially odd-shaped feet. Another tester dispelled myths about a lack of durability, saying, "I literally went out of my way to try to break the Boa by kicking it repeatedly with ski boots on, but I couldn't get it to pop off." If it comes off, as it's designed to do with severe impact, reattachment is tool-free. In addition, this new Boa can be microadjusted without completely releasing the dial.
Throughout the rest of the boot, the Hawx keeps it traditional. It uses Atomic's Mimic Platinum liner, the same as the non-tourable Hawx, and polyurethane—a progressively flexing plastic—in the upper and lower. One tester noted the 52-degree range of motion limits it to sidecountry capability. "Built for the 60/40 inbounds/touring skier," agreed another. "It'll be fine for short missions but is a bit more at home inbounds." The rockered Skywalk Gripwalk sole can click into all modern alpine bindings while allowing it to walk similarly to dedicated touring boots. A Tahoe-based tester summed it up, saying, "This could be a resort daily driver with definite sidecountry capability."
Dynafit Tigard 130
dynafit.com | $900 | 3,000g | FLEX: 130 | LAST: 101mm | SIZES: 25-31.5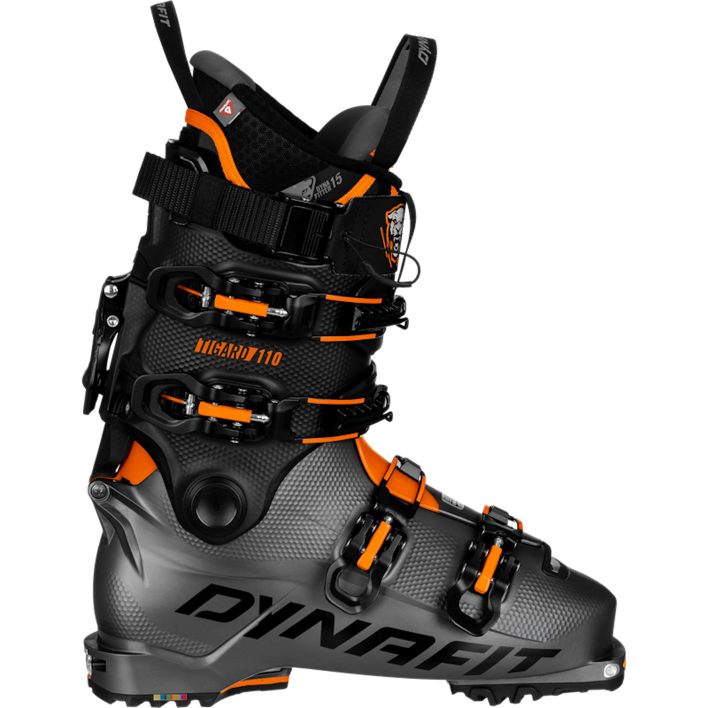 In a one-boot-quiver category crowded with downhill-oriented options, the Dynafit Tigard floats to the top with a lighter weight and a claimed 70-degree range of motion. A Vermont-based freeride coach who has seen it all called them, "An impressive new four-buckle offering, especially given the weight, lighter than others by more than a little."
The Tigard uses Dynafit's Hoji Lock system to tighten both the buckles and power strap when going from walk mode to ski mode. Unlike in other Dynafit boots, this system is added to two traditional-style cuff buckles. "Takes some learning," a tester familiar with the system said. "You can get into walk mode with all the buckles buckled, but you can't return to ski mode without unbuckling the cuff." Once in walk mode, the boot had "a respectable range of motion," according to one tester.
The carbon-reinforced Grilamid cuff and lower are undeniably stiff, and some felt the stiffness came with a lack of subtlety. "Without question, the stiffest boot here to a fault maybe," said one tester, who noted a lack of progressive flex. The stiff feel at the top end of the flex coupled with the Tigard's upright 12-degree forward lean sent multiple testers into the backseat on their first run. Once familiar with the Tigard's flex pattern, a tester with a racing background said, "The 130 flex is real, this is a stiff boot! A stiff but even forward flex and a powerful lateral flex to handle anything over 105 millimeters wide."
Scarpa 4-Quattro XT
scarpa.com | $869 | 3,000g | FLEX: 130 | LAST: 100mm | SIZES: 24.5-33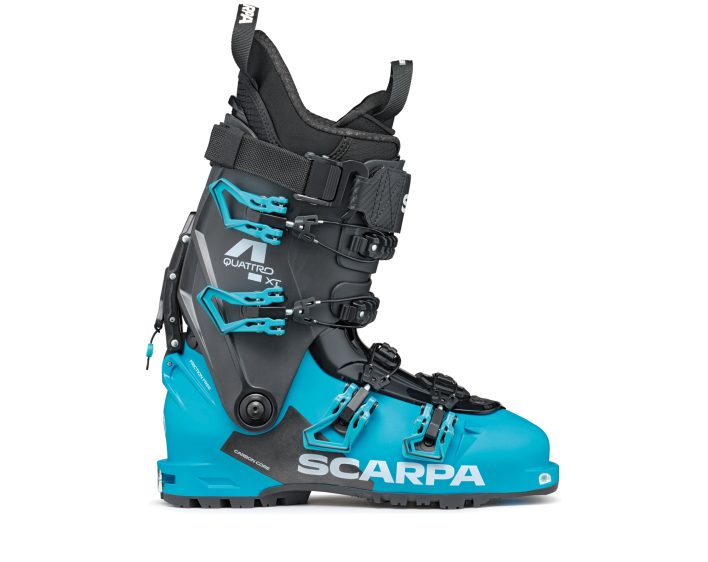 In a season where fancy closures and nontraditional buckles are the norm, the 4-Quattro XT kept it classy. "No gimmicks, Boas or cables. Just a boot that works," one tester said. He was part of the 80% of testers who gave the 4-Quattro XT a 6/7 overall or better, high praise from our picky crew and enough to earn a second consecutive Editors' Choice award.
Behind its simple appearance, the 4-Quattro XT packs a punch with a biobased Grilamid shell—derived from sustainable castor oil instead of petroleum—injected with carbon inserts. Scarpa claims the Alpine Axial Hybrid shell, an overlapping tongue that cinches down when tightened, increases rigidity and power transfer. "The flex could be more progressive, but this feels like the 130 flex it purports to be," a longtime tester confirmed. A 17-degree forward lean (with two degrees of adjustability) adds to performance. "Built for the hardcore charger who doesn't want to sacrifice performance on the descent," concluded a tester who tried to push the limits.
While downhill performance cements the 4-Quattro XT as a free touring boot, its weight would be competitive in the sport touring category. Flipping the walk mode lever detaches a magnesium hook for a 61-degree range of motion. "A perfect blend of downhill performance with overall lighter weight and a solid walk mode," a tester who skis these boots year-round said.
Fit was the most contentious point. "Toe box was roomy, but heel hold was great regardless," a high-arched tester said. "Those with high insteps beware," another contradicted. As with any boot, trying them on first is ideal.
Sport Tour: Versatile, Approachable, Midweight
Dalbello Quantum Free W
dalbelloboots.com | $800 | 2,400g | FLEX: 105 | LAST: 100mm | SIZES: 22.5-27.5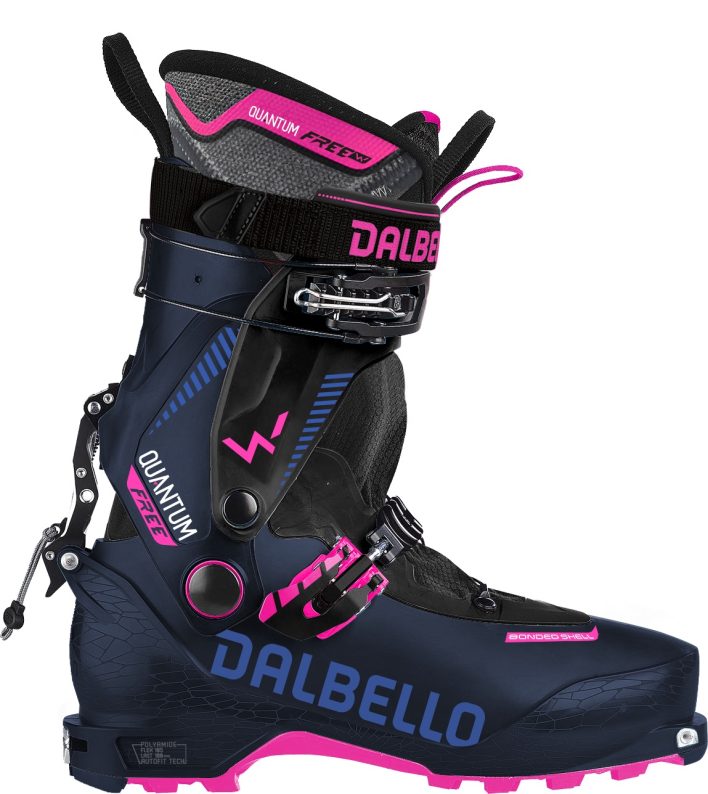 Dalbello lightweight touring boots have blown up the chat. "My top pick for the lightweight, comfortable touring boot that seriously performs on the down," one tester raved of the Quantum Free W. "Great boot for those that go for long and fast walks but still want good performance and stiffness on the way down," echoed another.
These boots are light, largely thanks to the polyamide carbon shell and cuff. Stiff and slender, this plastic is just the material for performance touring boots. "Remarkably solid boot for so little weight," an impressed free tourer said. Paired with the dual-link cuff (or to testers: the "clamshell") the Quantum Free W opens/closes front to back, hinging on either side of the ankle. "The clamshell design offers a very wide range of motion," a tester said about uphill comfort.
When it's time to ski, the boots tighten right up, thanks to a buckle-cable design across the top of the foot that a tester said "successfully got rid of pressure points." An additional buckle just below the 35-milimeter power strap also cinches the boot down. When closed, the front of the clamshell is there to flex into, hugging the front of your shin. "The forward lean is a great angle to set you up comfortably without hunting for the front of the boot," a tester commented, while another was "blown away by the stiffness." The one inconsistency among our testers was fit. "Swimmy for my low-volume foot," said one, while another commented, "Very low volume feet will like these." So best to try a pair on for yourself.
Atomic Backland XTD Carbon 120
atomic.com | $1,100 | 2,760g | FLEX: 120 | LAST: 100mm | SIZES: 24-30.5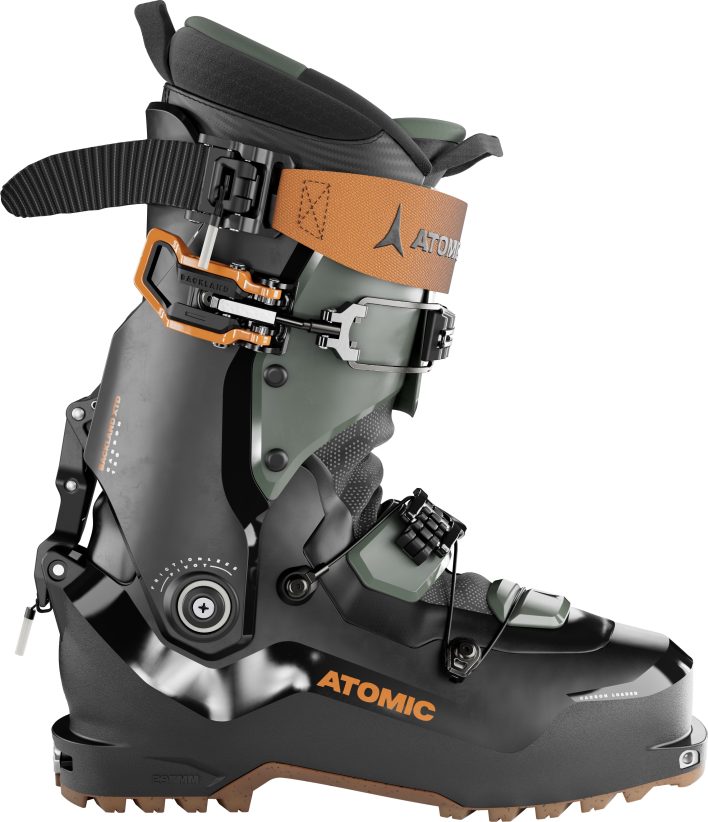 In comparison to the Backland Carbon, the new Backland XTD has a roomier fit, expanded binding options and 10 more flex points, all at the low cost of 220 grams. "Retains stiffness when driven through the turn," said a tester who usually gravitates towards four-buckle boots. "Great forward lean and gain in stiffness when pressured."
The XTD's cuff overlaps at the top of the boot and turns into a gaiter near the ankle. Carbon is integrated into the polyamide cuff and lower shell, and the boot's spine is reinforced with more carbon for enhanced downhill performance. Larger testers felt undergunned on variable terrain, with one saying, "A bit vague laterally … it takes a little bit of discovery to find its sweet spot." As for the claimed 74-degree range of motion, a tester verified that it has "better range than hiking boots," and another said, "The walk-mode range of motion is incredible, and you don't need to touch any of the buckles."
The forefoot buckle pulls a cable that grips the instep to just above the toe. Plastic reinforcements underneath the buckle spread out the force for better fit and comfort. "The instep buckle provides a powerful wrap on the forefoot," one tester noted. Another found the last felt roomy for being 100 millimeters.
Whereas previous Backland options were tech-only boots, the XTD fits into multinorm bindings, those stamped with MN or MNC. The XTD even has a Gripwalk version that allows the user to click into all but a few alpine bindings.
Scarpa Maestrale RS
scarpa.com | $949 | 2,920g | FLEX: 125 | LAST: 102mm | SIZES: 24.5-32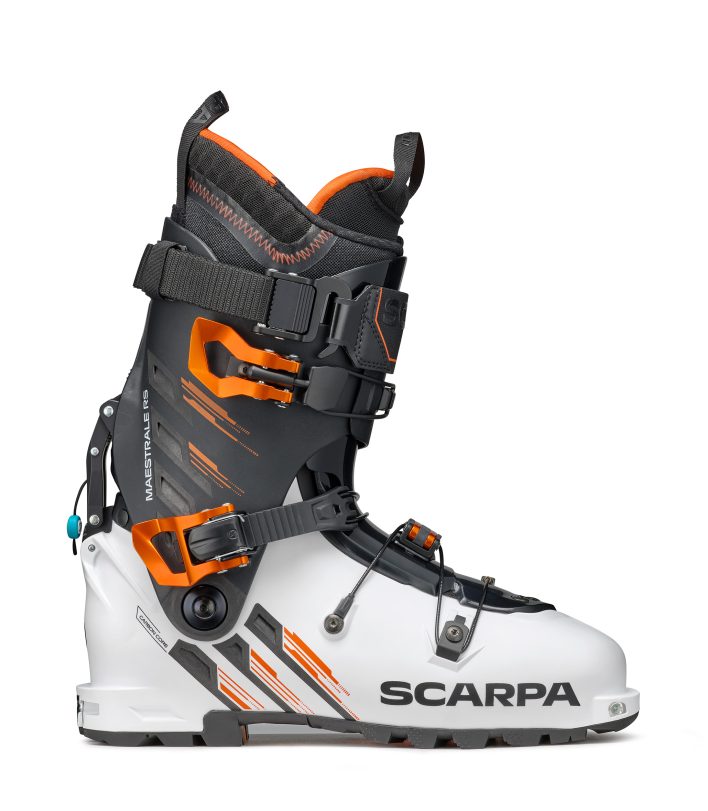 Improving a product that peaked as the best-selling AT boot in the world is no small feat. But with a ground-up overhaul, Scarpa achieved that goal. "Notable as it's the first major redesign of the best-selling boot in the world. And it IS an improvement," affirmed a tester who has skied every version of the Maestrale since its inception in 2010.
Descending prowess was the focus for the reworked Maestrale RS. "For someone that wants to ski hard and have a supportive, stiff touring boot," said a tester who knows how to flex one. The progressive flex and torsional rigidity come from a Grilamid Bio shell, and a Pebax R-New cuff (both derived from sustainable castor seed oil). Meanwhile, carbon reinforcements are integrated at the cuff/shell interface and wrap the entire back of the cuff, adding extra flex points.
While the 102-millimeter last is only 1 millimeter wider than last year's boot, additional fit updates made getting the boot on and off significantly easier, per testers. The widest point of the boot moves back from the pinky toe area to the sixth toe, or outside of the foot. The rest of the shell is slimmed and trimmed. "A better fit than previous with a solid heel/ankle pocket," a boot tech confirmed.
Scarpa's Wave Lite Closure system, a z-shaped wire clamped down by a single buckle, and heel retention strap, are carried over from the previous model. Despite stiffer materials than the base Maestrale, the RS still boasts the same 61-degree R.O.M. "A stiffer boot that loses no range or motion or walk mode performance," the boot tech summarized. "These boots are light and walk well for how well they ski."
Speed Tour: Light, Skinny, Uphill Oriented
Tecnica Zero G Peak W
blizzard-tecnica.com | $900 | 1,980g | FLEX: N/A | LAST: 99mm | SIZES: 23.5-27.5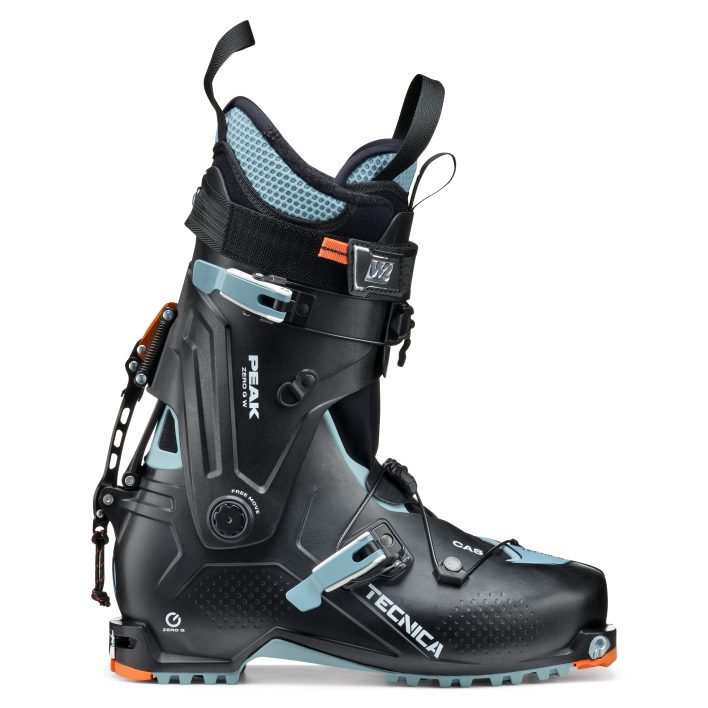 "Super light but still skis like a boss bitch," a Tahoe-based tester quipped. This boss of a boot is part of a Peak trifecta that includes the men's model and a previous Editors' Choice winner, the unisex Peak Carbon.
"A top-class walk mode," said a tester who backed the stated 75-degree range of motion. The walkability comes from the T-Hike system: The walk mode lever locks in two places (on the shell and above the cuff's hinge) for unrestricted movement on the skinner and a progressive flex while skiing. The carbon-powder-infused Grilamid cuff is less stiff than the Peak Carbon, but a Teton-based ski guide was "impressed by the progressive flex for how light this boot is." While a thick-thighed tester overpowered them on midfat skis and in crud, a rookie tester pointed out, "Of course these are not going to be as solid as a heavier boot, but they're still really good through softer chop."
The Grilamid lower shell has a zig-zag cutout under the z-cable, which wraps the foot when tightened. Testers noted the last was on the wider end of the spectrum, despite the claimed 99-milimeter width. That might be due to the thin liner, which one tester said "needs some love." Another added the liner wicked sweat, leaving her dry feet at the end of a spring tour. As far as the length was concerned, all five testers sized up.
Salomon S/Lab MTN Summit
salomon.com | $800 | 2,100g | FLEX: N/A | LAST: 99mm | SIZES: 22.5-30.5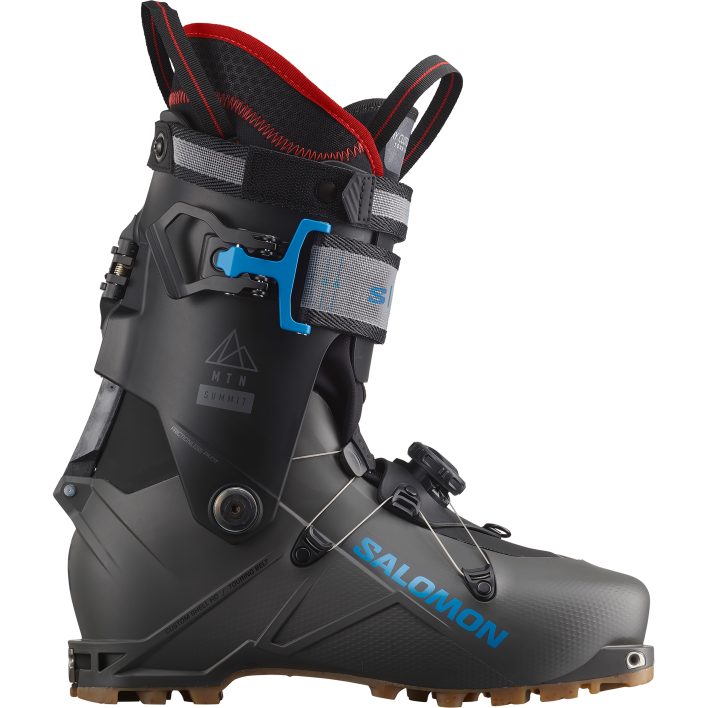 It's common for testers to ski two different boots at the same time for side-by-side comparisons. It's less common to ski a buckle-free boot next to a four-buckle option. After pairing the S/Lab MTN Summit with a 3,000-gram ski, one tester reported, "The Salomon MTN performs just as well as the light, tour-focused, four-buckle boots, with excellent lateral power transfer and tongue stiffness."
Salomon pared down this boot in several ways. It's only tech certified (sorry, Marker Kingpin lovers) and uses two Velcro straps on the cuff and a Boa Fit System instead of buckles. The Boa cables are attached to six points across the top of the foot. One tester found this "locked the foot in better than most Boa systems." Another tester felt secure, despite his narrow instep, and a third called them "the most comfortable boots I've ever worn."
If out-of-the-box comfort isn't the case for you, the thin shell can be molded, thanks to Ultramid, a polyurethane and polyamide blend with a caprolectin additive. Testers also found the plastic cuff and carbon spine gave a surprisingly stiff, progressive flex. "Far exceeds skiability among boots in its weight class," a freeride competitor turned ski guide said. Another tester was able to drive skis in the 95 to 105 range with ease. The ergonomics of the walk mode switch, which flips laterally across the boot cuff as opposed to a traditional horizontal lever, had mixed reviews. Once it was flipped, however, the 75 degrees of movement were a hit. "Amazing R.O.M. At times I forgot I was wearing ski boots," a tester said.
Scarpa F1 XT
scarpa.com | $899 | 2,290g | FLEX: 95 | LAST: 100mm | SIZES: 23-31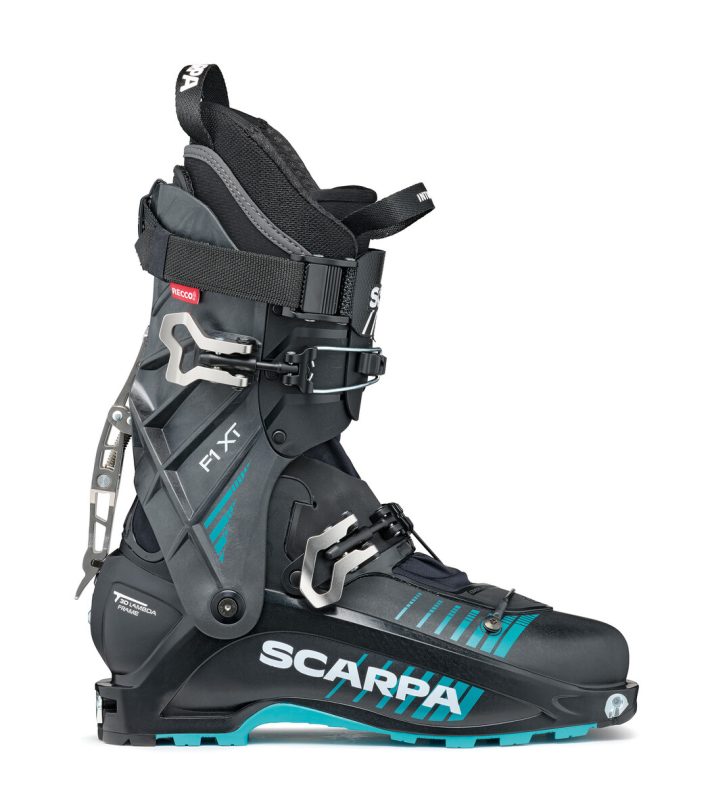 Swap the racetrack for a skintrack and Formula One cars have found a competitor. "Light and effective, the F1 XT manages to blend a comfortable walk mode and solid R.O.M. with a flex that will rip on a thoughtfully paired lighter-weight ski," a tester of this Scarpa boot said. "Pick these when your first requirement is uphill performance," another added.
A lever above the heel deploys a claimed 72-degree range of motion. Some called the switch easy to use. Others called it overkill. The conclusion was the same: This boot's uphill chops overwhelmingly impressed testers.
"For someone interested in trim boots for more efficient travel without having to sacrifice downhill performance," a veteran tester recommended. Featuring a fiberglass and Grilamid shell paired with a carbon-infused Grilamid cuff, the boot is stiff and light. Scarpa's Wave Lite Closure system, a Z-shaped wire that hugs the midfoot and is closed by a single buckle, locks the shell down. On the cuff, an elastic booster strap bolsters a single buckle. "The heavy-duty, metal-buckled cuff strap is appreciated and unexpected," a tester said. "It helps stiffen up the top half of this boot."
Scarpa claims this tech creates a stiff and progressive flex. Testers backed the stiffness. "This boot will surprise most with its fore/aft stiffness," a longtime boot tester said. But, he added, "the boot lacks progression through its flex range."
Multiple testers noted a snugger fit than other Scarpa boots. "New fit won't be for everyone—extremely low volume," a tester with narrow feet said. Another applauded the plush Intuition liner, however, saying, "Out-of-the-box comfort was impressive."
---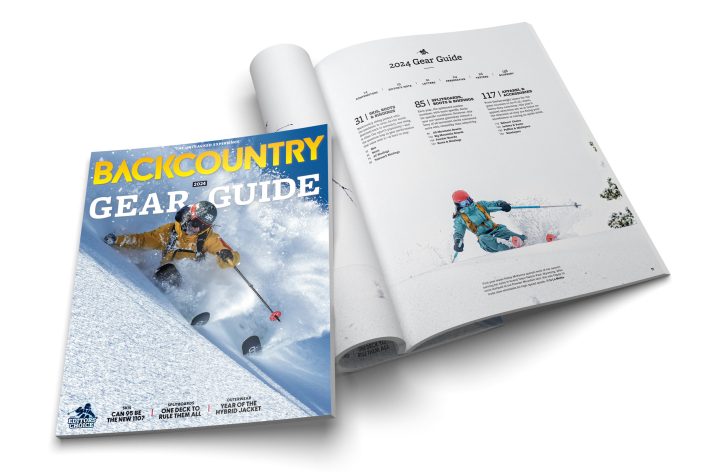 Published here are 9 of 26 alpine touring boots we reviewed in our 2024 Gear Guide. To check out the comprehensive range of boots we wrote about, or to learn about binding compatibility, how to pick a ski boot and more, pick up a copy of the 2024 Gear Guide, available in print and PDF versions. For the rest of our 2024 Editors' Choice reviews published online, visit our gear page.
---
*Affiliate link disclaimer:
At Backcountry Magazine, we are committed to providing you with honest and informative gear coverage. To support our work and continue delivering quality content, we are including affiliate links in our reviews. Partnerships with retailers are separate from coverage, ensuring that our reviews remain unbiased. These links help us earn a small commission if you make a purchase through them, at no additional cost to you.