Early pioneers like Tom Sims, a former skateboard champion, imbued snowboarding with the creativity of street skaters. Today, riders treat mountains like the Z Boys treated Santa Monica backyard pools. Side hit, slash, ollie, butter, spin, straight line. That's why this year's soft snow (then sunshine) and Powder Mountain's playful terrain were the perfect combo for splitboard testing. Spending most of their time on the Paradise lift lapping PowMow's hidden cliffs, our snowboard crew sought out every drop, steep, rollover and gap they could find, channeling that skate-inspired lineage to find each board's limits and strengths. Though these splitboards are meant for the skintrack—and we took them beyond the rope line, too—they carry that history and purpose. You can rest assured the reviews that follow feature boards meant to slash, butter, ollie or straight line all over your favorite alpine playground. —Tom Hallberg
Arbor Veda
arborcollective.com | $750 | N/A | 152, 156, 159, 162W

The only thing rarer than the women's pro model split is the women's pro model split available in men's sizing. The Veda, architected by Arbor's Marie-France Roy, dissolves gender by being available in 152 to 162W. Admirable, but not in and of itself worthy of Editors' Choice hardware. In that regard, testers gave the Veda high marks for its approachable, trickable and reliable ride, making this intermediate-friendly quiver killer our top pick for boarders on a budget.
"Damp and playful," commented our pickiest all-mountain tester after sampling the 162W. He enjoyed suspension supplied by a classic combo: a sustainably sourced poplar/paulownia core wrapped in a bi-ax and tri-ax fiberglass layup. He also dug the switch-slaying minimal 8-millimeter taper and turning chops supplied by the parabolic camber profile and Arbor's tri-radial sidecut. The latter equips the Veda with four extra, ice-gripping bumps at the inserts, and our picky tester claimed, "The extra contact points lock-in through any conditions." A Wasatch shredder reported turn initiation was "easy despite the long radius," crediting 3-D contoured contact points that reduce chances of catching an edge and encourage rolled, flowy transitions from edge to recycled steel edge.
"Other than windblown, icy chop, this board is ready to rip," said a hard charger. "Getting airtime on the Veda is easy, with light, snappy, lofty ollies." Our jibbiest rider found the 162W too stiff for his riding style, and our most aggressive shredder judged the 156 "fun to butter" but overpowered in gnar. If you fall in between those two extremes (most splitters), chances are the Veda will play.
Jones Stratos
jonessnowboards.com | $950 | 3,000g (159) | 146, 149, 152, 156, 158W, 159, 161W

"And still! Winner by knockout, lightweight champion of the world, with a record of 297 sick powder turns, 12 backside 360s, three lines of a lifetime and one tomahawk for the boys, the Jooones Straaaatos," an impressed tester joked. This two-time champ kept the belt thanks to an unchanged nimble directional freeride shape complemented by an approachable, freestyle-friendly flex. The all-terrain machine also now comes in an expanded size range welcoming of women and lighter splitters.
"Definitely not a one-trick pony," affirmed a Teton lady. With 10 millimeters of taper, serrated, traction-enhancing edges gracing a deepish sidecut, cambered midsection and convex, rollable nose and tail, the Stratos "turns on a dime," a smitten Eastern Sierra all-mountain gal reported. A taller freerider agreed: "Super quick pivots, like Grendys on The Bombhole. The mellow, predictable flex is easy to whip around for slarves and navigating chop." Another Sierra tester applauded the beveled nose's "transcendent, fluid edge-to-edge action in crust, corn, cement and champagne blower" and the poppable tail's backcountry freestyle abilities.
Testers' concerns arose in techy steeps and pinned straightlines. "Too loose," a lanky freerider said. "At super high speeds, I didn't feel that comfortable," agreed an average-sized woman who judged it best suited for getting "medium rad." According to a Sierra surfer, certain lines—and certain riders—will appreciate a stiffer, more stalwart deck, perhaps the Jones Solution, but said tester stood by the Stratos as a "do-it-all deck for riders who gravitate towards powder, precise arcs and airtime."
Venture Paragon
venturesnowboards.com | $949 | 3,280g (156) | 152, 156, 157, 160, 161, 165, 166, 170

Venture's men's Paragon (ladies, peep the Oracle) garnered high praise thanks to universal utility. Everyone from a lighter, aggressive freestyler to a stockier, surfier cruiser dubbed the Paragon a quiver killer. Most telling, our choosiest all-mountain tester compared the deck to a "golden retriever—eager to please, full of energy and a guaranteed good time."
A semistandard all-mountain shape, the Paragon has subtle 7-millimeter taper that facilitates effortless switch shredding, 25-millimeter setback for float and an updated, deeper sidecut for superior edge hold. "The ChatGPT of splitboards, the Paragon provides surprisingly good answers to a variety of terrain types," commented a Wasatch freerider, finding the new sidecut "amenable to all turns." Another Wasatch tester claimed "lightning-fast" edgability had him "wiggling my hips like I was in Zumba class." The biggest deviation from the status quo: Venture's flat profile, which floats better than camber while providing better skintrack grip than rocker.
Venture ranks flex at 6/11, but ash stringers provide "Orville Redenbacher pop and big mountain confidence," according to one Sierra shredder. After clawing into a sketchy, mid-couloir spiny feature, he reported, "The Paragon sashayed through spice, straightlined the choke, then blasted a massive ollie into the apron. That duality of fun and capable is exactly what I want in a daily driver."
Crafted with the Silverton builder's durable construction—resilient carbonium topsheets, cold-rolled high-carbon steel edges and P-tex sidewalls and base—the Paragon is built to last. "There's a reason you see more ancient Ventures in the wild than damn near any split brand," that Sierra rider commented.
Jones Hovercraft 2.0
jonessnowboards.com | $900 | 3,100g (156) | 148, 152, 156, 160

Not all redesigns are overwhelmingly noticeable, but the updated Hovercraft, according to testers, rides like a completely different board. "Better in every way than the old one," said a French tester known for sending it fast and hard.
The Hovercraft 2.0 maintains the original's basic shape—blunt tail, wide waist and huge nose—but Jones added a few millimeters in the middle to give it more float. Perhaps the most consequential change is the altered curvature of the base. Jones's Contour 3.0 base adds side-to-side bevel from the midpoint in the nose, and now more rocker in the tail. "The crazy amount of spoon in the nose was placed in exactly the right spot to make slow/tight turns," a blown-away freerider said.
Per testers, the Contour base and rocker help keep it nimble, but the long sidecut and midstiff flex combine to make it capable at high speeds and in long turns, too. "It was quick enough to handle carves or tight chutes while being stable enough to ride fast through crud," one tester remarked.
Even with a snappy, full poplar core, it doesn't necessarily encourage freestyle riding, though testers found it could still ollie, spin and land well enough to be versatile. A beginning splitboarder might find the shape hard to manage on the skintrack, our French tester observed, but that was about the only knock anyone could think of. As one tester concluded, "If you like to smile while snowboarding, this is for you."
Korua Shapes Escalator Plus
us.koruashapes.com | $1,199 | 2,650g (157) | 152, 157, 162

While the unisex Escalator Split Plus doesn't transform steep skintracks into circulating staircases, it's the next best thing. "Properly light," approved an uphill-oriented Teton tester, calling it "the ultimate weapon for big-vert powder days." She appreciated the Plus's carbon layup (pricier but lighter than the base model) and the nostrils in the rockered nose for easy skin application, judging the latter a "superior skin attachment style and major bonus." Factor in a skinner-friendly, protracted, torpedo-esque outline and uptrack-gripping camber underfoot, and the Escalator crushes any climb.
Carve aficionados were just as happy on the descent as weight-conscious climbers were on the ascent, thanks to a semi-slim waist, expeditious edging and camber-dominant profile. A shreddy Wasatch lady dug the 152's "crisp, seamless turns," recommending the Escalator plus "for an intermediate to advanced rider who approaches big mountain lines with flowy artistry." Her skintrack partner, a carpenter with Christmas hams for quadriceps, cherished the 162's 9.2-meter sidecut, saying it "locked-in long arcs." He added that the relatively narrow waist made for "effortless edge-to-edge" transitions.
Testers were split: Was the Escalator a daily driver or quiver stick? The hulking hero mentioned above was happy to muscle the 162 into submission for everyday use, saying "This board can do it all—snake the trees and get gripped in icy couloirs." He did warn, "Not for those who want a flexy deck." A slender freerider wanted a damper landing gear and decided to keep it on the ground, voicing, "This is a great stiff option for gram counters and a good ride for open bowls and carves."
Weston Backwoods Splitboard x Haa Aaní Alliance
westonbackcountry.com | $949 | 3,470g (160) | 152, 157, 157W, 160, 160W, 163, 163W, 167W

Some boards take a few rides to figure out. Not so for the Backwoods. "Love at first sight," said a choosy rider. Another tester added, "The Backwoods is just so easy to ride. It's a no brainer for anyone looking for a new split. It really can do it all damn well."
One tester who uses the Backwoods as his daily driver believes it has the perfect shape. A short effective edge with a tall camber pocket between the inserts provides more edge hold than one would expect, he said, and pronounced nose rocker offers prime float. The poplar core has a touch of bamboo for springiness, and Weston adds two carbon stringers for support and stiffness, giving it a forgiving six of 10 flex, per the company and confirmed by testers.
If the Backwoods has one fault, it may be variable snow performance. Full polyurethane sidewalls help it handle chop well enough for 90% of the season, the Backwoods owner said, but it doesn't perform well on icy slopes or in steep, firm terrain. "Rips so hard until the going gets hard," another rider noted.
One thing all testers agreed on was its snappiness edge to edge, granted by that short effective edge and 18 millimeters of taper. "For such a wide ride, the Backwoods 163 Wide really bounced from edge to edge," a big-footed tester said. Concluded another: "It achieves this alchemy of floating like a big board but turning like a carver."
Weston Riva Carbon
westonbackcountry.com | $1,149 | 2,690g (151) | 151, 155

According to testers, even though the Riva Carbon is similar in construction to the men's Ridgeline Carbon, just with a mellower flex, it's anything but a pinked-and-shrinked afterthought. Instead, it's a women's-specific big mountain crusher, which is still a rarity in the splitboard market. "It's a great quiver killer, and beginner to advanced riders would love it," an enthusiastic lady said.
This lighter version of the Riva features a poplar/paulownia/bamboo/aluminum core with a triaxial carbon-fiber layer designed to be damp and responsive. "Surprisingly poppy, progressive and energetic for a carbon board," said a tester who owns the non-carbon version. "I noticed a softer landing on jumps than I was expecting," another said.
Its weight and stiffness imply it's meant for long, big mountain days, but testers said it was versatile. Weston's freeride camber profile, which features longer rocker in the nose than the tail and a setback camber pocket, aims to provide float while maintaining variable snow performance. "I had edge control on steeper, more aggressive terrain, but also maneuverability in the trees," a Teton big mountain rider said.
Our testers weren't enamored with the Riva Carbon's freestyle chops. "Not a natural jumper, ollies do not feel intuitive," said a playful rider who called it "moderate on all accounts." A big mountain rider who loved it clarified that she "would not recommend for riders who enjoy a softer board, or who don't enjoy really driving the board." But if you're looking for a lightweight rig that's quick edge to edge and stable in all terrain, she said, look no further.
West Snowboards Muveran
westsnowboarding.com | $919 | 3,400g (164) | 147, 153, 159, 164

Swiss board builder West is no big fish. Still, despite a test teeming with sharks, the minnow-sized manufacturer hooked our testers with the big mountain Muveran. "You might have never heard of West before, but the Muveran will feel instantly familiar upon strapping in," complimented our 160-pound test director.
He piloted the Muveran down a sketchy double drop, scraping toothy granite in the landing yet riding away with only the subtlest of stone signatures scribed into the Muveran's brawny P-tex 7200 base. The moment, he felt, showcased "the stability, agility, and durability of this heart-pumping fun hog."
Such dependability in dicey situations comes from a broad, rockered, chop-bombing nose, hardpack-biting cambered mid-section and stout diamond tail. West equipped the big mountain shape with a mid-stiff-flexing poplar/paulownia core reinforced with two parallel carbon and Kevlar stringers running nose to tail. According to a freerider who hasn't fallen since the Obama administration, the stringers "give it a lively feel." He also dug the pop and landing gear the vertical reinforcements provided. Riders agreed the nose-to-tail stringer axis leaves enough torsional flex for riders to embrace a playful approach, too.
Whether or not the Muveran was stiff enough for ultra-gnar was a cause of division, though, with riders over 180 pounds finding the speed limits of the 159. "On the fun side of backcountry. Fun and playful in the woods, very nimble, not aggressive, but you feel like you can do anything," a heavier rider commented. Another XL rider agreed for the most part, claiming, "I'd ride this on all but the biggest lines."
WNDR Alpine Belletour
wndr-alpine.com | $1,000 | 3,200g (156) | 148, 152, 156, 159, 164

In a world of increasingly specialized splits, the Belle Tour is a throwback. "Reminds me of the early days when you bought a stiff, big mountain stick that did everything else reasonably well," said an elder millennial. WNDR Alpine aims for it to be the board that feels stable in big, variable terrain but you won't leave at home on a pow day.
"Lays a trench but still bounced through a pillowy section. Handles chunder, snakes through trees and throws 3s," said a tester who's ridden pretty much every board out there. WNDR's board builders achieve that versatility by sticking to a classic design—tapered directional twin shape, camber underfoot with early rise and a consistent sidecut.
Where things get fancy is inside the board. The core is made of aspen stringers parallelling four strips of algae-oil foam running tip to tail that are meant to make it slightly more flexible than last year's model. "It's stiff torsionally but released out of turns predictably. Insane performance in chop," said a tester known for pushing boards to their limits.
Algal sidewalls, which WNDR's internal testing has shown to be more absorbent of vibration than petroleum-based plastics, provide a lot of that dampness. A few testers found the combination of damp and stiff created a sluggish ride, and one referenced a WNDR pro when noting its weight. For touring, he said, "You'll need Nick Russell's quads." Overall, however, most agreed that in an era in which splitboarders can be players and have a sidepiece for each occasion, the Belle Tour can be your main squeeze.
---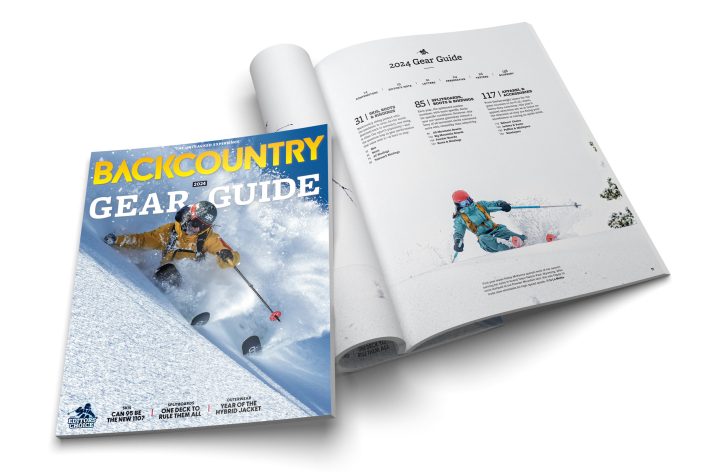 Published here are 9 of 31 splitboards we reviewed in our 2024 Gear Guide. To check out the comprehensive range of boards we wrote about, or to learn about board profiles, how to choose a split and more, pick up a copy of the 2024 Gear Guide, available in print and PDF versions.
---
*Affiliate link disclaimer:
At Backcountry Magazine, we are committed to providing you with honest and informative gear coverage. To support our work and continue delivering quality content, we are including affiliate links in our reviews. Partnerships with retailers are separate from coverage, ensuring that our reviews remain unbiased. These links help us earn a small commission if you make a purchase through them, at no additional cost to you.