"Beacon, shovel, probe" has for years been the checklist backcountry travelers recite before a tour. But as airbag packs become lighter and more user friendly, that checklist may eventually need a fourth entry. Cost is still a barrier for entry to many budget-conscious skiers, but between pricier rechargeable options and less-expensive canister ones, there might already be an airbag out there for everyone.
Editors' Choice: Deuter Alproof 32
$1,300, deuter.com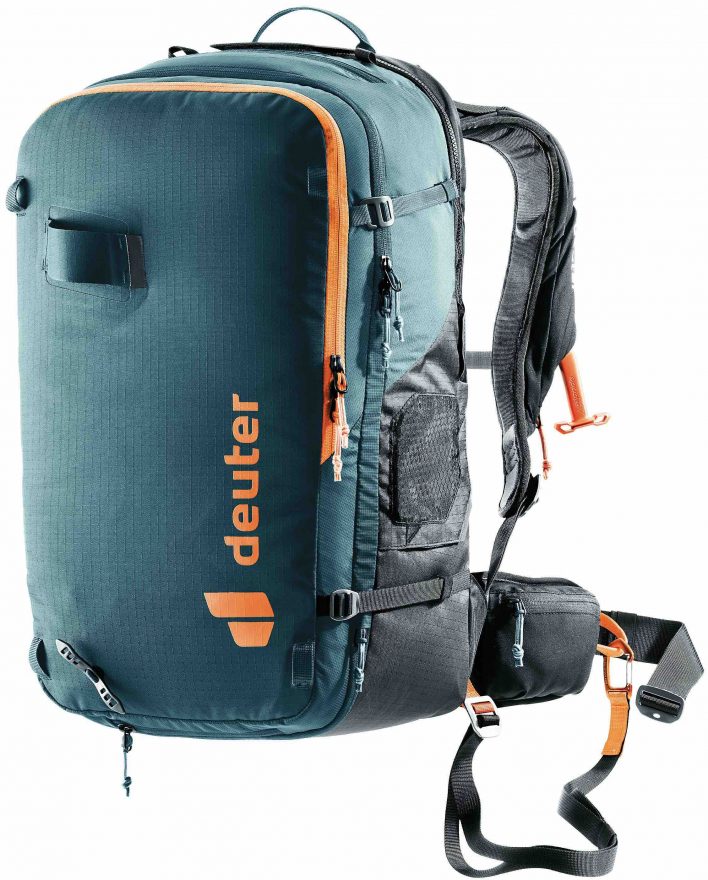 For both the ascent and descent, the pack hugged our tester's frame, rolling easily with his movements. A backpanel entirely made of foam added to the comfort, though a lack of the mesh airflow sections found on other packs contributed to our tester's sweaty back. "Or maybe that's just a personal problem," he said. Despite its 32-liter size and the rechargeable E2 airbag system taking up internal space, the Alproof carries a surprising amount of gear.
Our tester lauded the dual access to the main compartment: A top zipper allows it to be stuffed full, and the suitcase zipper gives access to everything at once. Small touches like a divided top pocket for snacks and maps and a zippered mesh compartment in the main pack will help skiers keep gear organized. Tipping the scales at under 6 pounds, the Alproof "dispels the notion that airbag packs have to be heavy," he said. And for the same price, Deuter offers a 30-liter version with the option for a women's-specific fit. If your interest is piqued, he encourages you to start saving money now, because, like a Tesla Model X, it's not for the middle class yet.
Mammut Tour 30 Women Removable Airbag 3.0
$680, mammut.com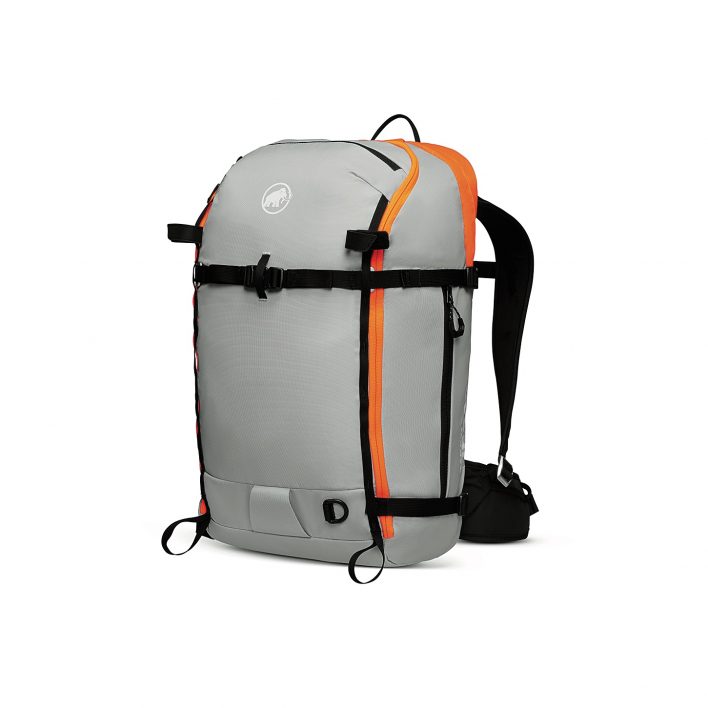 The new Removable Airbag 3.0 pack is the latest ultralight iteration of last year's Editors' Choice-winning R.A.S. system, in which the airbag component can be switched between a bevy of bags. While our tester liked the idea, she noted installation was difficult. "Maybe it was just that it's a new pack and airbag and they need to be broken in? But it straight up took me half an hour to get the airbag into the pack," she said. "And it was exhausting." Her only other complaint was that the avy tools pocket was inside the main compartment: "This meant two zippers, one of which can be hard to find under all your other gear." Otherwise, the perks were plentiful. The metal hip belt was easy to unclip with gloves on; the fit was ideal for her 5'2" frame; and the weight was well balanced. "This was light enough and comfortable enough to be a daily pack," she said. "While you only get one pull before having to refill your canister, it is nice that you don't have to fiddle with batteries and on/off switches while on a tour."
Backcountry Access Float E2 35
$1,300, backcountryaccess.com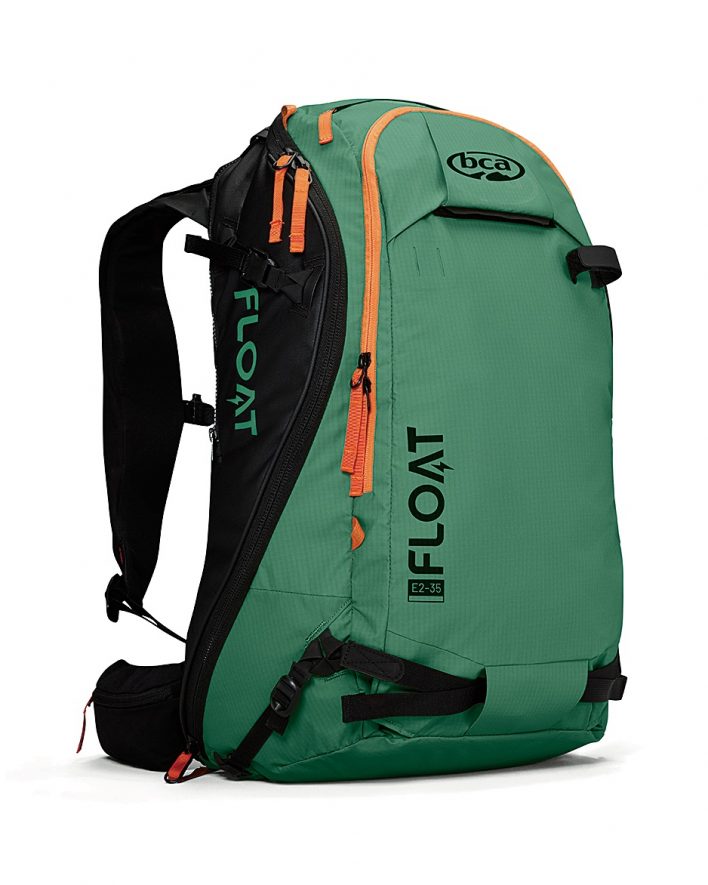 The Commodores would like this heavy-duty, E2-equipped airbag pack (it's built like a brick house). Our tester specifically lauded the somewhat-clunky-yet-easy-to-use-with-mittens clamshell zipper that gives access to most of the main pack, and he noted the array of pockets, including his favorite, the Side Stash, a tubular cavity near the lumbar that's accessible with the pack on. "The stash pocket is genius," he said. "It was great to have snacks, gloves and water easily accessible. Very clutch." He disliked the chest strap, which uses a T-clip to hook into woven loops on the straps, because it kept popping out, making the Float hang off his back and creating the feeling of "giving a small child a piggyback ride." In conclusion, he said, it's a solid option for anyone in need of a sturdy pack and, for those willing to carry some extra pounds, can be a daily driver with its midrange size.
Osprey Sopris Pro 30
$1,400, osprey.com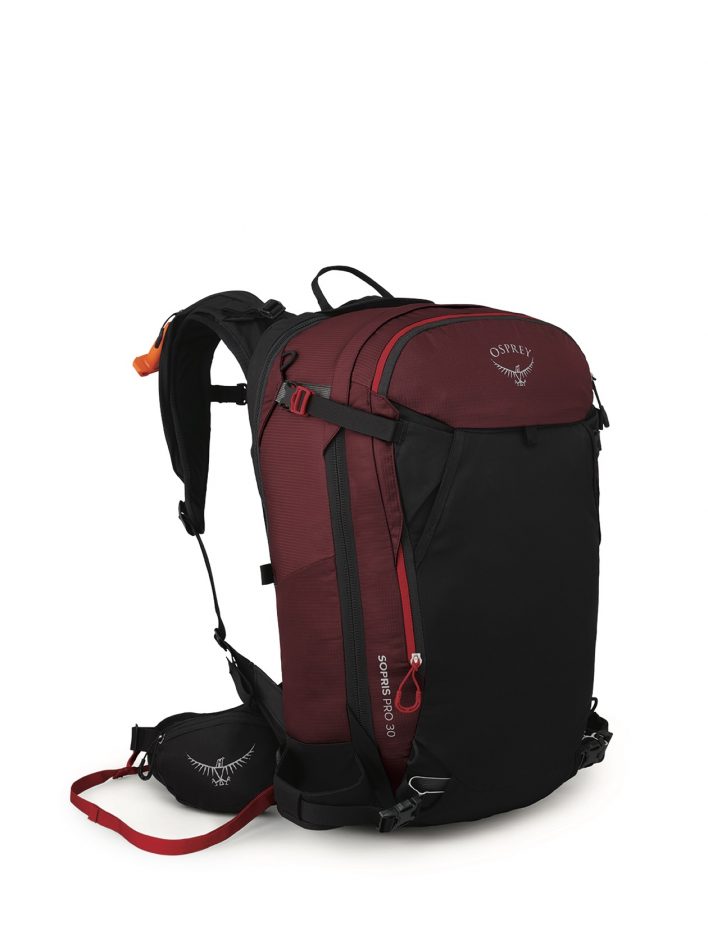 Women need airbag packs, too. Osprey answers the call with the Sopris Pro 30, which takes the women's-specific fit of its Sopris ski pack line and adds what our tester called a "well-balanced" E2 system. "It stayed flat against my back for a comfy pack that doesn't throw you off on every turn," she explained. A few features rubbed her the wrong way, specifically the metal pieces used to adjust the straps. "It's difficult to pull the straps into place, even with two hands," she said. "If you're changing layers throughout the day, it takes longer than any of my other packs to dial in." She conceded that, unlike the plastic pieces of other packs, the metal kept her straps from slipping on the skintrack. In the end, she was won over, saying, "I don't ski with an airbag, like ever, but this one was more comfortable than I was expecting, and the weight was minimal."
---
These reviews was originally published in Issue No. 150. To read more, pick up a copy at backcountry magazine.com/150, or subscribe to read our gear reviews earlier when they are published in print.