Editors' Choice: Deuter Freescape Lite 26
$200, deuter.com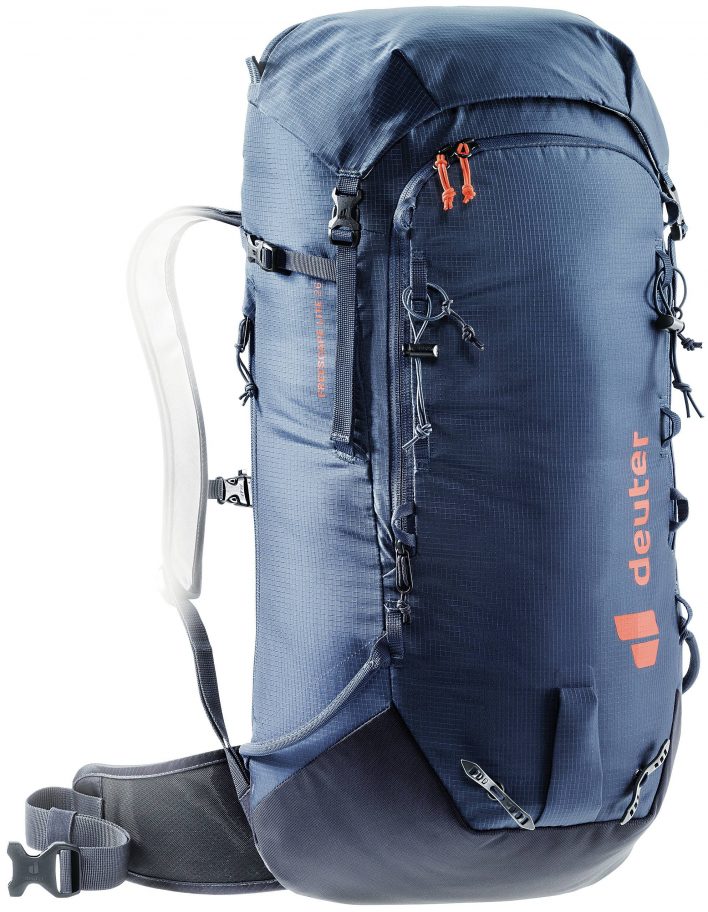 The Deuter Freescape Lite brings smarts to the skintrack—literally and figuratively. It's lightweight, compact and feature-full. One of those features is, in fact, a brain. "Love the brain," praised our Teton-based tester of the attachment many ski pack manufacturers have moved away from. Below its cerebral aspect, two large compartments divide the pack. The outer offers sleeves for avy equipment and is slim, "discouraging you from putting other gear in on top of your shovel and probe," a tester said. The main one, accessible from the top or by side zipper, occupies the body of the pack, providing space for layers, skins and more, including a goggle pocket and storage pouch.
On the exterior, four smaller pockets provide easy-to-access stashes for goodies—from snacks to maps to phones—that are easy to find on the skintrack. The Freescape is also equipped with a built-in side-carry for skis and stowable straps to accommodate diagonal-carry, splitboards or crampons. "Skis felt secure and stable on my back," said our Vermont-based tester, who tried both parallel and A-frame setups. However, our splitboarding tester complained that the stowable straps were "easy to lose and are harder to adjust in the field."
Both testers commented on the pack's long shape, which keeps it slender in form. Despite the varying fits, our testers were eager to crush with it on short outings. "This is a great pack for the everyday tour," our ski tester said, while the other proclaimed it "excellent for yo-yo laps."
Rab Khroma 30L
$220, rab.equipment/us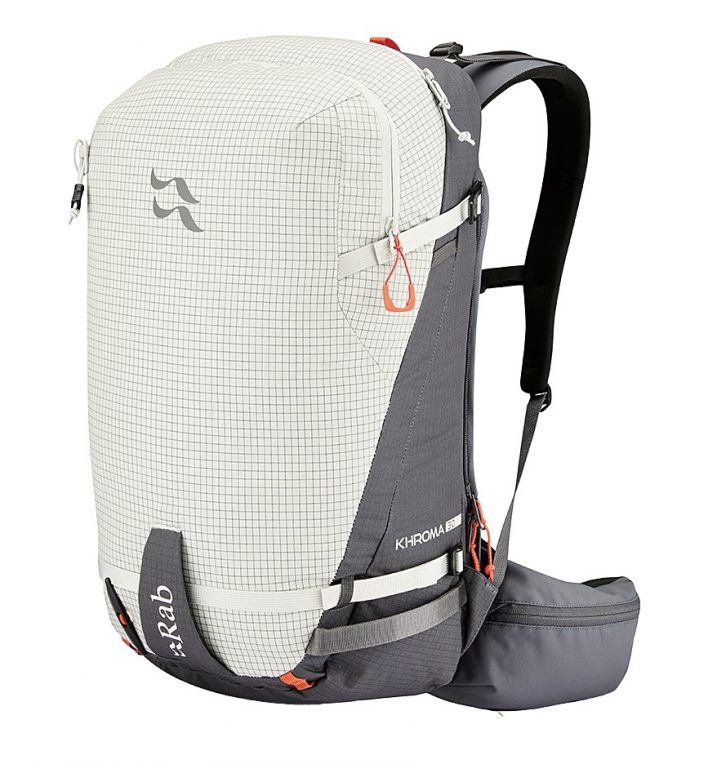 Big enough to fit everything you need, but not too bulky, the Khroma 30L is Rab's first-ever ski pack. Our tester found it easy to stay organized with a main compartment accessed via a backpanel entry, a front avalanche-tools pouch and three smaller storage pockets. Though, when it came to the avy pocket, he noted, "My 300-centimeter probe barely fits." Other touring-specific features include an ice axe attachment and a loop for carabiners on the hip belt. "The waist strap is awesome," raved our tester, emphasizing the airbag-pack inspired metal clip. And it's designed to withstand weather and wear, constructed with Spectra Ripstop and Hydroshield fabrics. "I'd expect many seasons of hard use," he concluded.
Scott Mountain 35
$180, scott-sports.com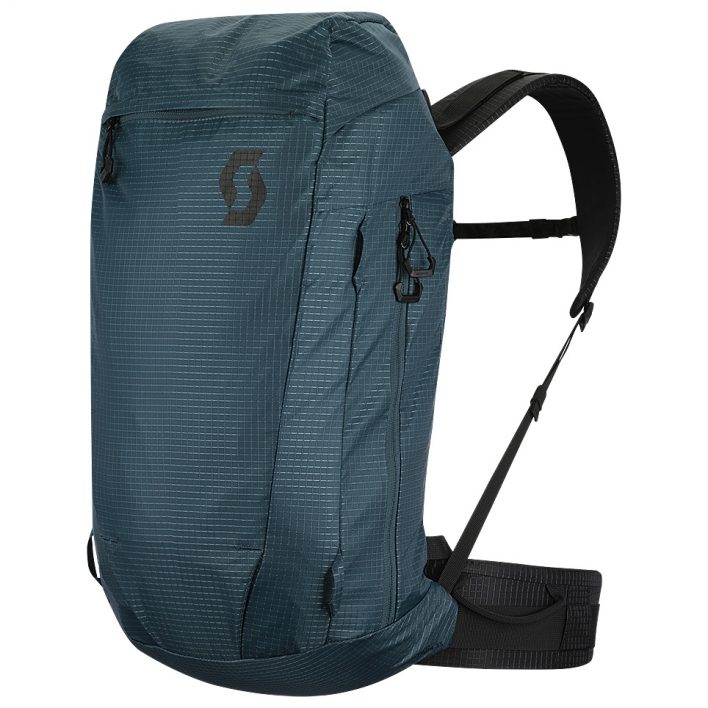 For those in search of a no-frill, ultra-light touring pack, the Mountain 35 might just be the dream bag. Other than the main pocket, which can be accessed via either the top or through a side zip, the only other stash spots are the avy pocket on the front and a small hip belt pocket. "Large zipper pulls were comfortable to use in gloves or mittens without fumbling around," a cold-handed tester said. She loved the low-profile helmet carry and ability to A-frame or diagonal carry her skis. As for the fabric, she noted, "If you frequently scrape yourself over boulders, this pack's lightweight fabric may not be durable enough for your adventures, but for everyday touring, it's a solid choice!"
Osprey Sopris 40
$210, osprey.com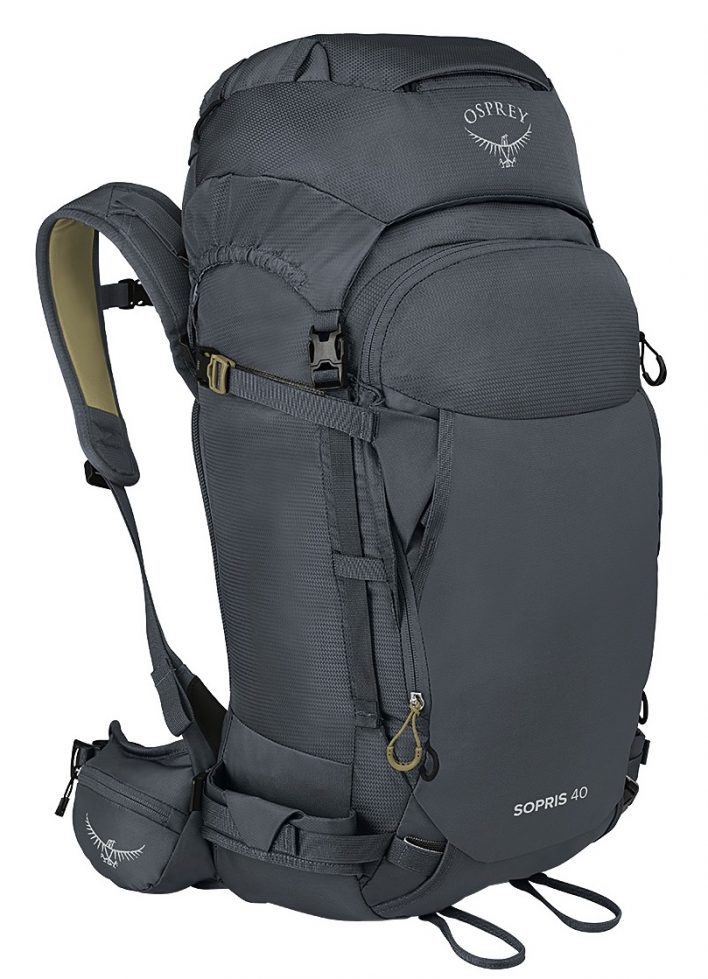 "I can't think of another pocket to add, but it's still a sleek touring machine," our tester reported of the Sopris 40. Among her favorite stash places were the two pockets on the top of the removable brain—making it easy for her to separate snacks from her map, headlamp and cellphone—and the inner water bottle pocket, which is accessed through the back panel. "Never again will I have to dig for anything," she said. Abrasion-resistant nylon is reinforced in high-rub spots, and a thermoformed backpanel provides high comfort. While the Sopris is designed with women in mind, she has a twin brother in Osprey's men's-focused Soelden 42 ($210).
Ortovox Haute Route 40
$210, ortovox.com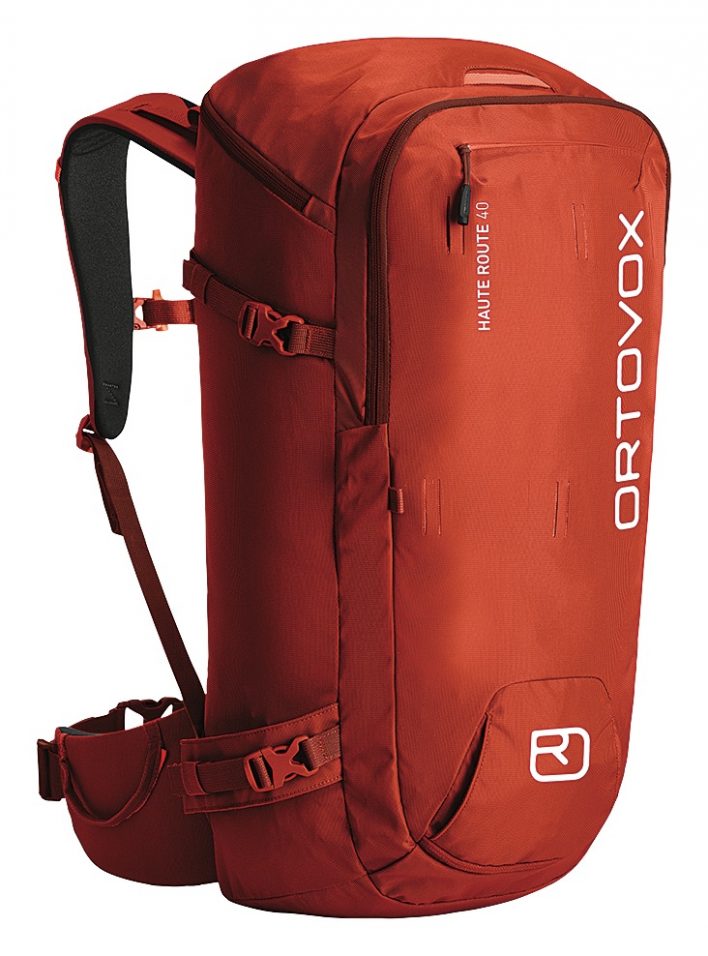 "Fits everything but the fondue set," our tester said about the spacious-yet-sleek Haute Route 40. It features several nifty pockets, including one for avy tools, one for maps and another for snacks. Our tester particularly appreciated the dual entry points (full back and top zippers) for the massive main compartment, which allow him easy access via the back after stuffing it full from the top. As a splitboarder, he disliked the integrated helmet-carry sling, which doesn't work with a board strapped to the pack, but he found little else to complain about. With rope, ice axe and crampon attachment points, he concluded, the Haute Route "will be my go-to pack for ski mountaineering, even for light and fast overnights."
Mystery Ranch Scepter 50
$249, mysteryranch.com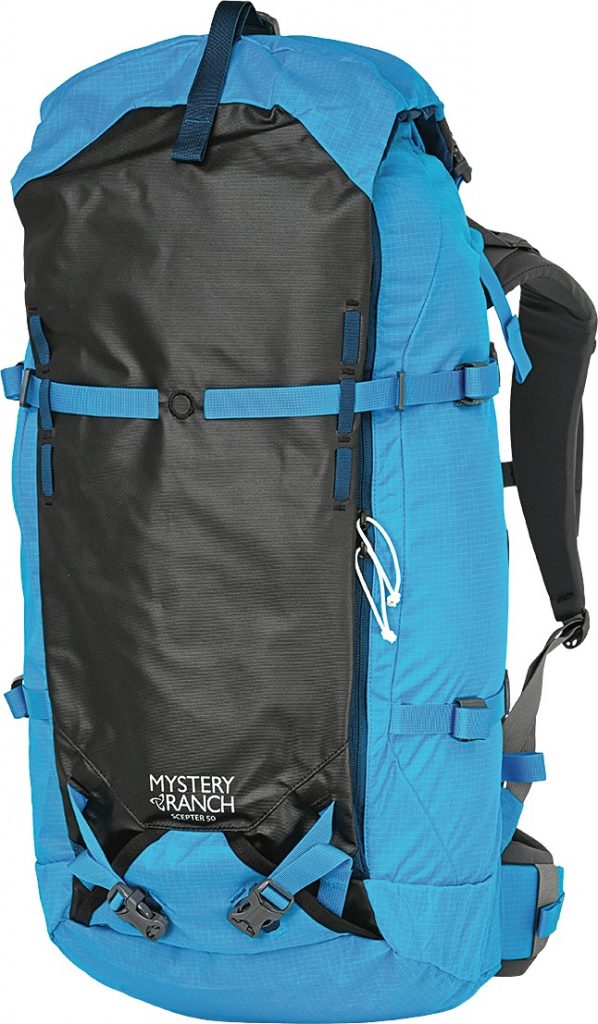 Mystery Ranch's updated Scepter 50 is designed for ice climbing, complete with rope and tool attachment points. But, with an easy-to-access avy gear pocket and an A-frame ski carrying system, our tester found this versatile pack worked just as well for backcountry tours. "Ski mountaineering, overnight tours, quick hit day laps…. I'd use this pack for anything," she said. Key features include a wax coated Phantom Ripstop fabric with a more durable nylon fabric in high-friction areas and a sled tie in point on each side of the hip belt for easier towing. As for the fit, she noted that while the Scepter has an adjustable back panel, it still runs long.
---
This article was originally published in Issue No. 149. To read more, pick up a copy at BackcountryMagazine.com/149 or subscribe to read gear reviews earlier when they are published in print.