Editors' Choice: Feathered Friends Down Booties
$119, featheredfriends.com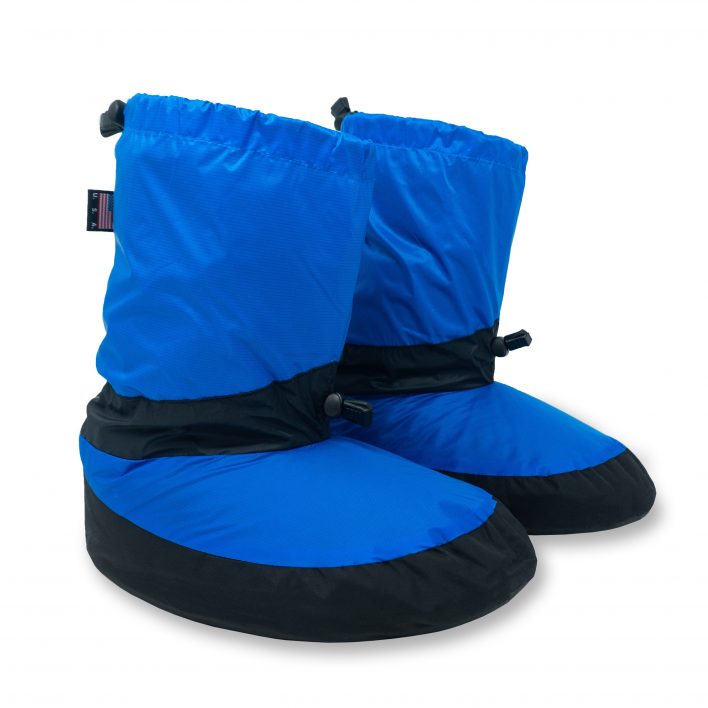 Our tester's mom appreciates a BOGO (buy one, get one deal), so she'd love the Feathered Friends Down Booties. The two-piece design, with an 800-fill down sock and a removeable, weather-resistant Pertex Endurance shell, makes them like two products in one. Our tester loved them, too, particularly shedding the shells before crawling into bed. "They're versatile enough for hut trips and camping overnights, and they kept my feet warm and sleeping bag dry on a soggy Washington excursion," he said. Their featherweight nature (just 9.3 ounces) sacrifices durability, he said, so bushwhacking in them to find the outhouse isn't advised.
Rab Down Hut Slipper
$65, rab.equipment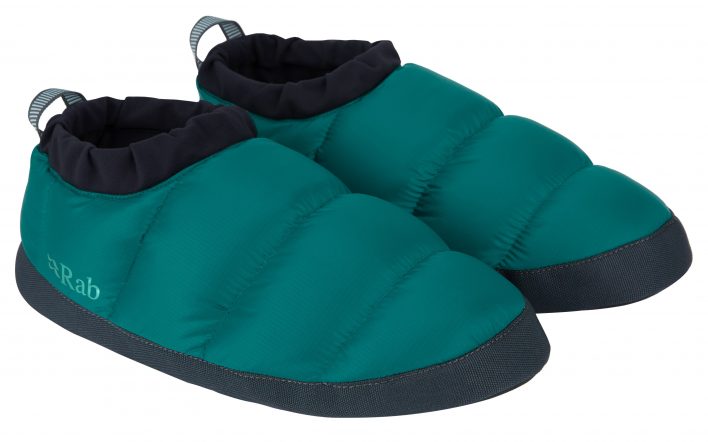 "While not the slippers for walking through fresh snow, they're great for hanging in a hut or tent or following the packed-in trail to the outhouse," one tester said about the Down Hut Slippers. Rab uses hydrophobic down, which retains its loft when wet and dries faster than normal down. Plus, it pairs that down with a 100-percent-recycled Pertex Quantum outer, which is windproof and rip resistant. Light, rubber soles kept our tester from slipping on ice, she said, while the soft fleece lining was cozy enough to ditch sweaty ski socks. "Easy on, easy off, good for the planet and majorly comfy to walk in," our tester concluded.
Outdoor Research Tundra Aerogel Booties
$89, outdoorresearch.com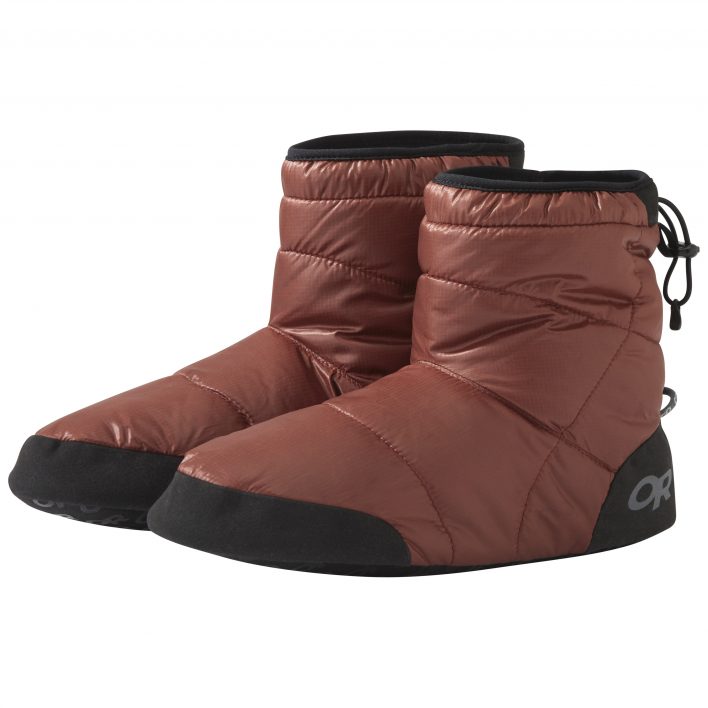 The Space Age has reached both ski technology and booties materials. Outdoor Research uses what it calls "NASA-approved" Vertical X Eco insulation in the 9.3-ounce Tundra Aerogels to provide warmth even when wet. Of the Primaloft Aerogel insert that acts as an insole and insulator from the ground, our tester said, "I like its memory-foam-type feel." She decried the smoothness of the sole, noting, "It could have a bit more grip." She did think the weather-resistant outer could handle some abuse and appreciated the ankle cinch cord that keeps snow out and holds heat in because "my ankles get cold when I sleep."
Kyrgies Nomads
$119, kyrgies.com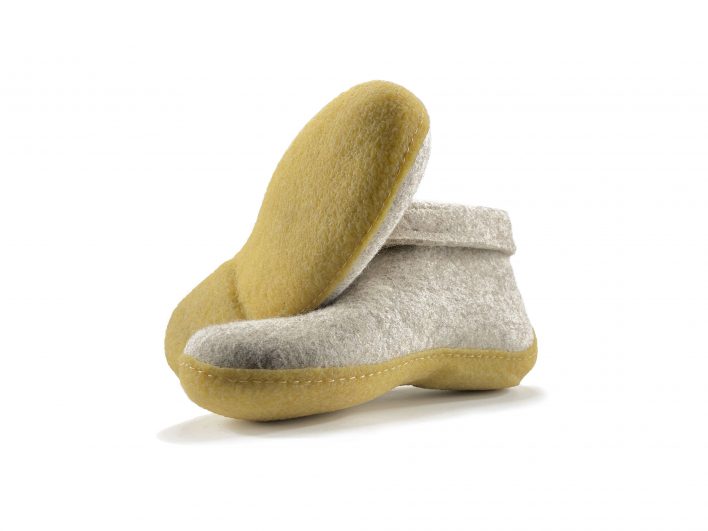 With inspiration from Russian valenki, or winter shoes made from wool, the Nomad slippers take a more traditional approach than other hut booties. A felted wool with chemical-free dyes (Kyrgies is a 1% for the Planet member) keeps feet and ankles toasty, while a rubber sole keeps water out and adds tread. "They're heavier than the down options, but also much more versatile," a tester said. "Not something that I'd leave in the closet until my next camping trip. I use them as house slippers and après shoes as well." She found that the wool wicked sweat away after a long day in ski boots, and, with the booties' cuffs flipped up, she stayed dry through ankle-high fresh snow.
Intuition Booties
$99, intuitionliners.com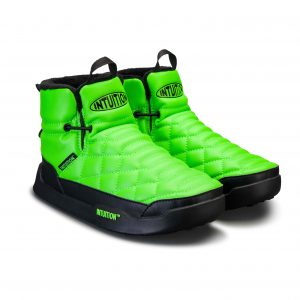 Ever wanted to wear your Intuition liners to après? Meet the Intuition Booties. In addition to the original mid-top, new this year is a low-top version ($89). A molded, rugged sole, plush Intuition insole and faux-fur lining put them in the running for cushiest booties, according to a tester, and the water-resistant outer means they stand up to soggy snow. Said that same tester, who got them last season: "I wore these for weeks straight." He lives in the Tetons, where their warmth came in handy, but they do run hot. Their comfort comes with significant weight, so, per our tester, "These only come to huts with sled bumps in."
---
This article was originally published in Issue #147. To read more, pick up your copy at BackcountryMagazine.com/147, and subscribe to see gear reviews in print well before they go online.