There's an old K2 Telemark poster of a skier doing an inverted grab with the tagline: "Take something hard, make it harder, then make it look easy." Surely that poster wasn't on the minds of La Sportiva's designers when developing the new Skorpius CR. But the boot pulls off complex engineering with such simple and clean aesthetics that they might as well have been following such a directive.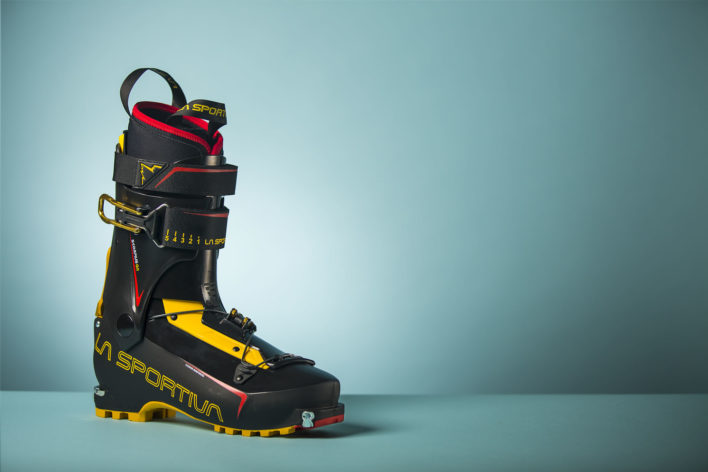 La Sportiva bills the Skorpius CR as a hybrid between entry-level skimo and lightweight touring. Indeed, at 2.2 lbs. per foot, it's a deft ascender, whether that's in a skintrack far beyond boundaries or hustling up a groomer within them. Complementing the scant weight is a 68-degree walk mode (even with a tongue), which more or less covers the extent of ankle mobility. While the boot is new for 2020, its platform and technology aren't, derived from last year's Solar (and women's Stellar), which are decidedly more skimo, with a 90-flex and a shorter cuff. And while the technology may be a year old, its simplicity allows the 100-flex Skorpius to shine.
What La Sportiva calls its Spider Buckle Evo headlines the tech—that's the cable that zigzags across the forefoot, offering multiple points for micro-adjustability and a single buckle that can be fully released to disengage the cable (for taking the boot on/off), fully locked when skiing or partially closed to enable touring comfort. Even when partially closed while touring, that buckle still lies flat and with slight tension, eliminating flop or the possibility of snagging on pant cuffs or crampon straps.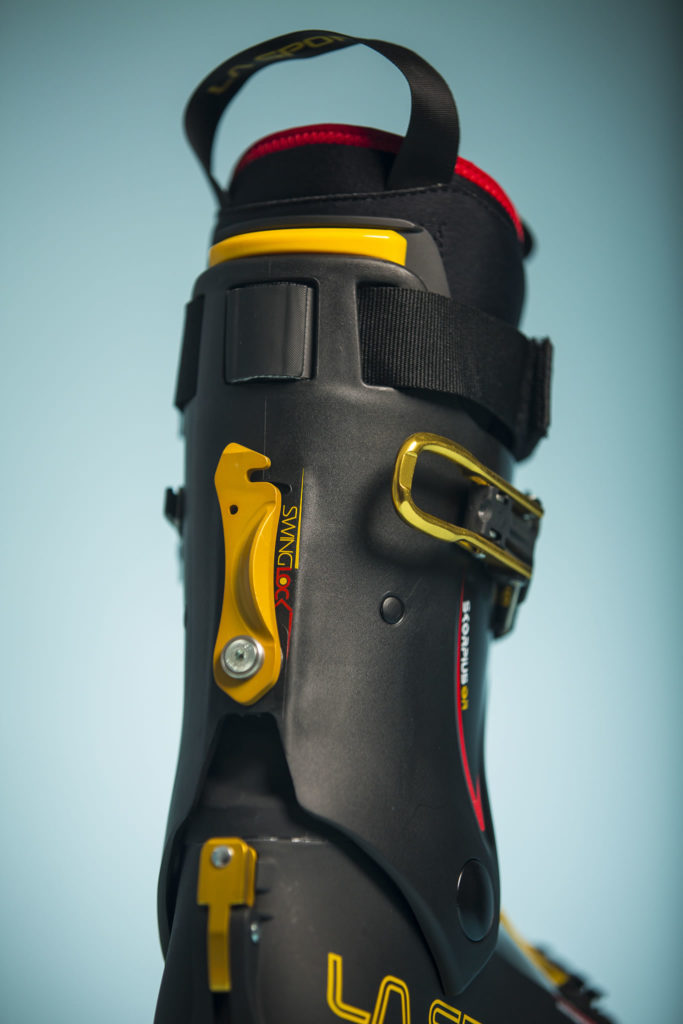 On the cuff, the topmost strap is easily removable to simplify transitions, and the main Velcro strap is secured by a releasable tab on one side—so once you've picked the right tension, there's no need to adjust the Velcro between ski days. One more clever element: the Swing Lock walk mode, which utilizes a metal, spring-loaded hook that moves sideways and upward—rather than outward, like a traditional mode-change lever—to release from ski mode. Like the Skorpius's other highlights, it's simple and subtle, a highly effective attribute that's hardly over engineered.
Even though La Sportiva has slipped skimo into the Skorpius's product description, it's decidedly more oriented to lightweight touring, fitting into the category occupied by boots like the Dynafit TLT8 Expedition CL, Atomic Backland Carbon and Scarpa F1. It stands taller and weighs less than each of those competitors, however, thus earning a 2020 Editors' Choice Award. "Delivers an impressive amount of power for a two-buckle boot," one tester professed at 2020 Gear Test Week. "Cat-like grip on ice and firm snow." Our technical editor went on to rave about the finer features. "Tons of innovations that work," he said. "Simple. Brilliant."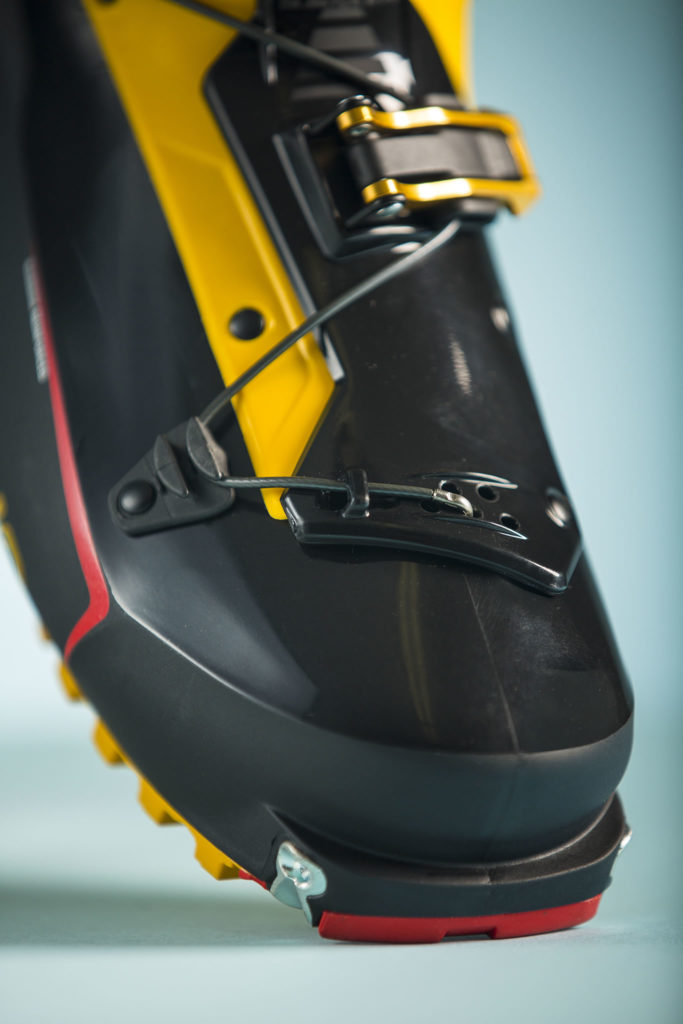 La Sportiva Skorpius CR
$799 – sportiva.com
4.4 lbs./pair – Last Width: 102 mm