Spending a winter night in the mountains carries a sense of whimsy: no lights for miles, bright stars and a feeling of smallness as the moon reflects off snowy peaks. But—with the wrong equipment—subzero nighttime temps can overshadow that serenity. To stave off the cold, one needs a good sleep setup and a winter-ready tent. Plus, some creature comforts like a warm meal and a pillow (yes, we bring camping pillows) go a long way. —The Editors
MSR Remote 3
$960, msrgear.com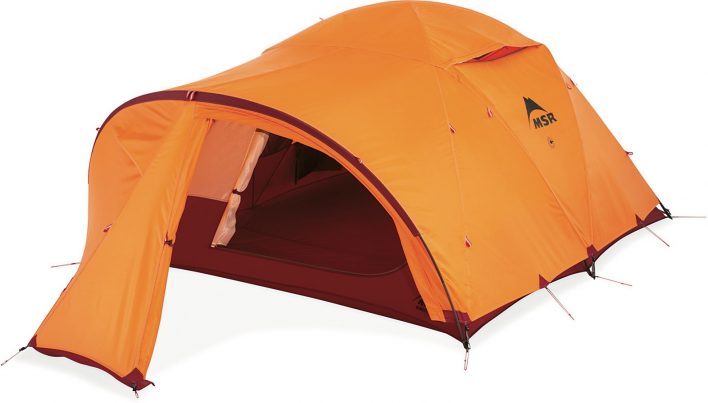 "This thing is an alpine hotel room," said a tester who used it as a chalet in the Cascades. MSR's new Remote 3 provides comfort on stormbound days with more length, width and head room (44 inches!) than the company's other four-season models. Hollow Easton Syclone poles make it light and strong, and the 22 square feet of vestibule space holds three people's gear and a spot to make coffee. Clocking in at just under 4 kilograms, the weight is manageable shared between a team of three, but if you don't have that many camping partners, MSR also offers a Remote 2 ($860).
Sea to Summit Ether Light XT Extreme
$220-250, seatosummit.com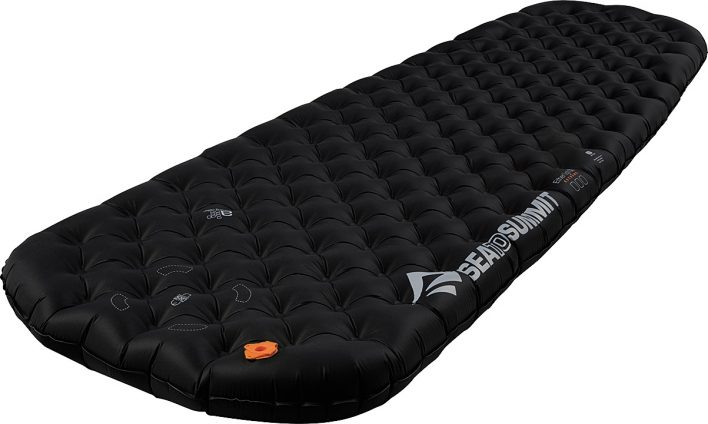 Skimping on a sleep setup for winter camping is a recipe for sleepless nights. If you're willing to invest, our tester says, the Ether Light XT Extreme sleeping pad is top of the line. At just 709 grams, in the regular, with an R-value of 6.2, "you can't find better warmth for the weight," he said. Thermolite insulation lines the top of the inflated pad, and interconnected Air Sprung Cells are meant to mimic the construction of a spring mattress and better contour the body. Drawbacks? The outer material crinkles like an empty Sun Chips bag.
Thermarest Polar Ranger -20
$790-840, thermarest.com

There's nothing worse than leaving your sleeping bag to make coffee while snow camping. With Thermarest's 1,474-gram Polar Ranger (in the regular), which features two zippered vents for your arms, you don't have to. Hydrophobic, Nikwax-treated, 800-fill Responsible Down Standard insulation, a cinchable draft collar and a Snorkel Hood that vents breath out truly keep you toasty down to minus 20. "Makes me not want to leave my bag to go splitboarding," our tester said, half-joking. His one complaint is that the toe box is a bit tight when cramming boot liners in it, but the baffled Toe-asis pocket did keep his piggies warm and separated from wet gear.
Rab Equipment Neutrino Pro 900
$550-575, rab.equipment

Looking for a hut trip sleeping bag—warm enough when the fire goes out, but not too hot when all is cozy? Check out the water-repellent Neutrino Pro 900, which has a sleep limit of minus 10 degrees, an adjustable neck baffle and hood, and weighs 1,350 grams, according to Rab. "Great for winter overnight adventures—packable, light, WARM," said our tester, who runs cold and used the Neutrino on a yurt trip in Colorado. Plus, because it's made of 100-percent recycled polyamide with a polyurethane coating, "I feel good knowing these long-lasting materials are going to my bag and not the landfill," our tester added.
Black Diamond Equipment Mega Snow
$450, blackdiamondequipment.com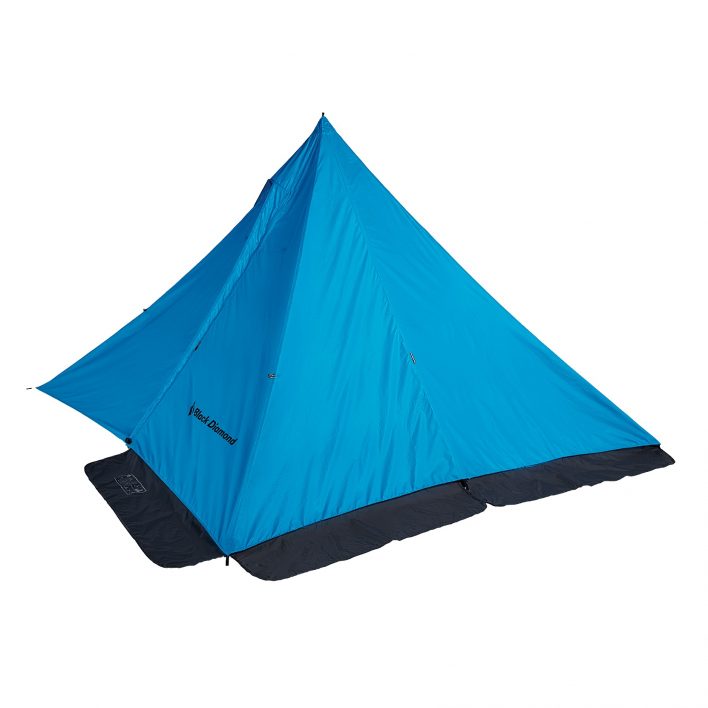 Black Diamond Equipment's Mega Snow, a megamid shelter with a single carbon-fiber pole, is as simple as it gets. "Takes up much less space than a tent and goes up in about two seconds," our tester said. At 1,644 grams, it offers the best stormproofness-to-weight ratio of any shelter, and our tester found the nylon perimeter valance, which you bury under the snow, creates a surprisingly weathertight seal. Billed as a four-person shelter, it would be tight for that many, but luxurious for two. The meshed peak venting means you can cook in it, too, making it a great kitchen tent for extended trips.
Rab Equipment Stratosphere Pillow
$40, rab.equipment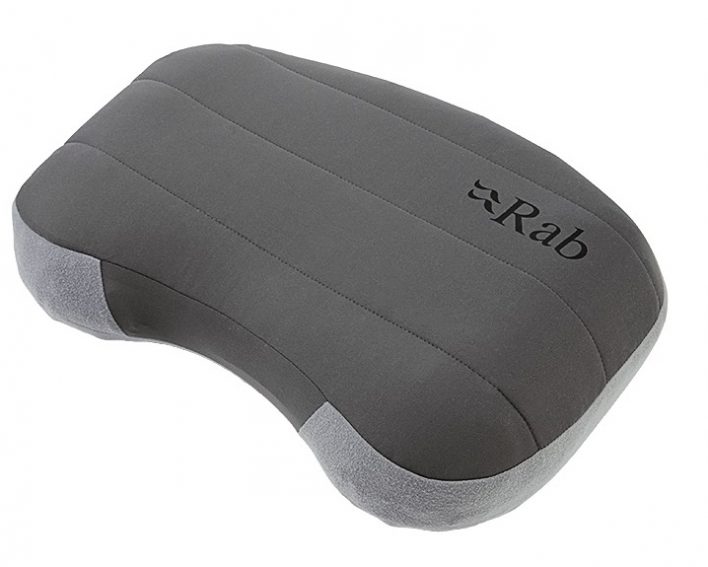 "Forty dollars, fist size and adjustable. I'm done cutting a pillow to make space in my pack," our tester quipped. Rab's inflatable Stratosphere Pillow features a soft cover, anti-slip fabric on the bottom, Stratus polyester insulation and a scalloped shape on one side to accommodate the neck and shoulders. It's built for sleeping in comfort with an inflated size of 36-by-26 centimeters. When you pack it away, it becomes nothing but 95 grams and a ball of tiny stuff sack. "My newest winter camping addition," said our tester—and with a wicking liner, the pillow might become a staple for overnights in warmer months, too.
Primus Lite XL Stove System
$140, primus.us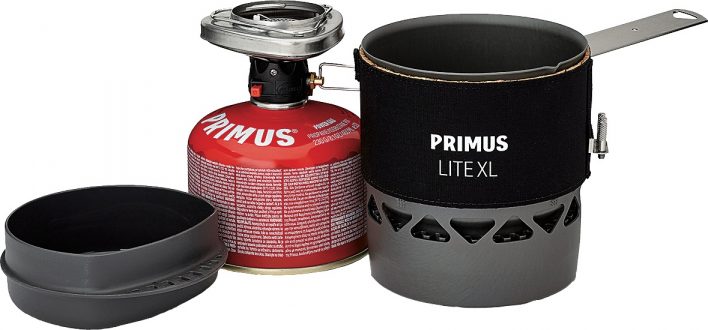 Despite freezing temps, our tester had 800 milliliters of boiling water in five minutes, thanks to what Primus calls the Laminar Flow burner, which sends a massive amount of heat around the bottom inch of the pot. "The built-in lighter actually works. Plus, the detachable handle is super sturdy, and the small spout makes for easy water pouring," our tester said. A fuel canister and the stove itself both fit into the one-liter pot, which all together weigh less than 700 grams. The Lite XL also has three small rods that screw into the top of the stove to make it compatible with normal pots.
Good To-Go Single Serving Dehydrated Entrées
$9, goodto-go.com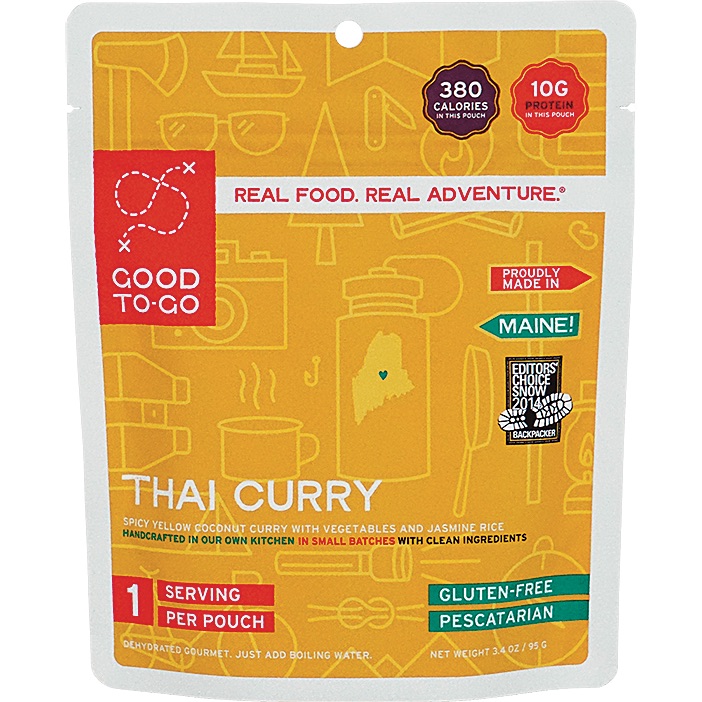 "They don't sit weird in my stomach like other dehydrated brands," said our tester after sampling the Thai Curry, Pad Thai and Mushroom Risotto. Good to-Go preps, cooks, dehydrates and packages all its meals in a farmhouse in Maine, and, judging by the ingredients list, the meals contain real food, not chemicals. At 6,000 feet, our tester found each meal rehydrated right in the recommended time (15-20 minutes), though she had to add time as she moved up in elevation. "The single-serving bags were a little light for a dinner after a day in the backcountry," she noted. For other hungry hikers, Good to-Go also offers double-serving bags ($16).
Alpine Start Dirty Chai Latte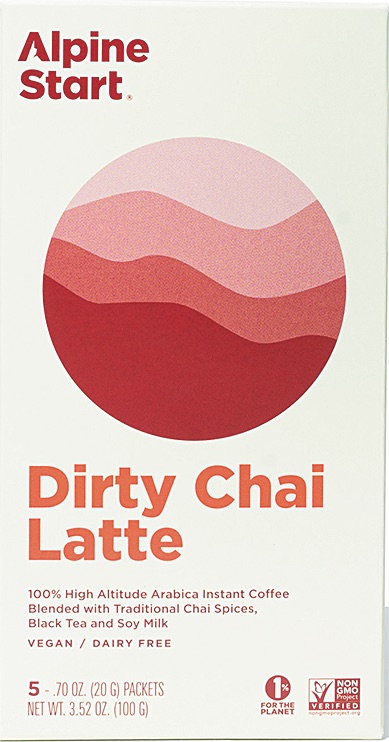 Our tester prefers to drink a latte in the morning. While her Breville is too heavy to carry while backpacking, Alpine Start's Dirty Chai Lattes hit both her flavor and weight requirements (20 grams per stick). "It doesn't have the acidy flavor that most other instant coffee options have," she said. On top of including dairy-free creamer and chai spices, the Dirty Chai Lattes also have 110 milligrams of caffeine from 100-percent Columbian Arabica coffee. As for her final thoughts, our tester said, "I like that I can add either hot or cold water. It's nice to have the iced coffee option in the backcountry."
---
These reviews were originally published in Issue No. 151. To read more, pick up a copy at backcountrymagazine.com/151, or subscribe to find our gear reviews earlier when they are published in print.