In the past you've had to trade weight for comfort, but these two products prove that's not the case. This summer, we freshened up our gearbox with something more in-season. Backcountry Magazine technical editor Lance Riek and associate editor Greta Close put some sleep setups to the test. Here's their pick for the ultimate combo.
Cumulus Custom X-Lite 300
$325 (base model), cumulus.equipment
For months, I searched for the perfect warm, lightweight summer backpacking/winter cabin sleeping bag. I researched models, compared specs, bought, and then returned, multiple bags. None were perfect. Some had sewn-through baffles—I doubted their warmth. Some were six ounces heavier than their catalog weight. Others were too constricting for my 5'8" medium frame, even in a size Regular.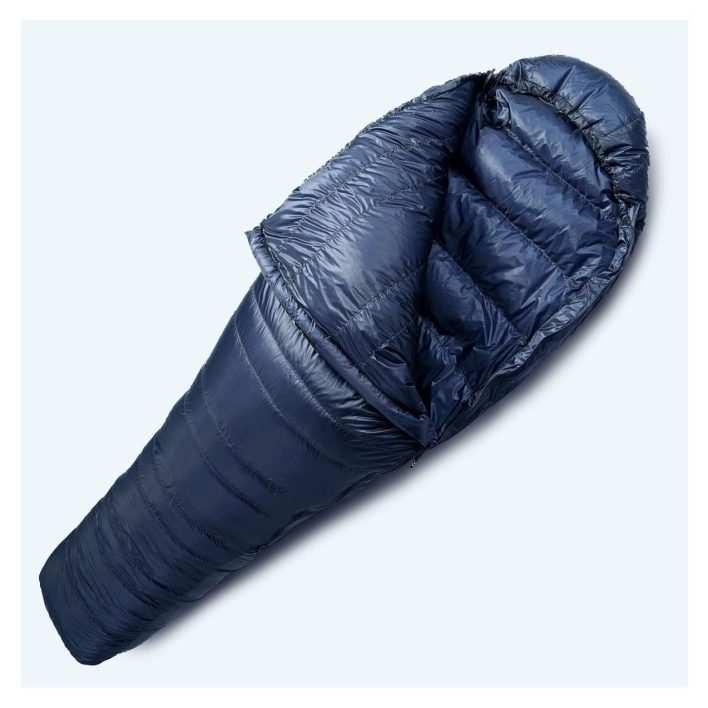 Then, I found Cumulus. Manufactured in Poland, Cumulus specializes in high-quality Polish goose down bags and offers 28 models ranging from negative 40 degree Fahrenheit rated bags to superlight quilts. Twenty-two of those models can be customized. When they say "customize," they mean it—offering five lengths, three widths, choice of down fill-power, and different fabric weights and colors. Add additional down in the hood or footbox or anywhere. Adjust the front/back proportion of down in accordance with how you sleep. Choose a lightweight or standard zipper, in 1/3, 1/2, 2/3 or full length.
The Cumulus online customizer is easy to use and clearly explains the tradeoffs. It displays a running tally of the total weight and price with selected options. I started with the X-Lite 300 with a comfort rating of 36 degrees and a lower limit of 25 degrees. The base weight is superlight at 16.4 ounces, with 10.6 ounces (300 grams) of 900 fill-power down. I opted for hydrophobic down treatment, adding $30. For both the inside and outside fabrics, I chose the Toray Airtastic at a crazy-light 19 g/m2 to keep the weight down.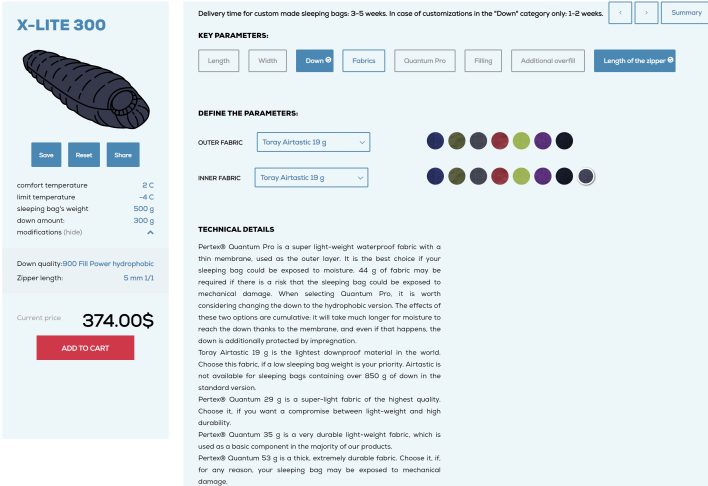 Other options include two weights of Pertex Quantum for extra durability or Quantum Pro for a waterproof membrane. As a side sleeper, I choose the 50/50, front/back fill ratio over the standard 55/45. The 65/35 is an option for dedicated back sleepers. Because my feet can become uncomfortably hot, I selected the 5-millimeter, full-length YKK zipper with snag-resistant pull so I can unzip from the bottom and stick my feet out to avoid reaching my flashpoint. The full-length zipper adds a couple ounces and $19. The base X-Lite 300 is very competitively priced for a superlight bag with comparable fill-power down, and my customizations added only a nominal upcharge.
Two weeks after submitting my custom order, the bag shipped. Pulling the bag from its box, I couldn't believe it would compress into the tiny 4.5-liter stuff sack, but it does. Out of the stuff sack, the down lofts into a thick, cozy-looking bag in ten minutes.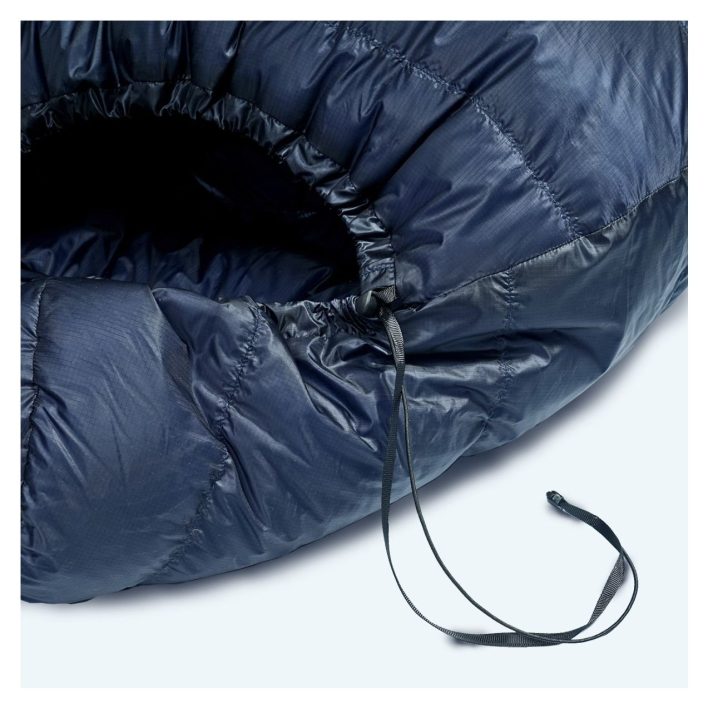 I packed the X-Lite 300 for a three-day backpack in southwest Montana. It's so compact when compressed, it fit easily in my 30-liter pack with plenty room for other gear. The medium length and standard width fit me well, with plenty of room in the shoulders and sharkfin footbox, and stays slimmer in the legs to save weight. The hood snugs tightly with thin webbing around the face and an elastic cord at the neck but can open wide for warmer nights. The zipper travels easily without catching and the full-length draft tube along the zipper wards off the chill that might otherwise creep in through the teeth. During the current heatwave summer, the nighttime lows didn't drop below its comfort rating; but, based on its loft of about 2.5 inches, I'm confident it will deliver enough warmth down below its comfort rating of 36 degrees.
With the ability to customize the size, and the amount and distribution of down, the X-Lite 300 delivers a perfect fit for anyone, and plenty of warmth at a super light weight, approaching cloud-like perfection. —Lance Riek
NeoAir XLite NXT Sleeping Pad
$200-240, thermarest.com
Raise your hand if you've purchased an ultra-lightweight, extremely packable sleeping pad, only to find it plagued by one crucial flaw: slumber-interrupting crackling.

Well, meet Thermarest's impressively quiet NeoAir XLite NXT. Crinkling be gone! Using ThermaCapture technology, Thermarest reduced noise by a claimed 83%. Although my ears can't deduce noise reduction percentages, my consecutive nights of sleeping like a baby on this pad confirm that leaps have been made. And your tentmates will thank you.
Light, packable and comfy, this pad isn't far from a home run. With an R-value (a 0-7 insulation scale, with 7 being the most insulating) of 4.5, the NeoAir XLite falls comfortably in the three-season range. It is half a point shy of the winter camping range, but warm sleepers and brave cold weather campers may be able to make it work. Though a slender 5'7", I picked the Regular Wide sizing option—and found it spacious. This size weighs in at just one pound, and when inflated and unfurled is 6 feet long, 24 inches wide at the shoulders and 4 inches thick.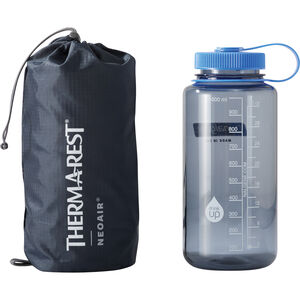 To save your lungs on higher-altitude excursions the pad comes with an inflation sack that pops onto the valve. When it's time to pack up camp, the NeoAir XLite rolls up and stuffs into a roughly Nalgene-sized cylinder.
Easy to use, sleep on and fit anywhere, this pad has me itching for more nights of its backcountry comfort. Pair it with a custom sleeping bag (or another of your choice) and you'll be living in lightweight, minimalistic luxury (plus, you can check out Rab's Stratosphere Pillow reviewed in Issue No. 151 to round out the setup). —Greta Close
---
For nearly 30 years, Technical Editor Lance Riek has been working with Backcountry Magazine. When he's not writing about gear, he's putting it through its paces, backcountry skiing, hiking, fishing, backpacking and trail running around southwest Montana. It's hard to beat Riek's tenure gear testing, but Associate Editor Greta Close is doing her best to catch up while adventuring in Vermont's Green Mountains.
To see our reviews when they're first published, or to read more stories from the untracked experience subscribe to Backcountry Magazine.