What's the best boot-shell material?
Polyurethane (PU) is a stiff thermoplastic used to make most alpine boots and some AT boots. "The downside to PU is that it's affected by temperature, and therefore manufacturers use more layers of PU, making the boots heavier," says Giordano Vichiet, Dynafit's footwear manager. Most AT boots, says Vichiet, are made of Pebax, a lightweight nylon that's neither as stiff nor as temperature sensitive as PU.
Grilamid is another stiff, thin and strong nylon, which Dynafit first introduced to AT boots with their TLT5. Now, they're using a reengineered Pebax designed to be stronger than Grilamid in their Khion Carbon, which, like many other boots, incorporates lightweight carbon fiber as it doesn't change with temperature or time and is roughly 30 to 40 times stiffer than plastic. 
DYNAFIT KHION CARBON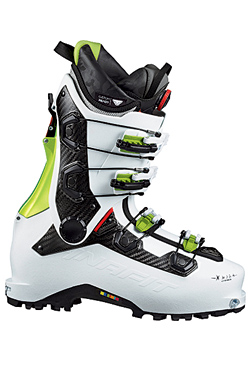 $900 – dynafit.com
WEIGHT: 6 lbs. 11 oz.
SIZES: 25-30
LAST WIDTH (mm): 102