It can be hard to keep up with the latest outerwear trends. From fit to functionality, puffies, baselayers and hardshells undergo small design tweaks every year and we are here to help you parse out the gear that best fits your backcountry needs.
For our 2017 Apparel Guide, we focus on the timeless and the trending. These are classics that we know and love, alongside the best in new materials, styles and tech. For our next installment of the Apparel Guide online, we introduce gloves to keep your digits wiggling and warm on cold days when mobility is crucial.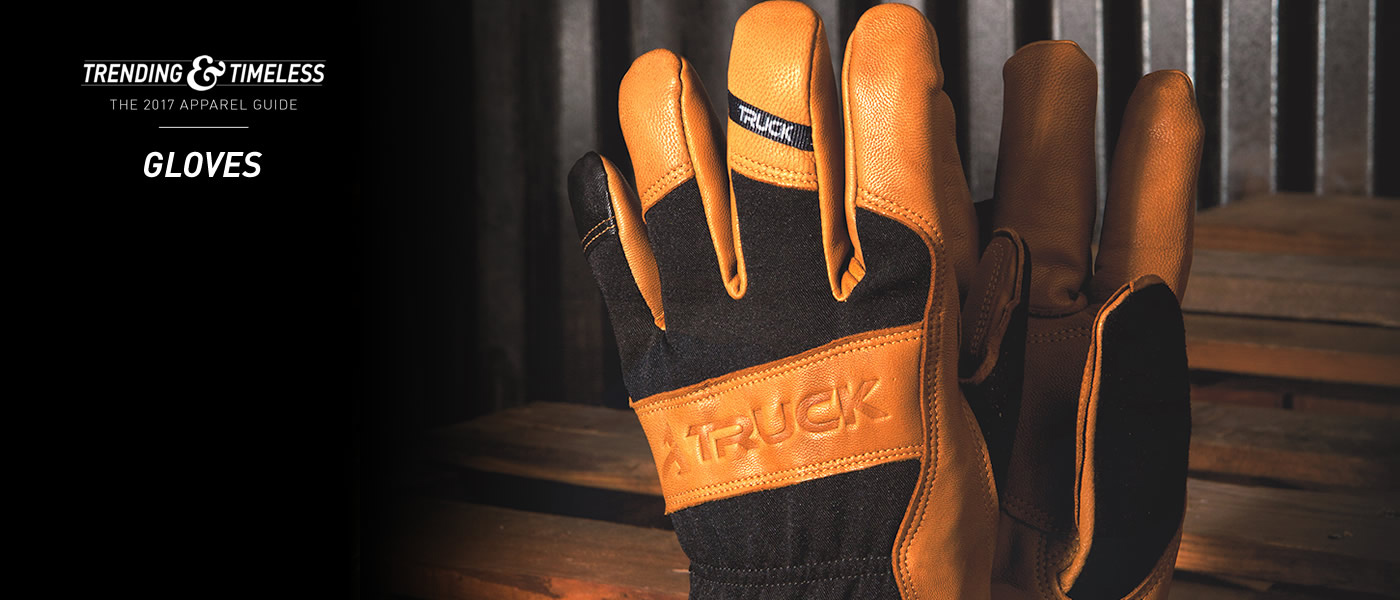 [TIMELESS]
Truck Gloves M1
$30
truckgloves.com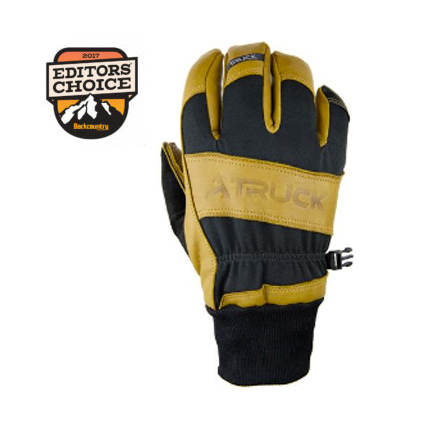 These gloves may look familiar, but they are not the average hardware-store find. Truck is the new kid on the glove block, founded by photographer Jay Beyer and two former Black Diamond R&D and production guys. The Truck team aims to reinvent an old favorite with high-quality materials—all to better protect your digits against the elements at low prices.
"Cotton Kills" is the classic saying, and even the most stubborn Kinco wearer may be swayed by Truck's cozy 200 grams of Polartec insulation. No cotton here—the M1 integrates four-way-stretch nylon and leather on the back of the hand with full leather palms, adding dexterity throughout. Another benefit of nylon? Synthetics remain limber even in wintry-mix conditions and also allow for breathability when hands get sweaty on a bootpack or in a skintrack. And Truck makes sure to include creature comforts, too, like a suede nose wipe on the thumb.
Bottom Line: They might look like the work gloves of yore, but with a deliciously soft Polartec interior, nylon stretch panels and water-resistant goat leather, these digit defenders blend a timeless look with trendy traits.
---
[TRENDING]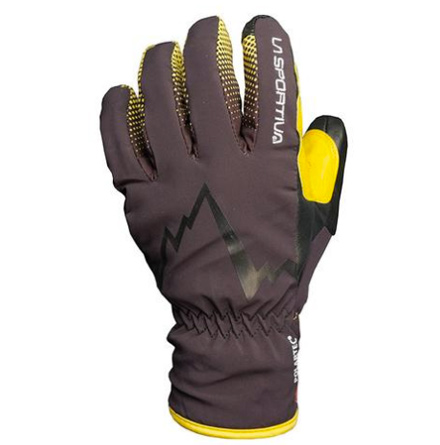 La Sportiva Skimo Glove
$100
sportiva.com
Keeping hands cool on the up and warm on the down without bringing multiple gloves is an ongoing battle between perspiration and frostbite. The Skimo Glove sports strategically placed insulation that goes a long way toward striking equilibrium. Features: The Skimo attempts to find a happy medium with heat regulation—a merino wool interior wicks and warms, and Polartec Alpha insulation on the back of the hand protects fingers on cold descents. Rubber at the fingertips helps with touch sensitivity and pole grip for snowier days. Fit: These gloves are snug around the wrists, designed to keep cold air and snow at bay. The outer layer, made from a synthetic elastic blend, offers extra dexterity for dealing with gear. Bottom Line: A thicker skinning glove made to keep hands toasty, whether ripping skins or logging vert.
[TIMELESS]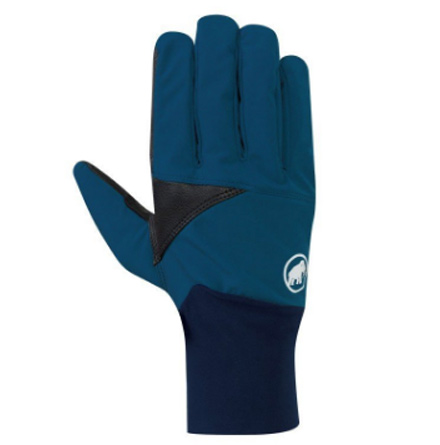 Mammut Aenergy Light
$69
mammut.ch
Mammut introduces a handful of new softgoods for 2016/17 under the name "Aenergy," and they're all designed for high output days—think softshells designed to balance warmth and wicking with a dose water resistance. The Aenergy gloves offer exactly those capabilities, grabbing hold the skinning-specific corner of the market. Features: Soft-to-the-touch Pittards leather covers the palm and fingers while Mammut's double-woven SOFtech material offers a stretchy, water-resistant coating to the rest of the hand. Fit: Fingers are precurved with external stitching for maximum dexterity. Bottom Line: No insulation here—this is a straight-up skinning glove that's designed to hold up to wind, light moisture and sharp ski edges.
[TIMELESS]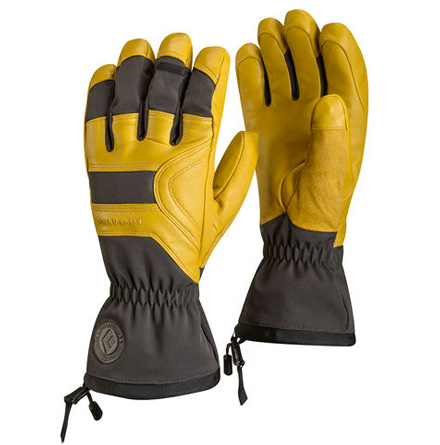 Black Diamond Patrol Glove
$130
blackdiamondequipment.com
The Patrol Glove has long been a go-to for snow professionals in and out of bounds, where dexterity matters not just for comfort but also safety. And the Patrol offers ample dexterity. Features: Minimal seams on the goat leather palms reduce wear points, and 100 grams of Thermolite insulation on the backs of hands, plus Polartec Thermal Pro High Loft Fleece on the palms, aims to ensure fingers remain toasty and flexible. Black Diamond says the Patrol has a temperature rating from zero to 30 degrees to provide warmth in a variety of conditions. Fit: An abrasion-resistant, four-way-stretch nylon shell offers enough give, and the longer gauntlets fit either over or under a jacket's cuffs. Bottom Line: Whether digging a snow pit or gripping and ripping, the Patrol is a tested glove for those who want tough gear to match a determined attitude.