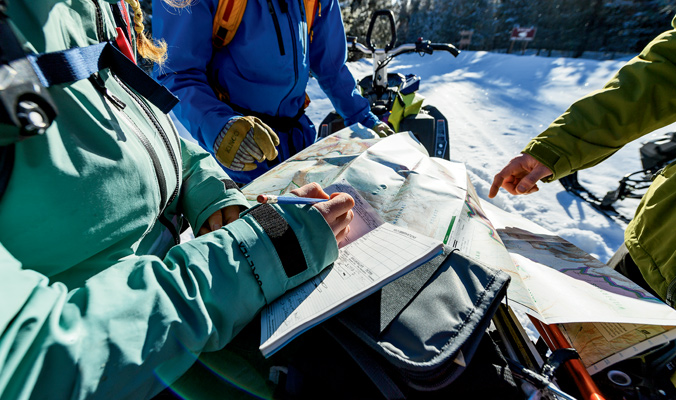 LYou're comfortable skinning and ready to venture into the backcountry and easy-to-manage avalanche terrain, either with a guide or some knowledgeable friends. Now's the time to dial in your comfort moving through the mountains, take an avalanche course and put those decision-making skills to use.
Master This
No. 1 – Set a Great Skintrack
A skintrack should be cut with just as much grace as a ski track—but not only so it looks nice. By thoughtfully setting a skinner, you'll conserve energy and establish a route that's worth lapping again. Climb at a modest angle that doesn't require your highest riser, maintaining a consistent pitch by following contours gently uphill. Avoid kickturns whenever possible by rounding off turns or by changing direction on topographic benches. Rotate through who's breaking trail frequently, and set skintracks in locations where, if possible, you'll cash in more than once on the effort, lapping a few times the highway you've taken the time to build.
No. 2 – Interpret the Avalanche Forecast
The avalanche forecast isn't a blanket statement of caution to be fearful of every threat of falling snow. Instead, its nuances are specific, speaking to which hazards might be present on what aspects and elevations and the signs that would indicate danger. Read far beyond the initial statement of caution into the avalanche problems. Figure out what they are and where they're occurring. Then develop a mental picture of where this terrain will appear on your tour. Understand what signs to look for—cracking, collapsing, drifting snow, etc.—and how those make clear where is safe to ski and where isn't. Finally, think about what information you'll need to gather on tour in order to complete your mental picture of the avalanche danger.

No. 3 – Find Your Way in Avalanche Terrain

Traveling through avy terrain is all about knowing your surroundings and understanding what features pose threats. Convexities, cornices, terrain traps that can collect sliding snow—all to be avoided. Focus uptracks on mellow terrain anchored by trees that will provide representative aspects of what you plan to ski. Use the avalanche forecast to form a picture of what terrain is fair game, what's off limits and what would be OK to travel through, given the right indicators and approach. Be aware of where you are, but also consider what's above and below—if a slope above were to run climax, would it hit you? Are you too close to a cornice that could fracture?

No. 4 – Know Your Limits
Pardon the bluntness: you're a novice. Not that avalanches disproportionately bury beginners, but it's important to not see your Avy 1 training as a golden ticket to the backcountry—it's just a gateway along your journey to more learning. As you head out with friends, soak in every learning opportunity; stir up conversations among those of similar abilities to vocally make decisions; ask questions of those who are more experienced to understand their processes; hire a guide and let the questions flow. Just don't let your brand-new skins and shiny beacon tempt you beyond your limits.
Learn More: Three Resources to Know More
Avalanche Level One
Avy 1 is the baseline course for traveling through avalanche terrain, focusing on how, why and where avalanches form and strategies and tools for managing conditions and terrain, including tour planning, basic stability tests, decision-making processes and human factors that can lead to accidents. These courses, depending on the provider and instructor, span three or four days.
avtraining.org
americanavalancheinstitute.com
Avalanche Rescue Course
Also called Rescue Fundamentals, this new, one-day course, which grew out of last year's division of professional and recreationist-focused avalanche education, is aimed at new and experienced backcountry users alike, covering the essential processes of avalanche response and rescue. It can be taken before or after Avy 1 and can also be taken regularly to keep skills sharp.
avtraining.org
americanavalancheinstitute.com
Wilderness First Aid
While avalanche education gets a lot of play in conversations surrounding mountain safety, wilderness medical training is just as crucial. A Wilderness First Aid (WFA) course is the standard for basic medical care in the mountains, covering everything from patient assessment to wound and shock management to dealing with cold-related injuries throughout a two-day class.
soloschools.com, nols.edu
or reach out to your nearby university