It's not all fun and games at Gear Test Week. Our 43 testers—32 skiers and 11 splitboarders—hit the slopes at Utah's Powder Mountain with the dawn's early light and don't go to bed 'til the day's reviews are complete. From carving smooth powder turns to busting through crud and shredding corduroy, each tester aims to test eight products per day, a task that provided us with more than 1,100 individual reviews to craft the 2019 Gear Guide, available now and packed with tester feedback.
From the 236 products we ran up and down the mountain, each tester nominated their personal favorites. Here are their picks and profiles, so you know who's doing the dirty work and what they liked best.
AGE 24
5 FEET 2 INCHES, 125 LBS.
Victor, Idaho.
CURRENT SETUP
Sego UP Pro 110 Skis, Scarpa Freedom Boot, Dynafit FT Binding
GEAR PREFERENCE
"I used to be into the super light thing, but recently decided that I was OK carrying a little more uphill in exchange for a better ski down."
BLACK CROWS CAMOX FREEBIRD
$760 – black-crows.com | SIZES (cm): 162, 171, 178, 183 | DIMENSIONS (mm): 128/97/114 | WEIGHT/PAIR: 7 lbs. (171) | TESTED LENGTH: 171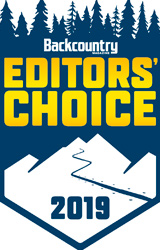 "You can seriously rail this ski on groomers and it just wants to go. My biggest complaint was how stiff and flat the tail was. It decreased the performance of the ski and the edge release in crud."
MAJESTY SUPERNOVA SL
$950 – majestyskisamerica.com | SIZES (cm): 169, 177, 185 | DIMENSIONS (mm): 136/103/120 | WEIGHT/PAIR: 6.4 lbs. (177) | TESTED LENGTH: 177

"More stable than an amish foundation for a barn and poppier than an opium den, these skis are the most fun. They get a slight deduction for chatter on the hard pack at high speeds, but otherwise these are versatile, light and charging."
—
To see the full reviews of these products and nearly 200 more, buy a copy of the 2019 Gear Guide.