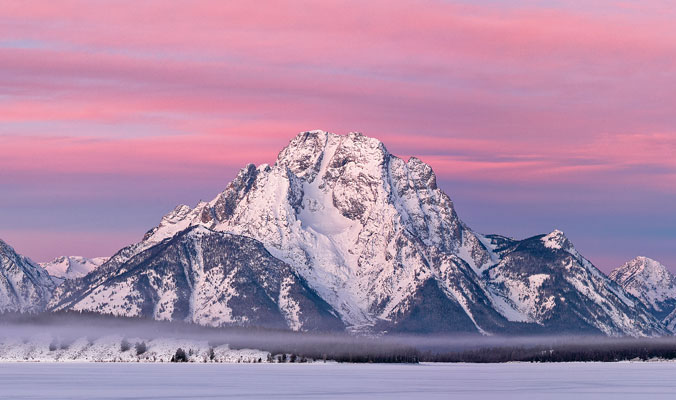 When Bill Briggs, now 87, first visited Jackson, Wyo. in 1952, year-round ski jobs in the Teton-based outpost were nonexistent. Lifts had not yet been installed on the slopes of Rendezvous Mountain, the future site of Jackson Hole Mountain Resort, and Snow King Mountain boasted a single chairlift. But Briggs had a fire burning in him—ignited by his love of ski history and fanned by a serendipitous call to arms in a Welsh bar—to see beyond the confines of the nascent sport and glimpse the future possibilities of ski mountaineering in the Tetons. With a supportive community and a healthy dose of gumption, his journey to become the first person to ski the Grand Teton and spread the gospel of ski mountaineering unfolded. —Louise Lintilhac
I first came out to Jackson Hole on a ski trip during college, a mid-semester break. Four of us were headed to ski Sun Valley by way of Jackson Hole. As we came over the pass that leads into town, there was a rope tow running, so we headed over to ski that, and they never charged us. We were really impressed, so we stayed over in Jackson and skied Snow King—it was my first time skiing out west. We found that it was very friendly and as we were leaving we all said that we would eventually live in Jackson. Well, the other guys never made it back, but I did.
That next summer, I came to Jackson for mountain climbing, and I was again impressed by the friendliness of the people and the amount of things that were happening and that you could do in the mountains. I came from Maine, and things were hard to get going there. In Jackson, it was much easier, but at the time, there was no year-round economy where you could make a living. It took until the late '50s before I got any employment here in Jackson as a mountain guide, and then it wasn't 'til the mid '60s that skiing at Teton Village got started and we had the possibility of year-round employment. So it took a while for the economy to catch up with my desires.
I've always had a strong interest in the history of skiing. I wanted to know what the background of our sport was. I wanted to know about that history, and I wanted to experience those early ski areas like Woodstock, Vermont, so I ran a ski school there for three years. Then I went out to Aspen, Colorado and Sugar Bowl in California—which are both early ski areas. I went there to get the history behind those places and experience it myself. I felt that I was coming to the scene late compared to what had already happened.
But in 1957 I was fortunate—while I was climbing in Wales on the 100th anniversary of the Alpine Club, my climbing partner and I went into a bar after climbing to have a drink. I got a beer, and there was this old gentleman in one of the booths, so I went over to talk to him. It happened to be Sir Arnold Lunn, an early ski mountaineer and the originator of alpine racing. We had a long discussion, and he said he would take care of promoting the racing scene worldwide, so I didn't have to worry about that. But he tasked me with taking care of the rest of skiing as a recreation—I thought to myself, "Holy cats!" I was shouldered with this thing and thought, "OK, well I need to rise to the situation."
I was interested in mountaineering and becoming a mountain guide, and by the late '50s, I was a mountain guide as well as a ski school director and had my ski school in Woodstock where the members of the Dartmouth Mountaineering Club were helping me teach skiing. But what I really wanted to do was combine the sport of mountaineering and alpine skiing. Barry Corbet was my assistant in Woodstock and was my continual inspiration from day to day. I heard he had the highest IQ out of anyone matriculating to Dartmouth at his time, so I had a brilliant guy to work with. He joined me in Jackson Hole, and we became ski mountaineers.
We were trying to figure out what the skills were that were needed to ski steep mountains. Barry got really interested in filming and got set up with Roger Brown and the ski company Summit Films. At that point, I was more or less off on my own, looking at what objectives could be done.
In 1961, my hip gave out, and I had to get it fused rather than get an artificial joint, because the goal was to get back into skiing and climbing after the fusion. So I worked it back up again to where I could manage despite the fused hip. It had no articulation—it doesn't move—but I could still do the climbing and skiing as I did before, so that was incredible. And like that, I was back to ski mountaineering and looking at different peaks that could be skied.
I knew the Grand could be skied, but the question was how to work up to it. So I took on lesser peaks. Barry had already skied Buck Mountain with a client, and so we went back and skied that one for practice. That was scary enough; it really required pretty good confidence. Afterward, I skied Middle Teton, then Mt. Moran and finally Grand Teton. That was the overall objective—that one would make news—the rest of them don't really make the news. Skiing it would be worthy of recognition, and I was working my way up to being able to do it and do it with confidence. I didn't want it to be a daredevil stunt; I don't want to risk my life. The idea is to have the confidence and skills necessary to do it, and it turned out that the skills that I had were what I needed.
One of the reasons why Jackson Hole is so good for ski mountaineering is its convenience factor. We have the mountains right outside of town. It's easy access, and you don't have to go through the foothills in order to get there. You can do one-day trips or just an overnight, and you can get to virtually anything you want. It's an ideal place to do ski mountaineering and would be hard to find something comparable. Chamonix is a fabulous place for climbing and skiing and ski mountaineering, but it's awkward, and here in Jackson, it's an easygoing scene. You can live or camp out or do whatever you want for as long as you want in this valley with mountain ranges around all sides of it. The reason it's called Jackson Hole is because it's in between all of these mountain ranges. These mountain ranges are skiable, climbable, hikeable, a wonderful playground with varying degrees of difficultly. You can't really have a convenient all-around playground like this at any other place in the world that I know of.
It sure has changed here, with many more ways to make a living. It used to be you made your living elsewhere and came here to climb and ski, usually on a shoestring. Now there's employment in the mountaineering and skiing industries—plus a proliferation of backcountry use and the beginnings of an influential backcountry culture. I'm delighted to see people ski mountaineering; I think it's fabulous.